Steve Lopez explores the shrinking middle class
The Pulitzer Board named columnist Steve Lopez as a finalist in the commentary category for a series of columns grappling with wealth inequality in Southern California, which Lopez described as "the stratified kingdom of hillside castles and cardboard cities."
Lopez's work explored the lives of a 71-year-old South Los Angeles woman who survived without running water, a laid-off aerospace worker, an Air Force veteran seeking work, casualties of forced gentrification in Echo Park, and the work of a real estate agent in Beverly Hills.
Here are their stories:
---
For SoCal aerospace workers, the end of an era — and a job
Martin Saldana, 51, walked out of the Long Beach Boeing plant for the last time Friday afternoon. Behind him were 29 years of steady work building commercial and military aircraft. Ahead of him: absolute uncertainty.
"I lose a lot of sleep," Saldana had told me earlier in the week, before helping his 9-year-old son and 6-year-old daughter with their homework. "I've still got to provide for them."
Saldana and hundreds of other Boeing employees have lost their jobs in recent months, as the company phases out the C-17 after making more than 270 of them. The U.S. military has all it needs of the low-bellied military transport planes, and foreign demand has dried up. Read more >>
---
Keeping up? It's increasingly difficult for the Joneses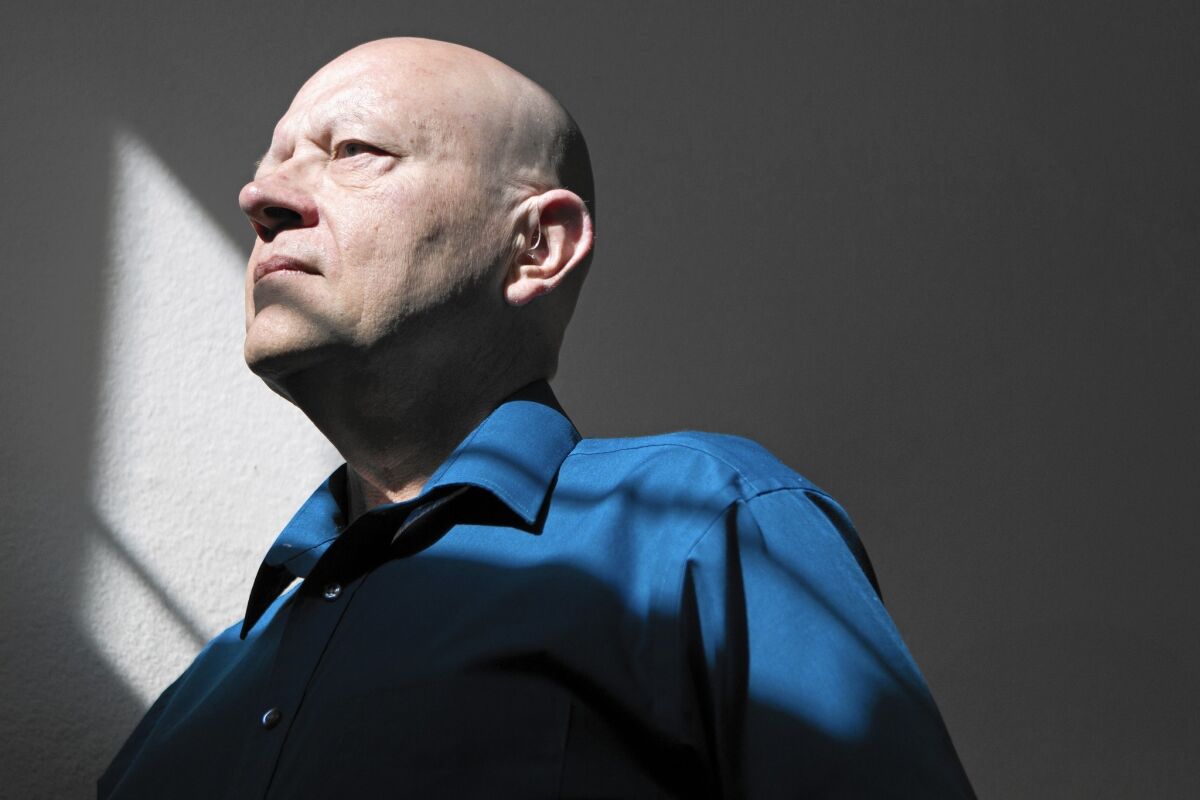 Dan Jones made it unscathed through his reconnaissance missions over Vietnam.
He wasn't as lucky after returning to the states. An unstable employee at Raytheon, where they both worked, shot Jones in the back.
"They thought I was dead," said Jones, 29 at the time.
He survived that experience, too. But he is having trouble surviving this economy. Read more >>
---
Air Force veteran with tech skills stuck with $10 an hour at department store
In the haves and have-nots economy of Southern California, Air Force veteran Rod McIntosh is currently embedded with the nots.
The 36-year-old can't find a tech job despite years of military training and employment in that field, so he's had to temporarily settle for a $10-an-hour post in men's clothing at Bloomingdale's.
He has no car, and digging out of a rut is all the harder when you travel by bus. For a while, he slept on a cousin's couch. These days, he's renting space in a house in South Los Angeles. Read more >>
---
After 31 years in Echo Park, victims of displacement by gentrification
Jose and Ana Sanchez ran for their lives during El Salvador's civil war, resettled in Los Angeles and joined the working class.
They landed minimum-wage jobs in the garment district, then started Ana's Ice Cream, motoring through the city to peddle frozen treats. Together, they brought in just enough money to pay the rent and raise two kids.
But now, after 31 years in the same modest house in the hills of Echo Park, they and their daughter are being forced out by gentrification. Read more >>
---
A $35-million tear-down: L.A.'s unreal estate has plenty of buyers
It's not uncommon on the Westside of Los Angeles for people to shell out $20 million or more for a house.
And then take a wrecking ball to it.
Jeff Hyland, of the high-end Beverly Hills real estate agency Hilton & Hyland, had a recent tear-down sale of $35 million in the Trousdale section.
"It was in absolutely magnificent condition," noted Hyland, who would not reveal the owner's name but said his client was happy to pay all that money "just for the dirt," with plans to erect a dream house. Read more >>
---
At 50 gallons a week, widow knows just how precious water is
Doris Tillman got a jump on the rest of us when it comes to water conservation.
The 71-year-old South Los Angeles homeowner had no choice.
Last August, the Los Angeles Department of Water and Power shut off the church-going widow's water service because Mrs. Tillman had fallen behind on her payments after a series of setbacks. She lost her job as a delivery driver, her leaky pipes left her with a $7,000 plumbing bill she's still paying off, and her Social Security check wasn't covering her expenses.
The things we take for granted — flushing the toilet, running a bath, washing the dishes — all became additional challenges for Mrs. Tillman. But she's learned to improvise. Read more >>
---
Three stories of hardship put a face on L.A.'s exorbitant housing costs
In Reseda, an elderly couple fret about where they will go at the end of the month, when they are forced out of the one-room apartment they have lived in for 29 years.
In Tujunga, a retired woman lives in a backyard shed, treating her high blood pressure with tea made from her garden and bathing in an outdoor tub with water heated by the sun.
In Arleta, a supermarket employee rents a makeshift room in a house that is home to 10 people, and often waits in a long line to shower before work.
I didn't set out last Wednesday to tie these stories together; I was following leads in search of the small dramas that play out daily, beyond the headlines, in homes that do not make the Hot Property column. Read more >>
---
The nation's growing pay gap is no Disney fairy tale
Oscar Martinez isn't certain, but he thinks his starting pay as a Disneyland busboy and later a cook was just above $1 an hour. As you might have guessed, that was a long time ago.
He started in 1956, when the federal minimum wage was $1 an hour, and he still works there.
With 59 years on the job, Martinez has climbed the pay scale to about $21 an hour. Now 80, he said he still cooks occasionally, but because of his remarkable longevity, he spends much of his workday posing for photos with VIP guests who want to meet him.
"I love my job," Martinez said, telling me he'd rather not think about retirement.
I checked in with Martinez because with all the news lately about sky-high CEO compensation, a reader had a suggestion for me on the subject of growing income inequality:
Check out what Walt Disney was paid, relative to regular employees when he ran the mouse empire. And then take a look at how the compensation of current boss Bob Iger compares to typical workers. Read more >>
---
In a hurting economy, selling plasma is part of their financial lifeblood
In a steamy October day in the town of Orange, a white van with an Uber sign in the front window ran out of gas in the parking lot of a plasma donation center.
Call it a snapshot, if you will, of an economy that for many folks continues to sputter.
A woman named Crystal, who had just sold her plasma, lent a one-gallon gas can to the couple in the van. Crystal, 28, told me she carries the can in her 1998 Nissan because it's tough to keep up with the bills and she's often running on fumes.
The couple with the van were in a hurry and I didn't get much information out of them, except that the man sometimes drives for Uber and the woman has a rare blood type, so she makes decent money having Biomat USA draw it through a needle at regular intervals. Read more >>
---
A high school senior fights for her dreams: 'We must be greater than what we suffer'
Miriam Antonio left her Koreatown apartment just past 6:30 Friday morning and walked in darkness to her bus stop on Wilshire Boulevard. It's a two-bus journey to Fairfax High School, where Antonio is an 18-year-old senior with a dream that seems tantalizingly within reach.
"I live with my Mom and two younger brothers...The four of us share a bedroom," says the draft of an essay she is writing as part of her college application to several University of California schools.
She writes of a neighborhood that "reeks with urine and alcohol," a place where she sometimes feels unsafe.
"I keep in mind that in order to be successful, we must be greater than what we suffer." Read more >>
Get more of Steve Lopez's work and follow him on Twitter @LATstevelopez
---
The stories shaping California
Get up to speed with our Essential California newsletter, sent six days a week.
You may occasionally receive promotional content from the Los Angeles Times.