Column: A $35-million tear-down: L.A.'s unreal estate has plenty of buyers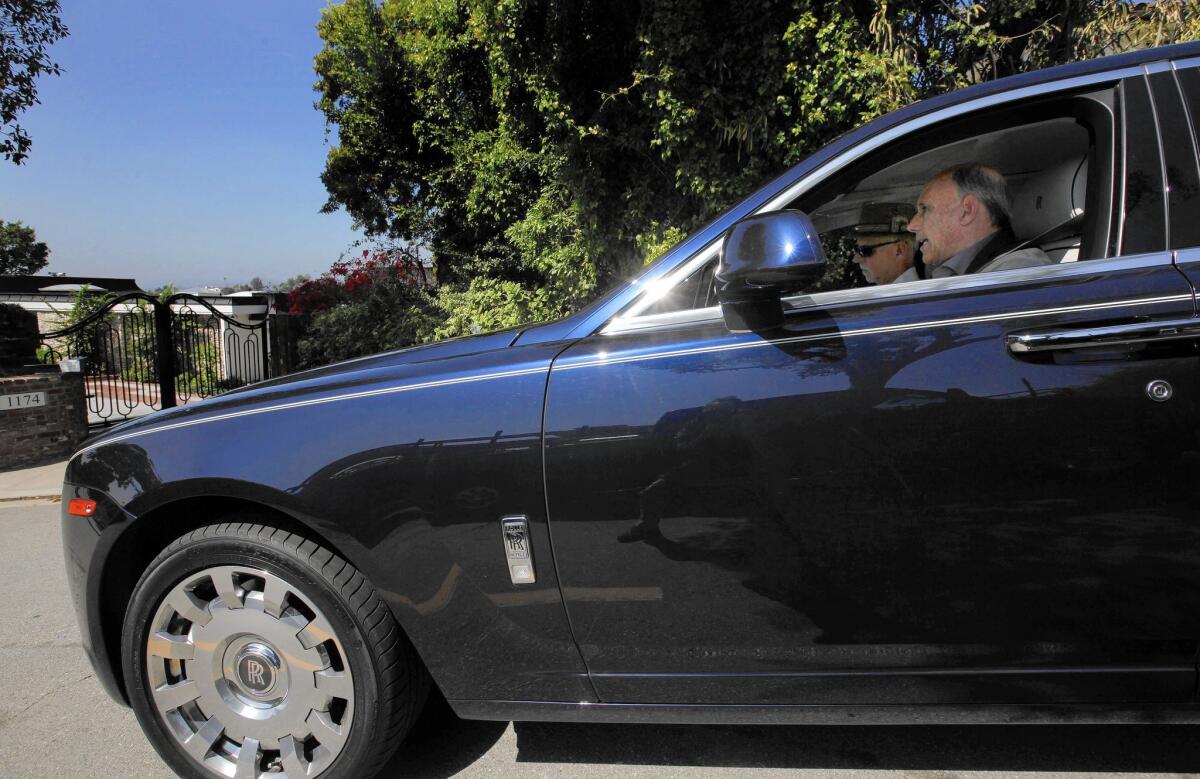 It's not uncommon on the Westside of Los Angeles for people to shell out $20 million or more for a house.
And then take a wrecking ball to it.
Jeff Hyland, of the high-end Beverly Hills real estate agency Hilton & Hyland, had a recent tear-down sale of $35 million in the Trousdale section.
"It was in absolutely magnificent condition," noted Hyland, who would not reveal the owner's name but said his client was happy to pay all that money "just for the dirt," with plans to erect a dream house.
Tearing down a $35-million house in a region where the middle class is disappearing, affordable housing is scarce and multiple families are crammed into homes or apartments — not to mention the tens of thousands living on the streets — is the kind of thing that makes you think the world is about to end.
But that's the way things are in the Westside hills, where there's no shortage of buyers from around the world snapping up estates. Longtime residents, suffering in cramped 10,000-square-foot quarters, are squawking about new and rebuilt estates the size of aircraft carriers.
One house just sold for north of $80 million, right around the time the Economic Policy Institute published a study concluding that "more than half" the residents of metro Los Angeles "are struggling to achieve economic security."
The year 2014 was the biggest on record for his agency, said Hyland, with $2.9 billion in sales across Beverly Hills and Bel-Air, through Brentwood and out to Malibu. But that mark could be topped in 2015, with Hilton & Hyland's 100 agents chasing a target of between $3 billion and $3.2 billion.
"We've sold, I think, 10 houses this year for over $20 million," Hyland told me while we toured some of the most expensive homes on the U.S. market in his Rolls-Royce Ghost.
"The Chevrolet of Beverly Hills," Hyland said of his car, which rides like a dream. The base price for a new Ghost is about $300,000, or roughly the median price of a new house in the United States.
Hyland said he used to get clients who had a nice leafy ramble in Bel-Air and wanted to add a weekend compound on the beach in Malibu. Now he gets clients who already have several homes somewhere in the world but there's a missing piece, and they've just got to have something special in 90210 with go-to-hell views, vineyards, gymnasiums and lagoons. Tennis courts, Hyland said, are practically passe.
"The money is coming from everywhere," he said. "For a while it was Middle Eastern money and then it was Russian money and then South American money and then Asian money. Now it's all of those."
And how'd these sultans, titans, royal runaways and rogues come by all that cash? Hyland said some worked for it, some inherited it, some managed to get their hands on a lot of foreign cabbage and needed to replant it in the U.S. "as a tax-avoidance system."
When someone pays $50 million or more for a home, Hyland said, it's not uncommon for them to spend only several weeks a year in the house. They may buy such a place as an investment, or a party palace, or to avoid the nuisance of five-star hotels while visiting their kids at UCLA.
Hyland's all-time highest transaction was the $85-million sale of the 56,000 square-foot Candy Spelling home in 2011. But he now has a listing for 50,000-square-foot mansion once owned by newspaper tycoon William Randolph Hearst. That one has a sticker price of $130 million, but if you don't have that kind of money, no problem.
You can lease it for just $600,000 a month.
Hyland seems to think the former Hearst home is a better deal than the most expensive listing in the United States: the $195-million Beverly Hills estate owned by architect Jeff Greene.
That one, by the way, sits high on a hill like a giant tombstone marking the death of humility. It has a name, as well it should. It's called the Palazzo di Amore and it has a bowling alley, 50-seat theater, 12 bedrooms, 23 bathrooms, 128-foot reflecting pool, 5,000-square-foot master bedroom suite and 27-car garage — all of which is good to know in case you're looking for an unassailable definition of obscenity.
I suppose you could argue that people with ridiculous money are an industry all their own, and when one of them can't stand the layout of the kitchen or wants the water pressure pumped up in bathroom No. 23, that means work for plumbers and electricians. And let's not forget all the other hired help needed to carry the Beverly bourgeois through each trying day — maids, gardeners, chandelier dusters, pool boys and diaper changers.
Well, maybe, says Edward Kleinbard, a USC professor of business and law and author of "We Are Better Than This: How Government Should Spend Our Money." But if you can pay $45 million cash for a house you seldom occupy, Kleinbard says, why not do something more productive with the money, like start a business that creates good full-time jobs?
Kleinbard doesn't necessarily take issue with "real estate porn," as he called it, nor does he recommend higher taxes on the 1 percenters, as some do. But he argues that real estate factors heavily in wealth inequality. How? The government subsidizes home ownership through various tax credits and deductions, when it should instead help level the playing field by investing more in "working-class and middle-class Americans" through education, infrastructure and the social safety net.
Hyland, for his part, laments the shrinking of the middle class, calling it "the biggest crime of this generation." But fixing that is not part of his job description. He makes good money because wealthy people want his services, and he said he's able to support his pet causes, including music enrichment for children.
He added that when houses sell for tens of millions of dollars, property taxes pour into city treasuries, benefiting everyone.
"This is Charlie Chaplin's house with the red tile roof," Hyland, author of a coffee table book called "The Estates of Beverly Hills," said as we purred under palms and past cascading bougainvillea in the Rolls.
On one short stretch, Hyland pointed out the $35-million tear-down, a $70-million house his agency just sold to the creator of a computer game, a house he once sold to Frank Sinatra, and another house — the former residence of Elvis — that he has sold three times in two years.
But Hyland is more than just an agent. He's a partner in a development called The Vineyard, and he drove me up to the 157-acre site at the top of Benedict Canyon. A perfect spring breeze blew across this perfect plateau, with its stunning views of the city from downtown L.A. to the Pacific.
On this spot, Hyland said, six 40,000-square-foot homes will be built.
Each will have a gym, a subterranean theater and a 10,000-square-foot master suite.
The planned sales price?
One hundred million dollars apiece.
If you're on the fence, keep in mind that a pinot vineyard will be planted on the site.
"Each house is going to get 60 cases a year," said Hyland, who flashed a $600-million smile.
ALSO:
Keeping up? It's increasingly difficult for the Joneses
It's the industrious little guy who keeps L.A. on its feet
10 years later, L.A.'s skid row remains an urban dystopia
Aircraft worker had retirement lined up -- and then the boom came down
Sign up for Essential California for news, features and recommendations from the L.A. Times and beyond in your inbox six days a week.
You may occasionally receive promotional content from the Los Angeles Times.