To reach his big dream of owning a home in L.A., he started very, very small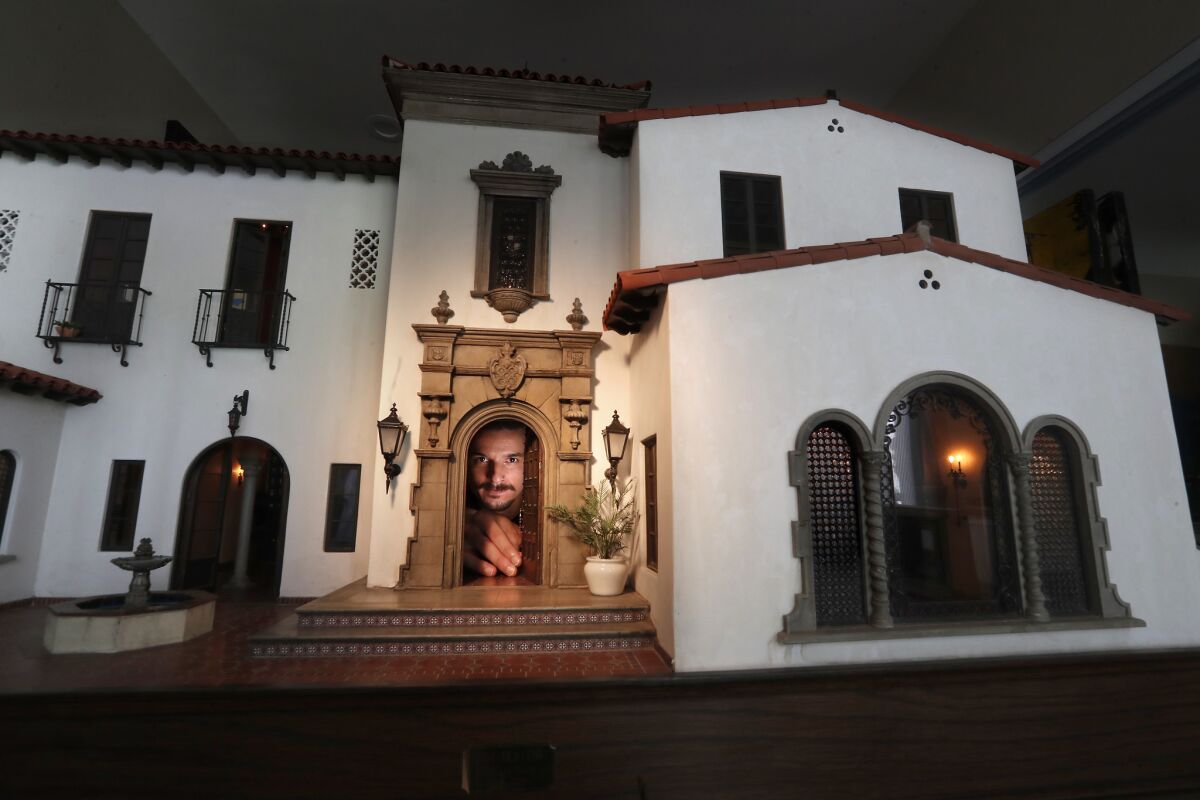 Chris Toledo has gone to painstaking lengths to build the home of his dreams.
He drew the patterns — based on antiques — for every one of his eight stained-glass windows. He shaped delicate scroll railings for his Juliet balconies. He laid nearly 6,000 barrel tiles, one by one, on his rooftop.
For the last two years, he's obsessed over every detail of his 1920s Spanish Mediterranean house.
Thousands have followed his labor online — including architects and interior designers.
But Casa California is a masterpiece of illusion.
The guest room is nearly the length of a pencil. The stone fountains are no taller than Q-Tips. The fireplace fits in the palm of a hand.
The whole house is under 6 feet wide.
A life-size version would cost millions — millions Toledo does not have.
So far, this is the closest the 32-year-old has come to owning a house of his own in Los Angeles.
---
Toledo lives with his fiance, Matthew Mathiasen, in a small rented apartment near MacArthur Park.
It has two bedrooms, but these days Casa California claims one.
He's wanted to build something like it since he was 8 years old.
That's when, in a doctor's waiting room, he picked up a copy of Nutshell News, a magazine for miniaturists.
It featured an impeccable tiny version of the Gamble House in Pasadena. Toledo knew the place. He'd driven by it with his father, who restored old homes.
"I was amazed, " he said of the diminutive replica. "I didn't know what it was, but I wanted to do just that."
When Christmas came, he asked his parents for a kit to make a miniature two-story log cabin. Next came a Victorian, followed by a farmhouse.
At home in Alhambra, Toledo would spend months building each structure, then use money he'd earned from chores to furnish every space. In Yucaipa, where his family often camped, there was a miniatures store, where he'd go to buy petite floral sofas, chests of drawers and china cabinets.
His parents, immigrants from Argentina, hoped it was a calling.
"We were convinced he'd be an architect," said his mother, Liliana Eschoyez.
Instead, he grew up to work in fashion, photography and later in his current field, graphic design.
Four years ago, after a long pause, he returned to building the little houses that had brought him such boyhood joy.
But this time, ready-made kits would no longer be enough. He wanted to create an entire tiny home from scratch.
It was supposed to be a hobby, until he saw it might be more.
---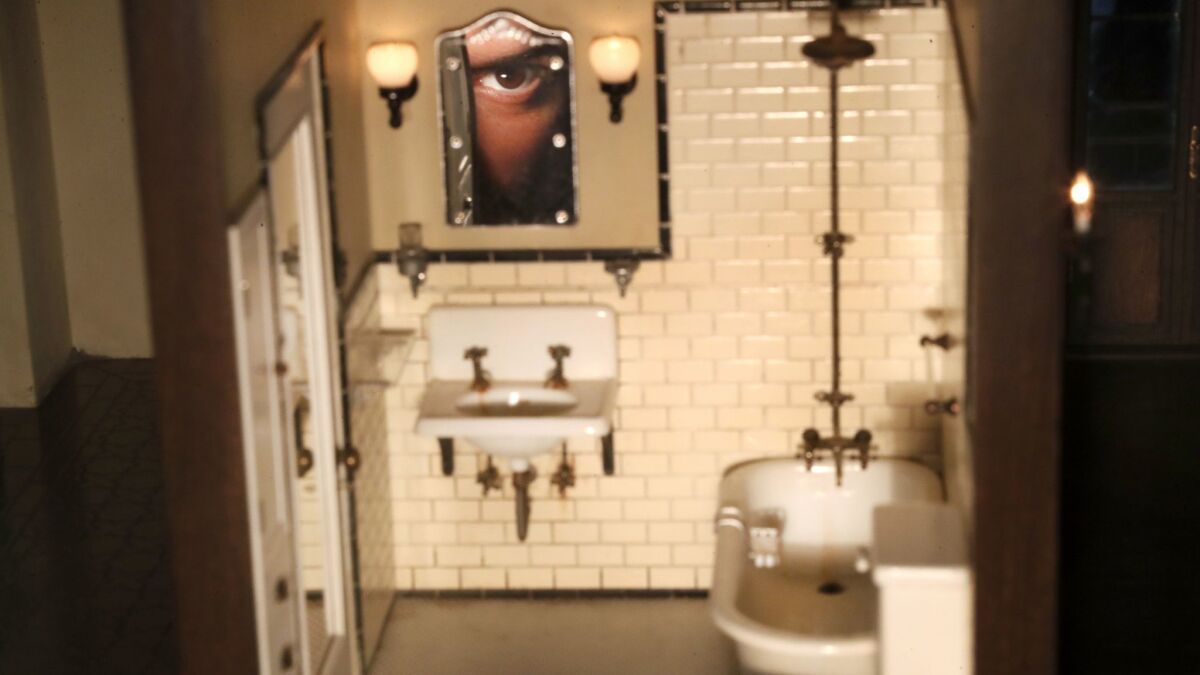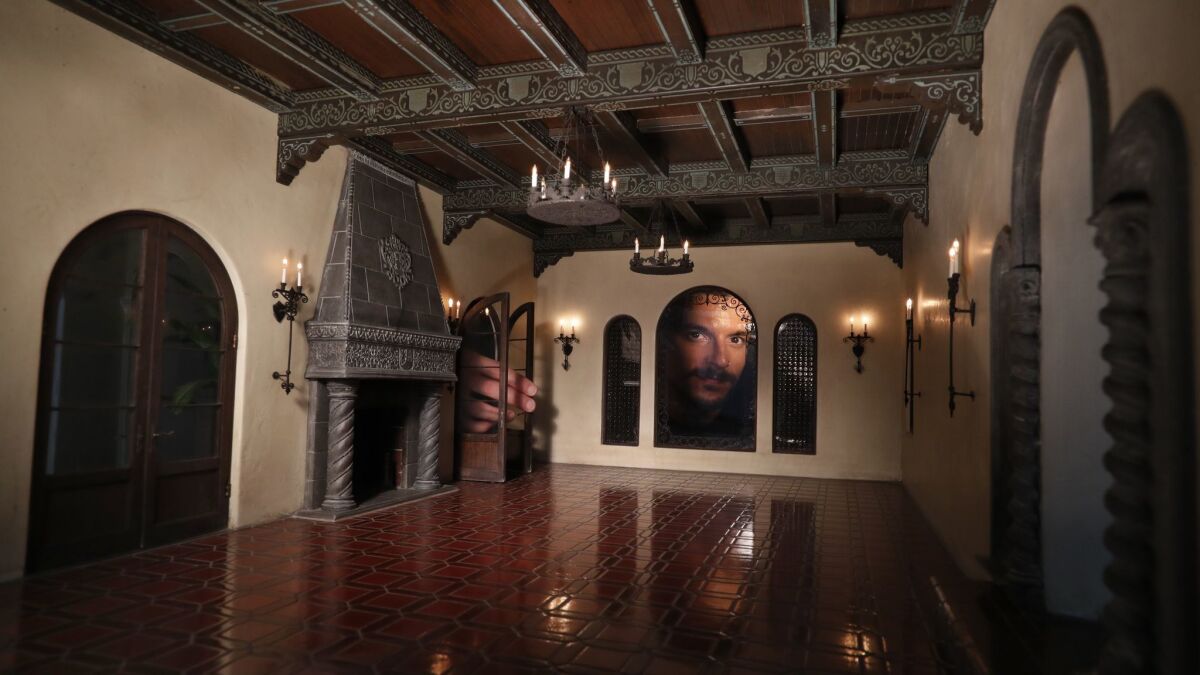 Toledo's plan was to build a two-story, two-bedroom Spanish villa, a vision he'd formed from watching Bob Villa restore a Spanish home on TV and spending hours driving around ogling grand estates in Hancock Park and South Pasadena.
"I imagined I was a wealthy person in the 1920s ... who moved to Los Angeles to build a home for my family. This would be my castle," he said.
On miniaturist sites, there are plenty of examples of Victorian homes and English cottages. Spanish dwellings are rare. So Toledo had to make things up as he went.
Everything his father taught him about carpentry, painting and metal work came in handy. So did the hours he spent watching YouTube tutorials and home restoration shows.
To build scroll railings, he taught himself to solder bits of brass — beads, wire and charms he sourced online.
To make six different types of terra-cotta and ceramic tiles, he tried nearly 20 methods — including flattening clay on a pasta machine. He ended up hand-painting each tile and laser-etching the grout lines.
To get precise measurements for his barrel roof, he scrambled onto the rooftop of his two-story apartment building.
"If something wasn't just right," Toledo said, "I'd literally tear it down and build the whole thing over again."
Tools took over the guest-room closet: saw, drill, soldering iron. Shelves filled up with paint cans, spackle pastes and sculpting clay.
In one corner, he set up a big laser cutter he bought for $3,500 on EBay. In another, a table to do the tiniest tasks, such as attaching 10-millimeter hinges to wooden doors less than 7 inches tall.
To afford everything he needed, he sold some of his clothes and miniature furniture he'd collected since he was a boy. He lived modestly. But the costs added up, into the hundreds, then thousands.
There were times when Toledo grew so overwhelmed by the house, he couldn't bring himself to go near it. Sometimes, too, it looked so lifelike and perfect from the outside that it was painful knowing that he'd never live inside.
---
A sneak peek of his freshly tiled staircase, a close-up of his hand-painted ceiling beams, a wide shot of his living room, washed in the electric glow of his scroll work sconces — Toledo started posting images on Instagram and Facebook. Each carried a little clue to show the scale — a quarter leaning on the fountain, a Super Glue bottle in the corner of the guest room, a pencil lying wall-to-wall across the kitchen.
The comments began to roll in.
"Everything is so real! I imagine it on a hill above Montecito."
"I've come back again and again to gaze into this scene."
One person went so far as to call him "the Michelangelo of miniatures."
His fan base grew to nearly 40,000. Other miniaturists took notice. They marveled at his precision, his technique, his ability to constantly outdo himself — aged plaster on the walls, glistening tile on the kitchen ceiling. When Toledo posted photos of himself beside the home, they marveled that he was so young — and male.
The miniature world is full of women, many from the East Coast.
He made friends with Bridgette, whose specialty is teensy-weensy cats, mice and bunnies; June, who fashions French Baroque furniture; Barbara, who does wonders with stained glass.
Soon, Toledo had become a new star.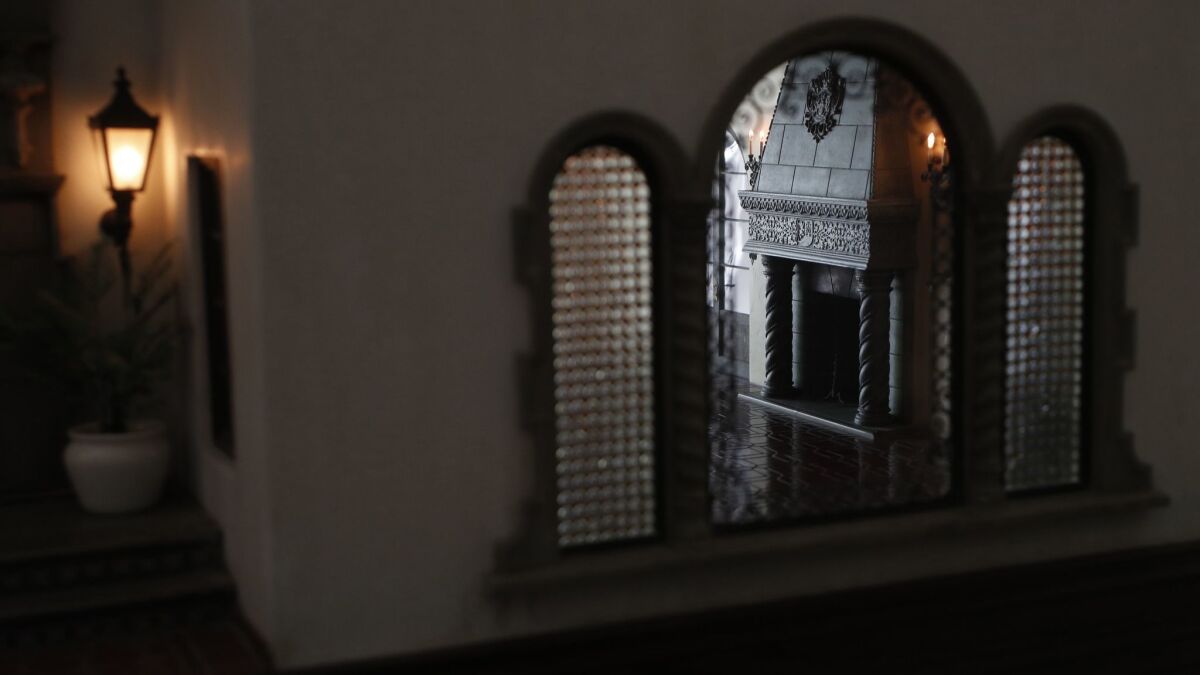 "The kid is astonishingly talented," said Bradley Meinke, who lives in Missouri and is the head of the Cat's Meow Miniature Society, a group with about 350 members. "If he sticks with it, he's going to be in the upper echelon of the miniature world."
The upper echelon, Toledo learned, is a rarefied place. It includes those who make the sort of intricate edifices Kay Browning began acquiring in the 1970s and displays in her museum in Maysville, Ky.
Browning recently came across Casa California's black-and-white-tiled bathroom online.
The space instantly transported her to her Greek Revival childhood home.
"It made me feel very comfortable and warm inside," she said. "I really wanted to have it."
So she commissioned Toledo to build that childhood bathroom. They have yet to discuss a price.
Browning's miniature world includes buildings that have sold for more than $200,000. Some collectors have been known to take out mortgages to buy such properties. Others pay interior designers large sums to outfit their interiors.
Browning says one furnished piece, her ancestral home in Cheshire, England, is worth close to $500,000.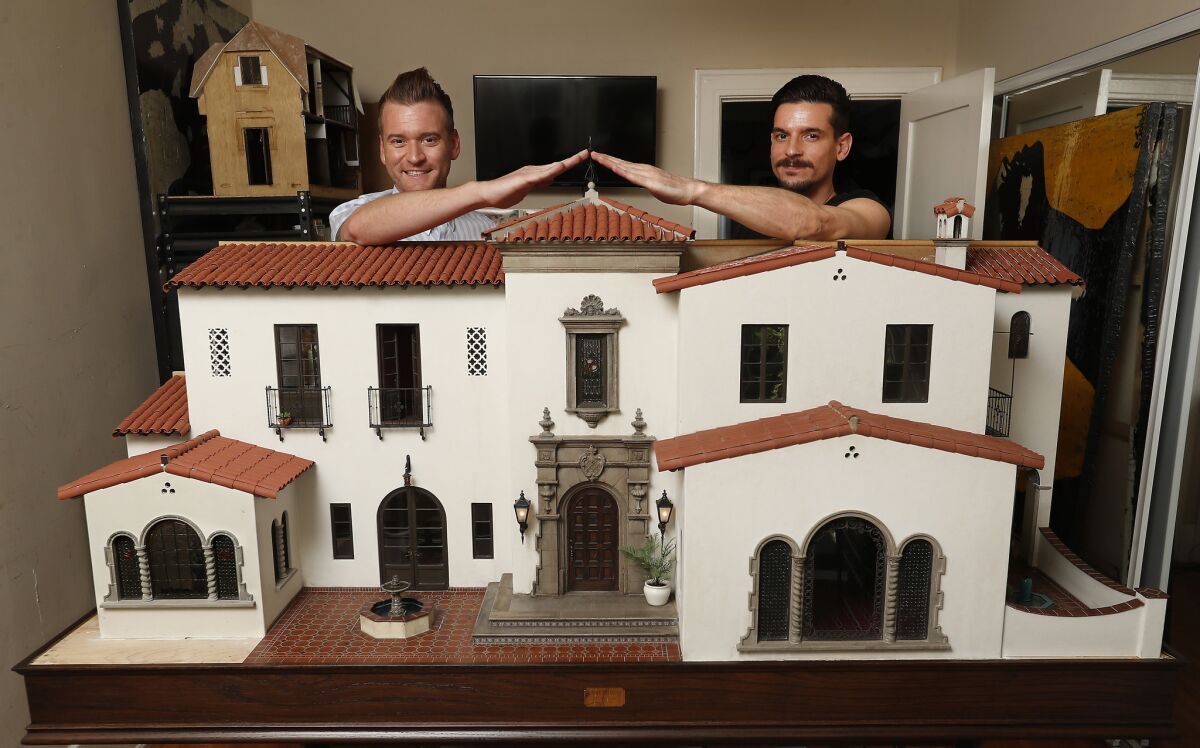 Toledo and Mathiasen long to own a piece of Los Angeles — a real house they can settle into after they marry this fall.
Now they realize that Casa California may be their best bet.
"It's fine art," said Mathiasen, who works as a fashion sales manager. "It can be worth a lot."
At first, he didn't fully understand. He thought of miniatures as toys.
Sometimes he'd wander into Toledo's workspace and tinker around in the tiny bathroom. He'd accidentally break the leg off a tub, the faucet off a sink. Toledo would stare at him, dead silent.
"He and the cat are the two household members forbidden from entering my studio," Toledo said.
Every week, the couple hunt for properties on Zillow. Their phones buzz all the time with new listings.
But in L.A., their maximum price of $600,000 is pretty much entry-level.
So the homes they can afford with the kind of charm Toledo wants are in sketchy neighborhoods or have major problems: water damage, faulty foundations, kitchens and bathrooms that are total gut jobs.
On a recent afternoon, the two hit the road in Mathiasen's Mazda to do what they often do: drive around Hancock Park and worship the houses.
Down wide, commodious June Street, the two sighed and craned their necks to catch a glimpse of every entryway and balcony.
"Look at the Tudor over there," Toledo said.
"That's stunning," said Mathiasen.
"It's a buffet of gorgeous houses."
"I literally want every single one."
They're hopeful a collector might shell out as much as $80,000 for Casa California — which would go a long way toward a down payment.
Not on a house of its grandeur — with splendid stained glass and tile, said Toledo.
"Maybe a little Spanish bungalow we can fix up over time."
esmeralda.bermudez@latimes.com
The stories shaping California
Get up to speed with our Essential California newsletter, sent six days a week.
You may occasionally receive promotional content from the Los Angeles Times.