MTA shows what taxpayers will get if they OK a $120-billion sales tax increase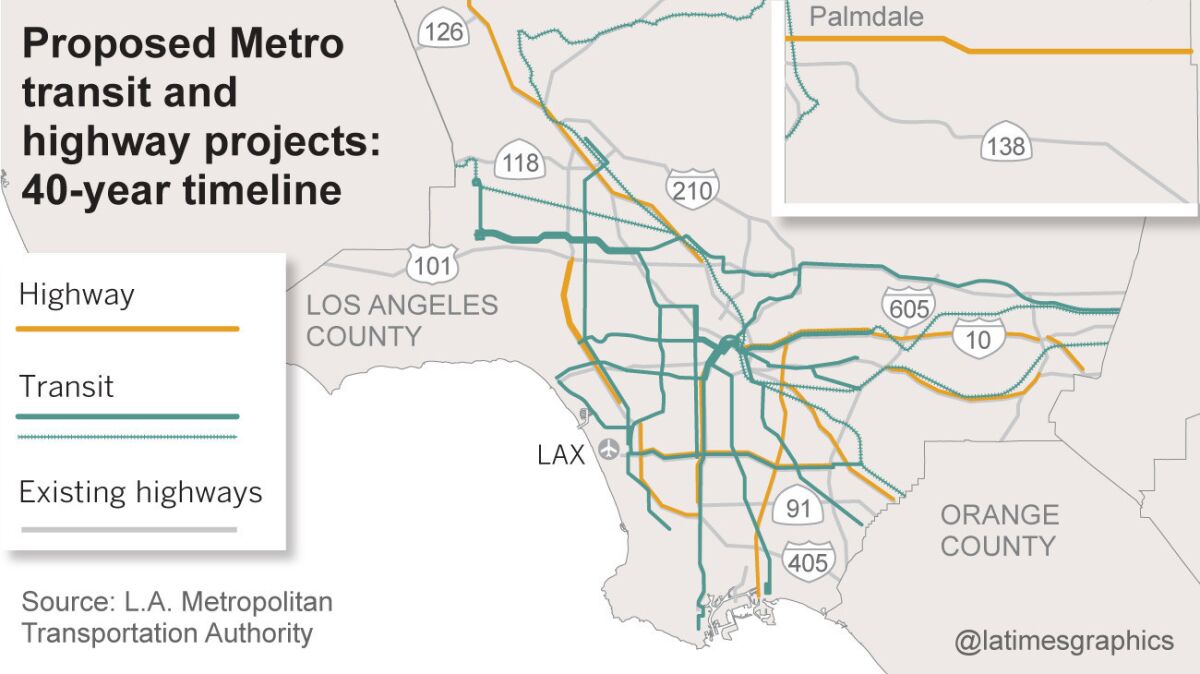 New rail routes through Claremont, Van Nuys, Westwood and Artesia would be built first under the Metropolitan Transportation Authority's ambitious $120-billion plan to expand mass transit in Los Angeles.
These lines would connect the region's growing transit network to cities that have lacked passenger rail since the demise of the Pacific Electric streetcar network a half-century ago.
The routes also represent a political calculation by transportation planners to spread out new services across the county as they try to persuade voters to approve a sales tax that would fund their construction. The priorities pleased officials in some areas but left others complaining that their regions were overlooked.
The transit blueprint, unveiled Friday, would fund more than three dozen mass transit and highway improvements over the next four decades if voters approve a $120-billion tax increase proposal expected to appear on the November ballot.
To meet the two-thirds voter threshold required for approval — often a high hurdle — Metro's proposed measure will need strong voter support in virtually every area. The proposal's geographic balance reflects that, with rail lines and highway projects stretching from the South Bay to the North County and from Westwood to Claremont.
There's an understanding that if people are paying taxes in a region, they should see results.
— Eric Garcetti, Los Angeles mayor and Metro director
"There's an understanding that if people are paying taxes in a region, they should see results," Los Angeles Mayor and Metro director Eric Garcetti said. "There will not be everything for everyone, but there's something for everyone."
The plan seeks to extend an existing half-cent sales tax for two more decades and raise the sales tax rate by an additional half-cent for at least four decades, boosting the county's base sales tax rate to 9.5%.
The list seems carefully designed, in part, to avoid the criticisms leveled at Measure R, the half-cent sales tax approved in 2008 that is funding a dozen rail projects, and a proposed extension of the tax that narrowly failed four years later.
Elected officials said at the time that the ballot measure taxed suburban residents to pay for costly rail projects in central Los Angeles, including the subway under Wilshire Boulevard.
Metro's new proposal would fund nearly two dozen mass transit lines and rail extensions and 14 highway projects, including widening the 5 Freeway in Santa Clarita and converting carpool lanes to toll lanes on the 105 and 405 freeways.
The measure would extend the Gold Line from Azusa to Claremont and provide funding to finish the Wilshire Boulevard subway by 2024, more than a decade earlier than scheduled.
The long-anticipated $8.5-billion rail tunnel through the Sepulveda Pass would also be partly funded, with an estimated completion date of 2033. Officials said the project could be finished sooner with private-sector funds and partly financed by the proposed tolled lanes on the 405.
"What we are proposing is a balanced connected transportation system, connected not just to highways and to transit, but to everything," Metro Chief Executive Phil Washington said.
Still, the proposal has drawn some early criticism, including from Los Angeles County Supervisor Don Knabe. He said the proposal favors projects in Los Angeles — including the Sepulveda Pass project — at the expense of projects that were scheduled to be finished earlier under Measure R, including the rapid transit line to Artesia and an extension of the Eastside Gold Line to Whittier or El Monte.
"We must not allow high-profile projects to leapfrog rail and highway improvements that can be made in all areas," Knabe said in a statement. An aide added that he was "concerned about geographic equity."
The plan also drew criticism from activists who said a transit agency should not be in the business of widening freeways. Others said the budget should include more funds for improvements to sidewalks, bike lanes and crosswalks that would make it safer for people to get to transit stations.
The proposal placated some areas that have felt left out of Metro's current rail-building boom, including the San Gabriel Valley and the San Fernando Valley, which is home to 20% of the county electorate but has just two Metro rail stations.
Metro would fund a 9.2-mile, $1.33-billion light-rail line along Van Nuys Boulevard. The route, slated to begin service between 2027 and 2029, would be the first rail line exclusive to the Valley and would provide a critical north-south connection in a network that largely runs east to west.
The plan also includes $286 million for speed improvements and new bridges across the Orange Line busway, and $362 million of the estimated $1.4 billion needed to convert the route to rail.
"Because we have always insisted that any measure must include the Valley's top transit priorities, all of these projects are on the list to get funded and built quickly," said Paul Krekorian, a Metro board member and Los Angeles city councilman who represents the Valley.
The Gold Line extension to Claremont would be the first project to begin service, around 2025, Metro said. The chief executive of the Gold Line construction authority said the draft proposal "is certainly good news," although he noted that the recommended funding falls short of the project's estimated budget.
Washington said Metro hopes the board would approve extending the tax to five decades, which could raise an additional $11 billion and accelerate the construction of two rail lines.
"I'm inclined to support 50 years," Garcetti said. With additional funding, Metro might also tackle more projects, he said, including bringing rail to Bob Hope Airport, or finish others earlier, including extending light rail through West Hollywood and Hollywood.
Metro officials will have three months to hear comments from the public and make changes to the proposal. The agency's directors are expected to vote in June to place the proposal on the November ballot.
Twitter: @laura_nelson
ALSO
Verizon reports outages across Southern California
Protesters assail city seizure of tiny houses from homeless people
Death of high-rise worker in downtown L.A. investigated as possible suicide
---
The stories shaping California
Get up to speed with our Essential California newsletter, sent six days a week.
You may occasionally receive promotional content from the Los Angeles Times.