Protesters assail city seizure of tiny houses from homeless people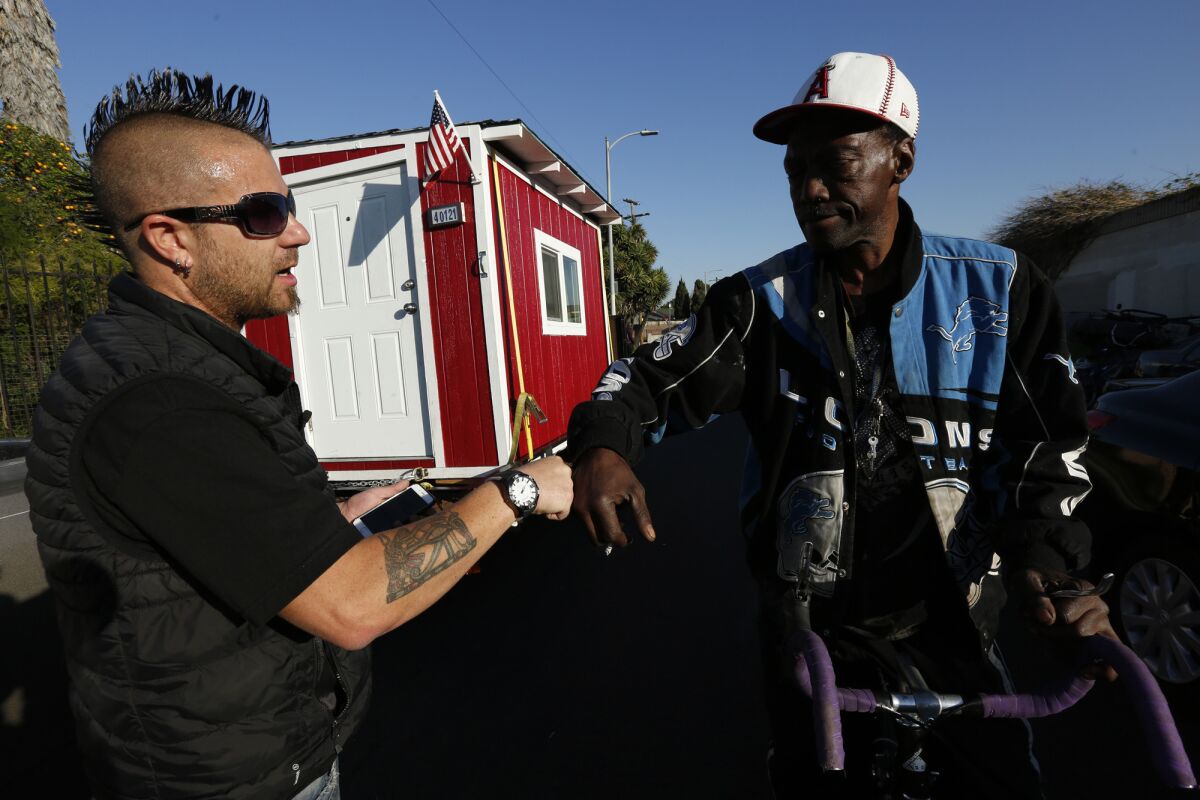 There were almost as many selfie-sticks and videocams as people at a rally Friday on the steps of Los Angeles City Hall to protest the confiscation of tiny houses from homeless people living in a freeway underpass in South Los Angeles.
The 75 protesters, drawn by tiny house builder Elvis Summers' online postings about his war with the city, included MacArthur Park church group members, hipsters, and Gordon Bernstein, a homeless man from Gainesville, Fla., who arrived with a thick gnarled staff in hand -- "the white wizard," Summers called him.
------------
For the Record
6:45 p.m., March 19: An earlier version of this article said First to Serve's winter shelter is at First African Methodist Episcopal church. It is at Ward AME church. The article also originally said 100 people had found homes through city- and county-funded programs in the greater South Los Angeles area in the last 18 months. That number is 500.
------------
"These people deserve to live a little bit better than tents," said Marisol Viera, 42, of Inglewood, one of Summers' volunteers.
"I'm homeless, but I'm not here to cry," said Walter West, 62, one of many attendees who were live-streamed, blogged and YouTubed during the event. "We're humans, we eat, we drink, we smoke, we dance and dance and dance. I came here to get something."
Summers is one of several entrepreneurs jumping on the tiny house craze, which was originally a lifestyle-downsizing movement, to provide shelter to homeless people.
The city in late February seized three tiny houses that Summers, with the help of volunteers and a $100,000 gofundme campaign, had built and donated to homeless people. City Councilman Curren Price, who requested the removals, said the houses blocked sidewalks and put neighbors at risk, particularly schoolchildren.
"Kids were having to walk out in the streets to get to school," Price said. "Plus there was trash, debris, dirt and other issues."
Protesters, however, said city sanitation workers left the trash and just took the gaily-colored, garden shed-sized houses. About three dozen houses have been built and are scattered throughout the Los Angeles Basin, from Van Nuys to Inglewood.
Price said do-gooders were free to invite homeless people to park their tiny houses in church lots or other private spaces. Just not on South Los Angeles sidewalks, he said.
"People are coming from the Westside or other areas in a paternalistic way and and saying they're bringing little houses to solve your problems," Price said. "A lot of people in South -Central would probably say no."
Mayor Eric Garcetti does not favor tiny houses for homeless people, his spokeswoman said.
"The mayor is focused on providing permanent supportive housing that gets people off the streets for good," said spokeswoman Connie Llanos. "We have space in shelters today."
First to Serve, a winter shelter at Ward African Methodist Episcopal church on 25th Street in South Los Angeles, was at 64% capacity Thursday night, according to the homeless authority's website.
Tiny house supporters said many shelters are overrun by lice, bedbugs, violence and drugs.
"A lot of people left skid row because they don't want to be involved in that," Viera said.
Price conceded the city had done a "poor job" of providing housing and other help to homeless people, but said the city is turning it around with the adoption of a nearly $2-billion citywide homelessness plan this year, and $30 million to provide outreach, coordination, showers, storage and other services.
Price said he had dedicated $300,000 to intensive outreach of his South Los Angeles district's homeless population, estimated at 2,500, second only to skid row. Los Angeles Homeless Services Authority said the new teams had made 120 shelter referrals and placements, provided 210 people with direct services and transportation and referred 41 others to mental health and medical services.
The number of people housed in Price's district was not available, but Veronica Lewis of SSG/Hopics, one of the social service agencies working on outreach, said 500 people had found homes through city- and county-funded programs in the greater South Los Angeles area in the last 18 months.
Summers' three tiny houses sit in a city equipment yard pending approval of a new ordinance to make it easier for the city to impound and destroy homeless people's property, including tiny houses. Lewis said she hopes to work with Summers, who has gained the trust of many homeless people in South Los Angeles.
"I get it, he's trying to do something about the problem," Lewis said. "We have the resources. At least we can work together."
ALSO
Lufthansa jet and drone nearly collide near LAX
Homeless man gets $100,000 check for spotting O.C. jail escapees
Report outlines L.A.'s options for funding fight against homelessness
---
The stories shaping California
Get up to speed with our Essential California newsletter, sent six days a week.
You may occasionally receive promotional content from the Los Angeles Times.