Trump order banning entry from seven Muslim-majority countries roils California campuses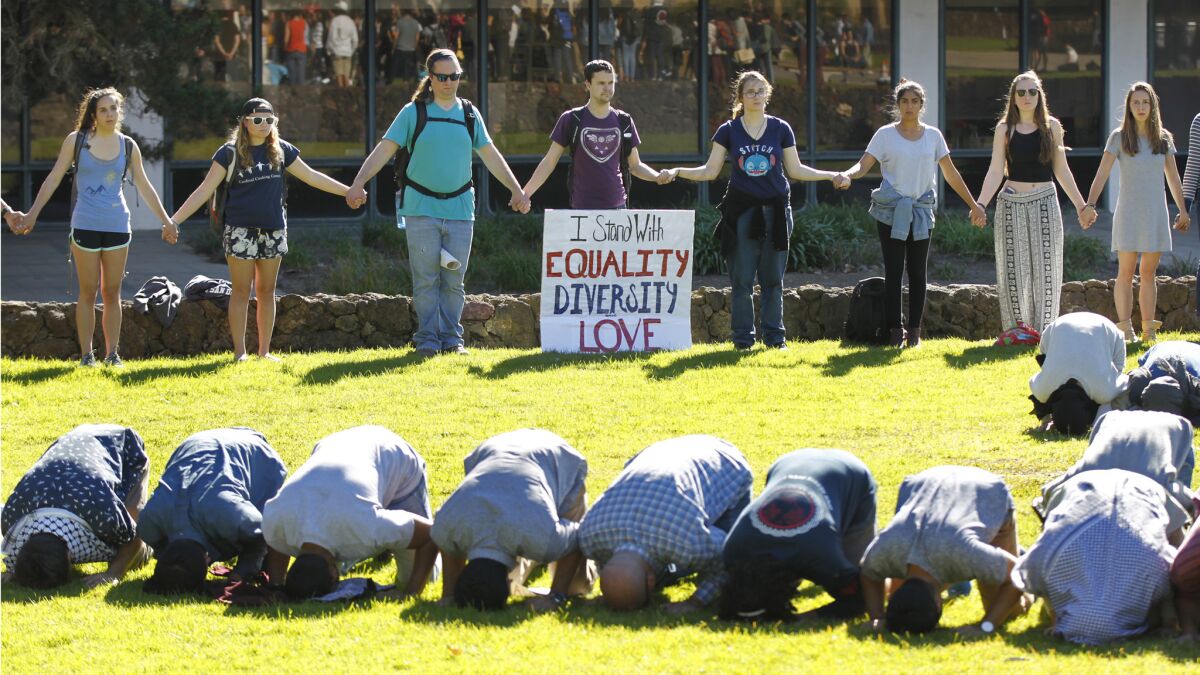 At USC, an Iranian graduate student is canceling plans to conduct research on Syrian refugees, afraid he will not be allowed to return to the United States.
At UCLA, professors have been deprived of a rare opportunity to visit Iran.
At UC Irvine and other campuses, students are nixing plans to visit their relatives post-graduation.
President Trump's recent executive order imposing a 90-day ban on entry into the United States from seven Muslim-majority nations is roiling universities across California and the nation, fueling deep anxiety about the future of international academic exchange.
"Universities like UC depend on the exchange of students and faculty across the world and getting the best researchers and the best young scholars that we can," University of California President Janet Napolitano said in an interview Monday. "The executive order runs counter to that by singling out a few Muslim-majority countries as home for potential terrorists when the factual basis for that statement hasn't been proven. It's not consistent with our values."
Napolitano, who served as U.S. Homeland Security secretary in the Obama administration, said an extensive screening process already exists, and Trump is needlessly jeopardizing academic collaboration.
"The notion that the United States is just willy-nilly letting people in really isn't true," she said. "We did already have a restrictive policy. The executive order piled on top of that does tip it in the wrong direction," she said.
The Assn. of American Universities, which represents 62 prominent universities, has spoken out strongly against the order and is lobbying to rescind it.
Trump's ban hits hardest in California, whose universities and colleges host the largest number of students from the targeted countries of Iran, Iraq, Libya, Sudan, Somalia, Yemen and Syria. The overwhelming majority of them are from Iran, with 1,286 visas issued to them in 2015, according to U.S. Department of Homeland Security data compiled by College Factual, a New York-based firm that analyzes higher-education data.
The 10-campus UC system enrolled 495 graduate students and 40 undergraduate students from the countries covered in the ban in fall 2016 — 95% of them from Iran. UC Irvine hosted the largest number, with 115 students from Iran and two from Sudan, UC data show.
Cal State University officials said they enrolled 259 students from the targeted countries.
The fallout of Trump's orders hit private and public campuses.
Among individual California campuses, USC was the most popular destination, with 252 students granted visas in 2015 — 239 from Iran, according to College Factual.
Mahan Naeim, a UC Irvine senior majoring in biomedical engineering, said he was furious that Trump's order might interfere with his plans to visit his relatives in Iran after he graduates in June. The U.S.-born Naeim joined protests against Trump's order at Los Angeles International Airport over the weekend and Monday at UC Irvine.
"We're not outraged because we're Iranian; we're outraged because we're American," Naeim said. "All of us have to fight back."
At USC, Aamna Asif and Noha Ayoub of the Muslim Student Union said they're working with other student groups to organize a rally and march from a local mosque, host a "teach-in" and "Know Your Rights" workshops, and ask professors on immigration law to speak on panels.
"We are being proactive. We're not succumbing to that fear," Asif said.
Domenico Ingenito, a UCLA assistant professor of classical Persian, was excited about attending an international conference on Persian literature in March, the first time it would be held in Iran. Monday, he received an email notice that the conference was being canceled because Iran, after Trump's orders, refused to grant visas to 45 U.S. citizens.
Ingenito said he had to postpone midterm exams this week because his students, most of them Iranian, were too upset to study. And his own research will suffer, he said, because he dare not risk visiting Iran now even though he's an Italian citizen; he is unsure about what Trump might do to scholars like him on H-1B visas.
Amir, a USC graduate student in cinematic arts who declined to give his last name for fear of fallout, said, even though he has a green card, he canceled his plans to go to Germany and Turkey over spring break to work on his documentary on Syrian refugee children.
"I just don't want to risk it," he said. "Who knows what else could happen?"
Students say their social media and texts are full of friends' confusion about their status and worries about the future.
Someone's friend in Iran had just been accepted to Northern Illinois University, but now was heartbroken to find out that she might not be able to attend.
Others expressed sadness that their Iranian parents might not be able to come to the U.S. for graduation ceremonies or see the campuses they have long called home.
Maytha Alhassen, a Syrian American doctoral student in American studies and ethnicity, said her parents, American citizens, are anxious about traveling because their U.S. passports still say they were born in Syria.
"This is all about breaking apart and dividing people," she said.
Still, Alhassen and other students said they've been heartened by the support of many Americans on and off campus.
Protesting at LAX, Alhassen taught enthusiastic strangers the dabka, a traditional dance from her family's region, Levant. Together, they danced.
Twitter: @teresawatanabe
Twitter: @RosannaXia
---
The stories shaping California
Get up to speed with our Essential California newsletter, sent six days a week.
You may occasionally receive promotional content from the Los Angeles Times.