Outside of USC, Pat Haden holds more than a dozen roles that pay at least a half-million dollars a year
For USC Athletic Director Pat Haden, the demands of the job lately have seemed unending.
He fired head football coach Steve Sarkisian last week, huddled with top school officials and team members and met with reporters to explain his actions, all before flying to South Bend, Ind., for the Trojans' nationally televised game against Notre Dame.
The frantic stretch of long days and late nights — he briefly fell ill before the game — highlighted the all-consuming responsibilities that come with running a major university's sports programs.
"You can't work any more at this job than I do," Haden said.
But he also juggles extensive obligations outside USC as a member of more than a dozen corporate and nonprofit boards, side work that pays him at least a half-million dollars a year (including stock options and share awards), a Times review of proxy statements and federal tax records has found.
In recent weeks, Haden's performance at USC has come under increased criticism, with some calling for his resignation.
You can't work any more at this job than I do.
— Pat Haden
Haden, whose annual salary and benefit package at USC is $2.5 million, collected about $135,000 combined in annual fees from four charitable foundations, according to the most recent Internal Revenue Service filings for the school and the nonprofits.
Most foundations and other types of charities do not pay their board members, nonprofit watchdogs said, expecting them to volunteer their time. Asked why he accepted fees from the organizations, Haden said through a USC spokesman that the other directors for the four foundations also are paid.
The number of Haden's corporate and nonprofit obligations makes him unique among Pac-12 athletic directors, according to searches of the Bloomberg and Guidestar online data bases — leading sources of information on companies and charities, respectively. None of the other athletic directors is paid for charitable work, the Guidestar registry shows. And most of their nonprofit positions are related to their university jobs.
It is not uncommon for chief executives to hold seats on multiple boards, although advocates for greater corporate accountability say the practice can weaken oversight of companies. Haden said he spends "very little" time on his board assignments and works an average of 70 hours a week at USC.
The school hired the former USC and NFL quarterback in 2010 to turn around a department that had been tarnished by NCAA sanctions. His pay package is more than double what his predecessor, Mike Garrett, earned in his final full year, according to tax records.
Haden is credited with navigating USC through the NCAA penalties, but has drawn the ire of some for not vetting Sarkisian more closely before hiring him — and then for failing to act more decisively after the coach's off-field problems became apparent when he slurred words and shouted an expletive during the school's "Salute to Troy" event in August.
On Thursday, Riki Ellison, who played linebacker for USC and in the NFL, published a lengthy critique of Haden on Facebook that described the athletic director's leadership as "toxic" and called for his ouster.
Sarkisian's downfall has been a major embarrassment to USC, and is the latest setback to its storied football program. Two years ago, Haden fired head coach Lane Kiffin in midseason. Now he is under pressure to find a championship-caliber successor to Sarkisian while balancing his other responsibilities as head of a 21-sport department with an annual budget in excess of $100 million.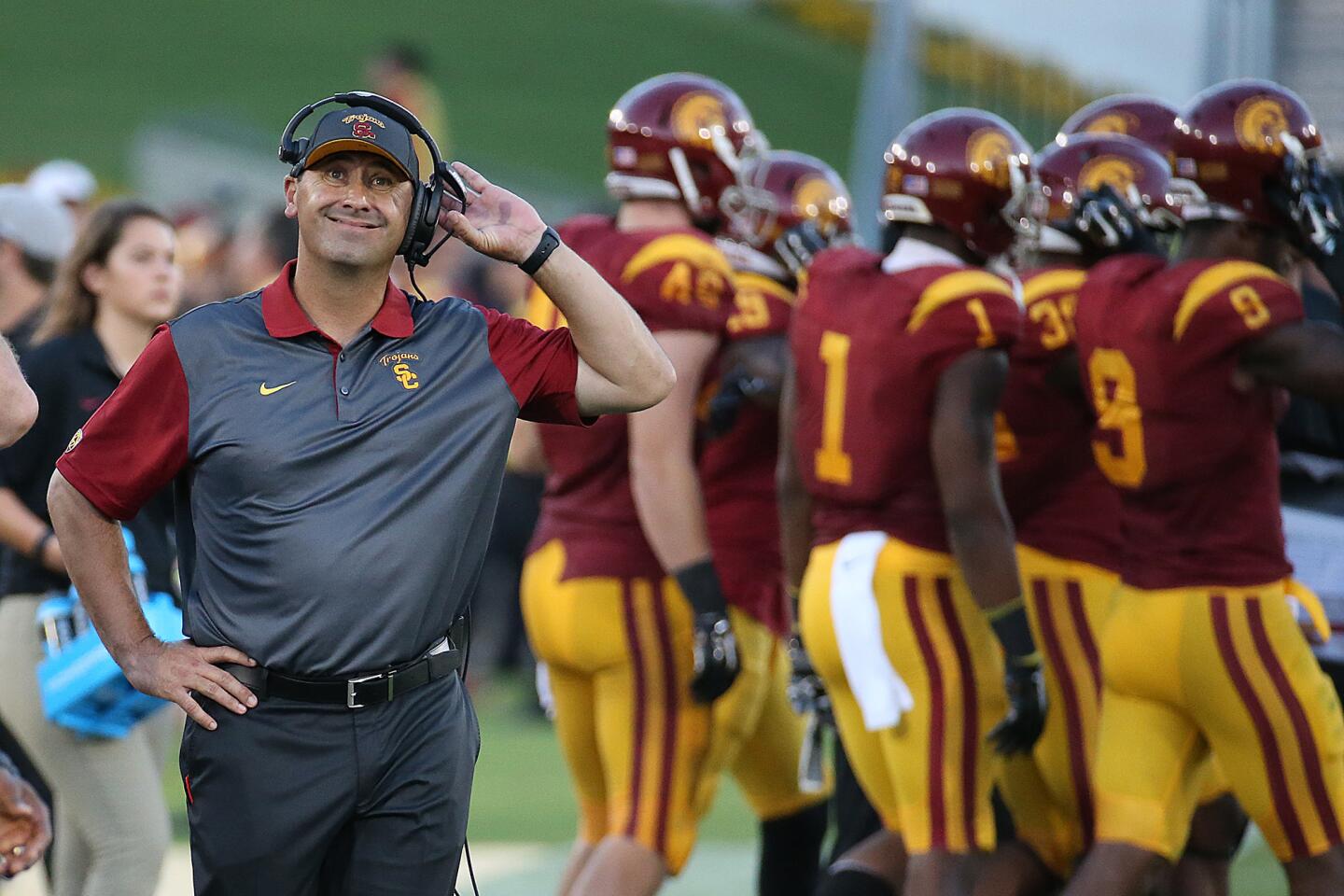 USC Coach Steve Sarkisian looks at the scoreboard after Stanford scored a touchdown on Sept. 19, 2015.
(Robert Gauthier / Los Angeles Times)
USC football Coach Steve Sarkisian addressing the media on Aug. 25, 2015, about his behavior and language during a booster event on campus days earlier.
(Al Seib / Los Angeles Times)
USC football head Coach Steve Sarkisian looks on during action against Utah at Rice-Eccles Stadium.
(Robert Gauthier / Los Angeles Times)
USC Coach Steve Sarkisian leads practice at Howard Jones Field.
(Robert Gauthier / Los Angeles Times)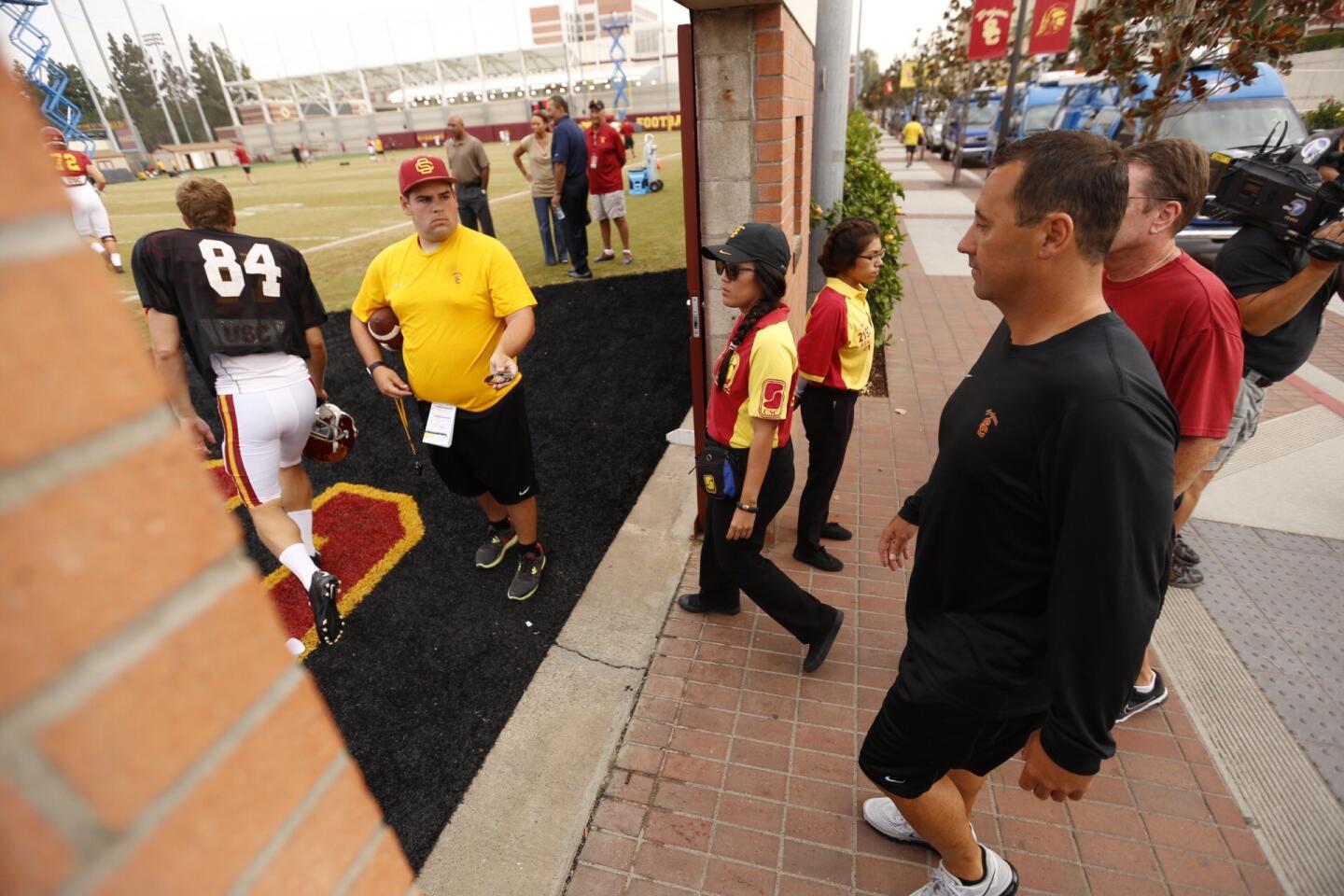 USC football Coach Steve Sarkisian takes to the practice field after addressing the media about his behavior and language during a booster event days earlier.
(Al Seib / Los Angeles Times)
USC football Coach Steve Sarkisian addresses the media on Aug. 25, 2015, about his behavior and language during a booster event on campus days earlier
(Al Seib / Los Angeles Times)
USC Coach Steve Sarkisian watches his Trojans squad warm-up before the game against Idaho on Sept. 12, 2015.
(Luis Sinco / Los Angeles Times)
"Being an athletic director, that's at least a job, a job and a half, maybe two jobs," said Daniel Rascher, a sport management professor at the University of San Francisco.
In an interview with The Times, Haden said that he sat on two nonprofit boards and one corporate board, repeatedly emphasizing how little time the work required. However, in response to follow-up queries, he acknowledged that he actively serves on seven boards — four foundations and three businesses.
In addition, he is listed on tax records as a board member of the L.A. Sports Council and two related groups. The three nonprofits don't pay their directors.
All of his outside commitments, Haden said, had been approved by USC President C.L. Max Nikias when he was hired as athletic director. In a statement, Nikias confirmed that and said Haden "works tirelessly in his role as AD and I deeply appreciate the dedication and long hours he devotes to USC."
Haden works an average of 13 hours a week combined as a board member for the Fletcher Jones, George Henry Mayr, Rose Hills and UniHealth foundations, according to their most recent IRS filings. Tax records for the sports council and two affiliated organizations state that he works an average of six hours a week, but Haden said he has "never been to one meeting."
Several other entities list Haden as a board member or advisor, including a Rhodes Scholarships committee, A Better L.A. and the Pacific Club Impact Foundation. Haden said he is not active in them.
He also sits on the College Football Playoff selection committee, which starting next month will require six trips to Dallas for meetings that are usually spread over two days. Through a USC spokesman, Haden said that last year he spent about 20 hours preparing for each of the sessions. Members are expected to watch condensed versions of key games each week.
"The committee members really give unselfishly of their time," said Bill Hancock, executive director of the College Football Playoff.
Haden, who has a pacemaker, was hospitalized twice last year. He said at the time that "I'm not in good health." A day after this month's Notre Dame game where Haden felt light-headed, he tweeted that he was "fine."
Experts say the corporate board posts should add several hours a week to Haden's workload, as he steeps himself in management decisions and prepares for quarterly meetings.
Haden is a board director at Tetra Tech in Pasadena, a publicly traded consulting and engineering company with 13,000 employees. He also is a director for TCW, a Los Angeles-based asset management firm that handles billions of dollars in funds and pensions. He holds another board position with First Beverage Group, a privately held business in L.A. that advises and invests in beverage companies.
His total compensation from Tetra Tech and TCW last year was about $360,000, according to the firms' proxy statements.
First Beverage's fees for board members are not public, and Haden declined to say how much he is paid, except that it was "considerably less" than what he receives from either Tetra Tech or TCW.
Ann Skeet, director of leadership ethics at Santa Clara University's Markkula Center for Applied Ethics, noted that corporate scandals like the one that engulfed Enron led to calls for more intensive oversight of companies by their boards.
"It's a huge commitment — the phone calls, the in-person meetings, the amount of preparation that is required," she said.
Skeet said Haden's "description of the amount of time he spends doesn't suggest the traditional amount of time the people in those roles spend. He should be asking himself if he is spread too thin."
Although Haden declined to estimate how many hours all his board tasks consume in a typical week, he said he believed the companies were "getting their money's worth" from him.
He said he isn't doing the corporate work for the paychecks — "absolutely not" — but rather to help the companies succeed.
Spokesmen for TCW and First Beverage said in statements that the firms were happy with Haden's service, citing his "valuable insights" and "deep financial experience."
Tetra Tech did not respond to interview requests.
Before Haden returned to USC, he had a successful career as a partner in the private investment firm Riordan, Lewis & Haden. One of the partners was former Los Angeles Mayor Richard Riordan.
Most of Haden's nonprofit compensation came from the George Henry Mayr Foundation, which paid him $72,725 last year for working an average of one hour a week, its tax filings show. Since 2000, Haden has received more than $1 million — including as much as $84,000 in single years — for his work on the foundation's board, according to the IRS records.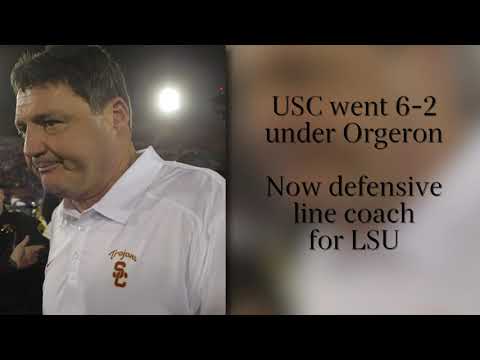 Five coaches have led the USC Trojans football team since 2000. The fifth will be offensive coordinator Clay Helton, who was named interim coach after the firing of Steve Sarkisian on Oct. 12.
His daughter, Natalie Haden O'Connor, is also on the Mayr board, listed as its secretary. She was paid about $68,000 last year, the filings show, and the foundation reported to the IRS that she too worked an average of one hour a week.
O'Connor did not respond to requests for comment. The Times asked Haden if he had arranged to have his daughter placed on the board and what her qualifications were. The USC spokesman responded that Haden "doesn't comment on other directors."
The Mayr Foundation trust administrator said the report to the IRS that O'Connor worked an average of one hour a week last year was a mistake and that the number was actually 15 hours a week.
The Times noted to the administrator that the foundation had reported the same average of a single hour per week for O'Connor and Haden for several years. A spokesman for the administrator later said that those reports also were "inaccurate," but that the correct figures were not immediately available.
Daniel Borochoff, president of CharityWatch, said he believes foundation board members should not be paid because "these are tax-free organizations, so the rest of us are subsidizing them."
The Mayr Foundation, which had net assets of about $19 million, distributed $645,000 in grants last year to educational institutions, including USC, and scholarships, while paying its four board members and the trust administrator a total of $410,000.
The Rose Hills Foundation has donated an average of more than $2 million per year to USC — including the athletic department and sports teams — since Haden joined the board in 2009. He said he recuses himself from decisions by all the foundations that involve USC.
Sandra Miniutti, vice president of the nonprofit watchdog group Charity Navigator, said Haden might have taken on too many foundation assignments, given his USC and corporate roles.
"It would be hard to see how you could be an effective board member for so many different organizations," she said.
But Haden said he's able to manage the busy schedule: "I'm built to work."
Twitter: @pringlelatimes
Twitter: @nathanfenno
ALSO:
Here's why 'train wreck' USC is favored over No. 3 Utah
USC and Cody Kessler are looking to end negative streaks
Chris Dufresne ranks the top 25 teams ... and USC coaching candidates
Sign up for Essential California for news, features and recommendations from the L.A. Times and beyond in your inbox six days a week.
You may occasionally receive promotional content from the Los Angeles Times.