Angelenos say they generally feel detached from city government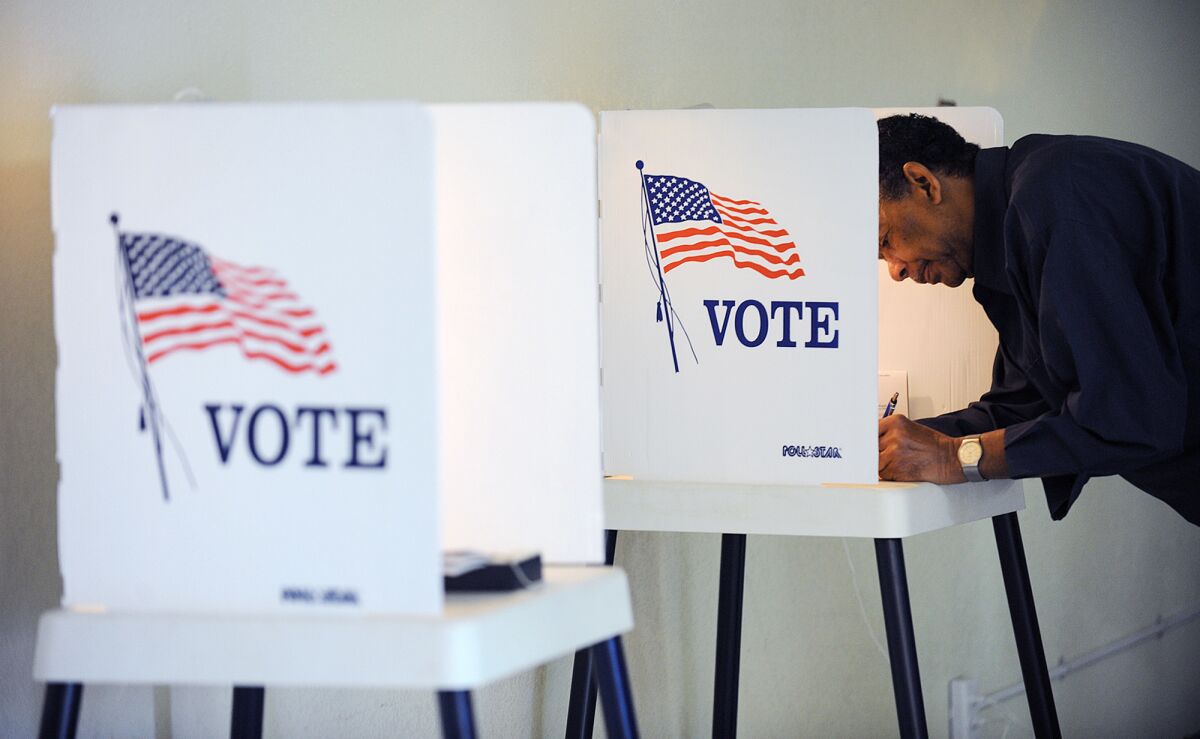 Against a chilly wind, April Galvan pulled her shawl tight as her 5-year-old daughter romped around a jungle gym in a newly renovated city park in Chatsworth.
She's lived in the neighborhood eight years, and the Mason Recreation Center, which got a face-lift, is among the things she says have gotten better.
But Galvan, pregnant with her second child, said she also sees troubling signs around her: more homeless people in the area, more streets in disrepair. "My shocks are done because there's so many potholes," she says. "It's the worst."
Galvan's ambivalence about her corner of Los Angeles extends to her view of City Hall. She didn't vote in the last city election. And she knew nothing about a new round of balloting coming next month — this one to choose close to half the 15-member City Council that decides, among other things, on programs to improve parks, address homelessness and fix roads.
"I try to be optimistic" about local politicians, the 36-year-old surgical technologist said. "But reality says they don't really change anything."
In more than 50 interviews across districts where Angelenos will go to the polls in four weeks, similar themes of detachment were prominent, not just in residents' views of their municipal government but in feelings of community isolation in the nation's second-largest city.
Echoing a sentiment volunteered by several residents living in areas including North Hollywood and Crenshaw, Kwan Wu wished his Koreatown neighborhood felt more connected to L.A. as a whole. He moved there three years ago from Los Feliz, part of a growing number of millennials settling in Koreatown. Working on his laptop in a coffee shop, Wu said he senses a difference. The thriving Koreatown area is growing, "getting bigger," he said. "But it's not integrating."
The sampling of views, though not scientific, offers insights into the mood across L.A. at a time when government and civic leaders are struggling to increase sagging voter participation in city elections — and warning that another dismal, off-year voter turnout could be in the offing.
Media coverage of the current campaigns is just beginning to pick up, and the final push of campaign mailers and advertising is still ahead. Still, most of those interviewed weren't aware of the election or who was running in their districts. As it happens, there isn't even a contest this year in Galvan's district — incumbent Councilman Mitch Englander is running unopposed.
The residents interviewed, mostly registered voters, included students and retirees, and a mix of ethnicities. Approached as they went through their daily routines — exiting a pharmacy, walking to the movies, grabbing lunch — they served up both positive impressions of the city and lists of irritants. The latter ranged from the extremely specific — a city tree dropping too many leaves in the yard — to the generic — too much traffic, too much trash on the streets.
Few credited city elected officials with improvements they'd observed — or looked to them for solutions to problems that persist.
For a generation, Dori Lopez, 59, has run a small Panorama City storefront shop that sells eyeglass frames. Her shop was burglarized one evening last week, she said. It was the third time.
For her, historic lows in the city's crime rate, trumpeted by city elected leaders, aren't reassuring. She said she wants to move — both her shop and her home — out of the central San Fernando Valley neighborhood.
"I'm scared in my own business.I'm scared in my own neighborhood," Lopez said, standing in front of displays of eyewear. "I don't know how politicians are going to take care of it."
Raphael Sonenshein, executive director of the Pat Brown Institute for Public Affairs at Cal State L.A., said people care deeply about problems affecting their daily lives, even if they aren't paying attention to municipal politics.
"It's not apathy about issues or about wanting to see a better community," he said. Many just don't see local elections as way to address those concerns, he said.
Feelings of political detachment from City Hall are reinforced, several residents and experts said, by the sheer amount of territory and dissimilar neighborhoods many council members represent. One newly redrawn council district stretches more than 10 miles across central L.A. from Sherman Oaks to Los Feliz and the Miracle Mile.
At a recent campaign forum in Sherman Oaks, James Cruce, 61, listened in and picked up candidates' fliers. He was trying to figure out who to vote for —14 people are running in the district.
Cruce, a champagne importer, said he's focused on three things: mansionization, billboard blight and street repaving. During his seven years living in Sherman Oaks, those problems never seemed to get addressed, he said. "They get worse."
In the distant Los Feliz section of the district, resident Cecile Ignat, 56, had three concerns: homelessness, the cost of living and trash on the streets. Like Cruce, she said it feels as though little improves. "I'm not really happy living here in L.A.," she said.
Jessica Levinson, who teaches election law at Loyola Law School, said L.A. council districts "are so huge that it's really easy to feel like you have no connection to your elected official."
Each district contains about a quarter of a million residents and, in many instances, sharply diverse communities of voters. And L.A. is simply a less political place than San Francisco or large Eastern cities such as New York and Boston, where politics figures more prominently in daily life and culture, Levinson said.
Some City Hall watchers expect another weak election turnout next month, perhaps establishing a new modern-day low. In the mayoral primary election in 2013, only about 1 in 5 registered city voters went to the polls. In the last non-mayoral City Council election — the most comparable to this year's campaign cycle — turnout was a third less, about 14%.
Two measures on the upcoming ballot aim to boost voter engagement by consolidating city and school board elections with June and November state and federal campaigns in even numbered years, starting in 2020.
Kathay Feng, executive director of public advocacy group California Common Cause, said L.A.'s elections are "held on odd-ball spring days that nobody's aware of."
"Most voters don't even realize that an election is happening," she said.
Moving the elections would increase voter turnout by making the contests "part of a larger conversation," said Feng, who is a co-chair of a campaign committee supporting the ballot measures.
Critics argue that consolidating city elections at the bottom of a long, statewide ballot, amid a blitz of television and radio ads and campaign mailers, will mean L.A. candidates and issues will receive less attention.
Nicole Daniels, who works at a shop selling cellphone plans near the intersection of Century Boulevard and Normandie Avenue in South L.A., wants those seeking city office to focus more narrowly on basic neighborhood services such as paving streets, beautifying rundown communities and providing after-school activities.
And officials should press police officers to work more closely with the community to reduce tensions, she said. "It's bad here. It's gangs vs. gangs, and gangs vs. police."
North Hollywood resident Lisa Stevenson, a lifelong Angeleno, was more upbeat about the state of the city. The 38-year-old likes the trendy businesses that have popped up in her neighborhood in recent years. She'd like to see more cohesion among L.A. neighborhoods and better air quality. But she said that generally she's satisfied with the way things are going.
She attributed the changes, for better and worse, to gentrification and changing demographics in the city, and doesn't see local politicians significantly helping or hindering future progress.
"I stay out of politics," she added. "Too much drama, it's messy."
soumya.karlamangla@latimes.com
Twitter: @skarlamangla
Times staff writer Catherine Saillant contributed to this report.
---
Life is stressful. Our weekly mental wellness newsletter can help.
You may occasionally receive promotional content from the Los Angeles Times.