Uber and Lyft must improve access for disabled riders, advocates say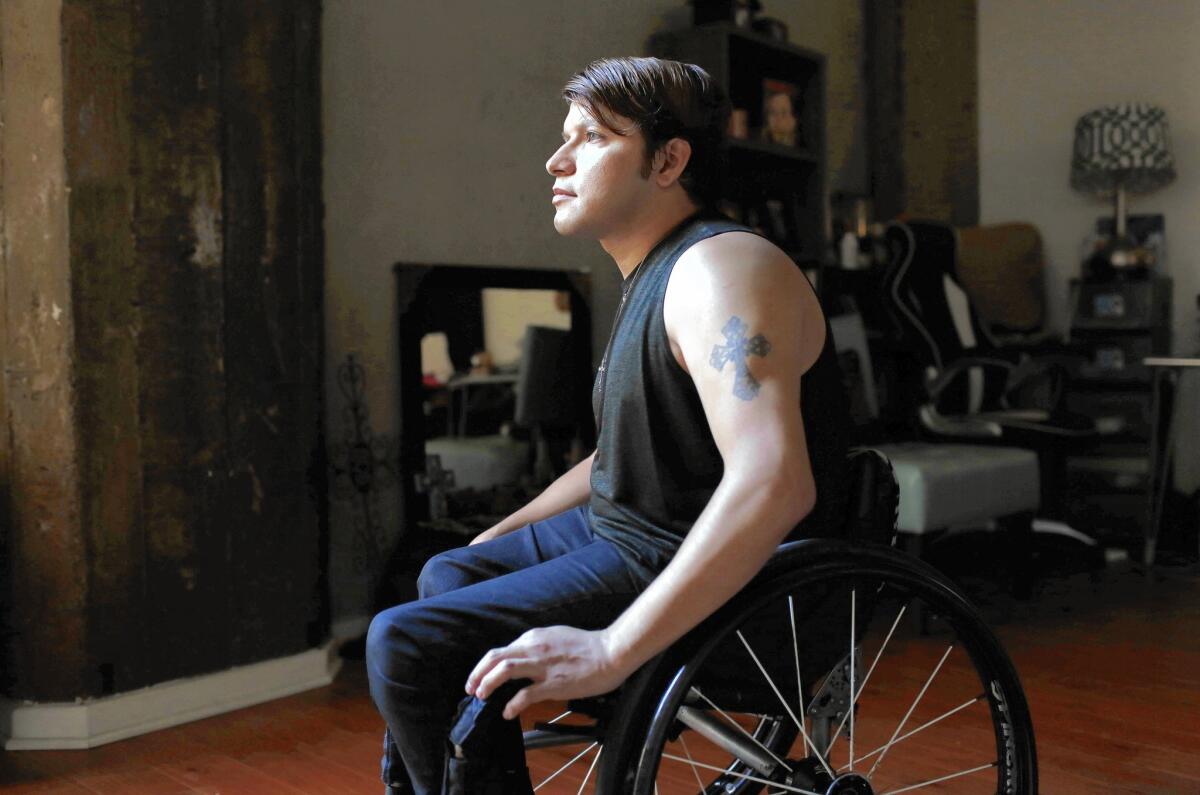 The conference Andy Arias planned to attend on a recent weekday was less than a mile from his apartment in downtown Los Angeles, but he called an Uber to stay out of the oppressive summer sun.
As Arias approached the sedan, the driver saw that he was in a wheelchair. He recalls telling her that he could slide into the back seat on his own, and she would only need to stow the folded, 10-pound wheelchair frame in the trunk.
But she refused to get out of the car. Eventually, a bystander lifted the wheelchair into the trunk.
"It was a teachable moment, and that's putting it gently," said Arias, an actor in his late 20s, who has cerebral palsy. "I've met drivers who were surprised or shocked that I was in a wheelchair, but you can't just refuse to help."
Arias' experience, and others like it, have raised concerns that app-based ride service Uber and its main rival, Lyft, aren't doing enough to meet the needs of passengers in wheelchairs. As the start-ups negotiate for permits to pick up passengers at Los Angeles International Airport, advocates are pressing regulators to require better access for disabled travelers, saying they should be as confident that they can catch a ride with Uber and Lyft as with a taxi.
Both companies are facing lawsuits across the country — in California, Texas and Arizona — alleging that their drivers discriminate against people with wheelchairs and seeing-eye dogs. Some say compliance with the Americans with Disabilities Act could become a stumbling block for the companies as they look to expand and solidify their role in the rapidly changing world of on-demand transportation.
Interested in the stories shaping California? Sign up for the free Essential California newsletter >>
App-based ride companies "really are ahead of their time, when it comes to transportation innovation," said Ruthee Goldkorn, a Los Angeles-area disability advocate. "I love that. But you can't leave people behind."
People in manual wheelchairs, like Arias, can ride in most cars with relative ease. But electric wheelchairs, which are heavier and bulkier, require a ramp or lift on a vehicle and tie-downs to provide stability during the ride.
The Uber and Lyft apps include a feature that enables passengers to call a wheelchair-accessible vehicle. But how many are available and how long passengers wait to be picked up have become cause for concern, as have questions about vehicle inspections and driver training.
State regulators have told the companies to provide equal service for the disabled, but have not gone into detail. In a key ruling that legalized ride-hailing services statewide two years ago, a Public Utilities Commission official noted that California has "few provisions or protections to ensure equal access for passengers with disabilities" in an Uber or Lyft car, as well as town cars and limousines.
Uber and Lyft say they require their drivers to comply with the Americans with Disabilities Act. But because drivers are considered independent contractors, the companies cannot require them to buy a wheelchair-accessible car, they say. Those vehicles, often retrofitted minivans, are costlier to maintain, and the additional weight of the equipment makes them less fuel efficient.
When city officials agreed to allow a permit process for Uber and Lyft to operate at LAX, they asked airport officials to include a provision requiring that all transportation providers serve disabled passengers. How that will be accomplished isn't clear.
Uber declined to comment on the record on the number of vehicles it has in Los Angeles. But during a hearing with LAX's disability advisory committee this year, company representatives said they had about 10 wheelchair-accessible vehicles available in L.A., provided by a non-emergency medical transportation company.
A ride to LAX from downtown L.A. in such a vehicle costs $39 to $52 — a rate similar to the company's sport utility vehicles. The same trip in Uber's cheapest option costs about half as much.
In a report to airport officials, the committee said riders who depend on paratransit and accessible van transportation may not be able to afford the service at all.
"That price is something we're not proud of," operations manager Tim Foran told the committee, adding that Uber hoped to bring the cost down "as much as possible by adding more demand and becoming more efficient."
"It's just blatant discrimination," said Marilyn Golden, a senior policy analyst at the Berkeley-based Disability Rights Education & Defense Fund. "They can't charge people with disabilities more money to take the vehicle that happens to be the one that's accessible to them."
When Golden testified before state regulators last year, she urged them to consider a fee that would be tacked on to every Uber trip to subsidize wheelchair-accessible cars.
A ride in an accessible taxi in Los Angeles costs the same as any other cab. About 10% of the city's 2,361 taxis can accommodate electric wheelchairs — an important service for the 1 in 10 Angelenos who identify as disabled. Many rely on public transportation, cabs and paratransit services to run errands, make social calls and get to doctor appointments. They can sometimes wait hours before a ride arrives.
The city's nine franchised taxi companies can't require drivers — who are independent contractors — to buy or lease a specific car. But some companies make the option more attractive by offering a bonus of $10 or $15 per trip, or by providing a discount on the monthly fees that drivers pay toward their dispatch systems and insurance, a Department of Transportation spokeswoman said.
Uber drivers in San Diego, San Francisco and Los Angeles can opt to receive extra training on how to work with passengers with walkers, scooters and wheelchairs, a company representative said. The training will soon include tips on working with passengers with intellectual disabilities.
That's a start, advocates say. But they say such training should be mandatory for every new hire.
Arias, the actor, said using Uber across the country has become a way for him to educate more people on how to work with the disabled. Sometimes, he says, drivers are startled to see that their passenger is in a wheelchair, but are usually eager to learn how to help him into the car and store the wheelchair in the trunk.
"But I'm one of the only people I know of in a wheelchair who takes Uber on a regular basis," Arias said. "I've heard it so many times: 'We're not taking Uber because they're not accessible.' People don't want to needlessly expose themselves to those frustrations."
If Uber invests more heavily in paratransit, he thinks there will be a big market waiting. More than 17 million Americans, or about 7%, have a physical disability that makes walking a quarter-mile difficult or impossible, according to federal data. That number is expected to rise as baby boomers get older.
For more transportation news, follow @laura_nelson on Twitter.
ALSO:
The court ruling that could blow up Uber's business model
Uber drivers granted class-action status in legal battle
Uber is on pace to collect $2 billion from riders this year, report says
Sign up for Essential California for news, features and recommendations from the L.A. Times and beyond in your inbox six days a week.
You may occasionally receive promotional content from the Los Angeles Times.