San Francisco sees sharp rise in property and violent crimes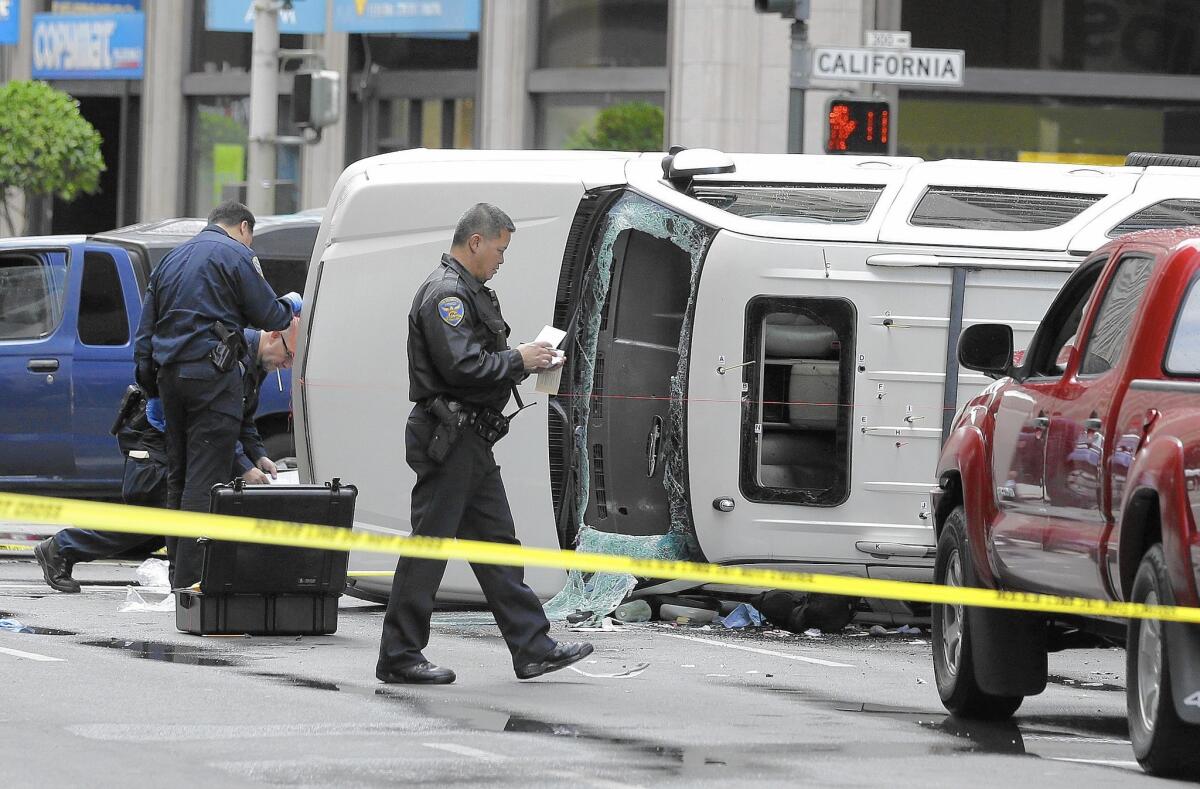 As San Francisco booms thanks to the tech industry, one side effect has emerged: an increase in crime.
The city saw more than 20% jumps in both the rate of property crime, such as thefts and burglary, and the rate of violent crime, such as robbery and assault, between 2012 and 2013.
The city's elected public defender, Jeff Adachi, said the jump in property crimes is a concern.
"Certainly, we've seen an increase in theft-related offenses, particularly car thefts," Adachi said in an interview Wednesday.
"In San Francisco, you definitely have this tale of two cities. You have a lot of very rich people. The top 5% have a median income of $350,000. And then you have 23% of the population at poverty levels," Adachi said. "When you have income disparities like that, you're going to see crime rates that may reflect that.
"Theft, often, is a crime of poverty, and certainly, the spike in thefts causes us concern," Adachi said.
The rate of larceny and thefts per 100,000 inhabitants jumped 27%. Burglary rates rose 10%, and the rate of motor vehicle thefts was up 8%.
"When we see crime statistics like this, we want to examine why there's a spike and what we can do to address it," Adachi said.
Evidence of increased alertness regarding street crime is evident throughout the San Francisco area. The city's Muni bus service asks riders to stick their phones in pockets and purses, and launched an "Eyes up, phone down" campaign.
"Owls can rotate their necks 270 degrees to see everything around them," Muni says on its website. "Be like an owl."
Smash-and-grab thefts from cars are also an increasing concern, including in Silicon Valley. Restaurants sometimes remind diners to bring their laptops and tablets from their cars.
San Francisco's increase in reported crime was particularly notable as California as a whole saw drops, as did the Golden State's largest cities, including Los Angeles, San Diego and San Jose. Oakland and Stockton, two large cities that have among California's worst crime rates, also saw improvements between 2012 and 2013, according to the recently released FBI Uniform Crime Report.
In San Francisco, the rate of reported rapes rose by 47%; aggravated assaults, 23%; and robberies, 18%. But the rate of murder and nonnegligent manslaughter fell by 32%, part of a multiyear trend of reduced homicides in San Francisco.
In fact, there were only 14 homicides in San Francisco in the first half of 2014, the lowest number in that time period since 1954, Adachi said. Shootings also are way down: 71 in the first half of this year, down from 370 during the same time period in 2008.
For violent crime, Adachi said the overall numbers have been declining since the early 1990s, which mirrors a national trend of falling violent crime. "There are so many reasons crime rates fluctuate in a given city — what you really want to pay attention to is" the overall trend, he said.
jon.schleuss@latimes.com
Twitter: @gaufre
ron.lin@latimes.com
Twitter: @ronlin
Sign up for Essential California for news, features and recommendations from the L.A. Times and beyond in your inbox six days a week.
You may occasionally receive promotional content from the Los Angeles Times.