A homeless woman hoisted an LAPD nightstick during the skid row shooting — and could get life in prison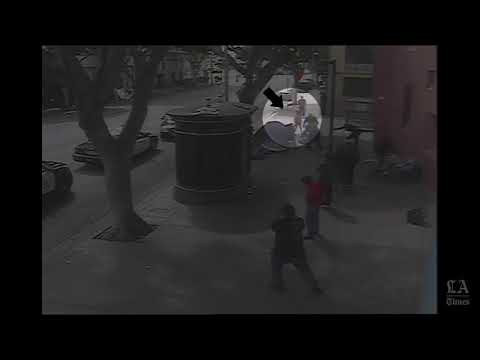 Surveillance video from a camera owned by Union Rescue Mission shows Trishawn Cardessa Carey during a fatal March 1 confrontation between LAPD officers and a robbery suspect in skid row.
Millions of people viewed video of the fatal police shooting March 1 of an unarmed black man known as "Africa" outside his skid row tent.
Police said the man, Cameroonian immigrant Charly Keunang, grabbed an officer's holstered gun when they tried to take him into custody on suspicion of robbery. The shooting stoked long-simmering tensions and anger among skid row inhabitants and advocates who accuse Los Angeles police of being too quick to resort to heavy-handed, violent tactics.
Lost in the debate was a second actor in the confrontation: A thin black woman who stepped into the frame and picked up a nightstick one of the officers dropped during the fierce struggle with Keunang.
The homeless woman, Trishawn Cardessa Carey, 34, has been charged with assault with a deadly weapon against a police officer and resisting arrest, and could face 25 years to life in prison under California's three-strikes sentencing law for repeat offenders.
After nearly five months in jail, Carey was granted a reduction in bail late Wednesday afternoon, to $50,000 from just over $1 million.
SIGN UP for the free Essential California newsletter >>
Carey's supporters, about a dozen of whom showed up in Los Angeles County Superior Court for the hearing, tie her case to the national movement against mass incarceration of black people, which got a boost this month in a speech by President Obama.
"These excessive charges are just updated Jim Crow," said Suzette Shaw, a member of Los Angeles Community Action Network's Downtown Women's Action Coalition.
Deputy Dist. Atty. Gregory Denton rejected the characterization. "It's just one woman charged here," he said.
Whether she ends up in prison for decades may ultimately hinge on the video.
The footage shows Carey briefly lifting the baton as police scuffle with Keunang nearby. It does not show her swinging the club or striking anyone, and the prosecutor says he won't try to prove she did so.
Instead, Denton said he will argue that Carey attempted to attack an officer by "picking up the officer's baton and raising the baton to strike the officer."
"An attempt to strike someone is assault," Denton said. "There's no mystery here. The reality is all the conduct involved in this case is on the video."
Defense attorney Milton Grimes said he will try to show that Carey, whom he described as mentally ill, didn't threaten or attack any of the officers.
"I've seen the video, you've seen the video; she doesn't go after anybody," Grimes said. "Is possession of a baton an assault? No. The legal basis appears to me to be a distraction or coverup of the killing of a man by the police."
In a brief interview this week at Twin Towers jail, Carey said she didn't remember taking up the baton.
"I was surrounded by yellow and black police tape," she said. "I was in the wrong place and around the wrong people."
Bill Seki, a professor at Southwestern Law School and a criminal defense attorney, said that facing the officers with the baton was enough to bring an assault charge, but he added that prosecutors always have discretion in charging decisions.
"In a case like this, that's a close one," said Seki, who often defends police officers.
Carey entered Judge Ray Jurado's courtroom in a wheelchair Tuesday afternoon. She cried when she described her confinement.
Jurado noted that Carey has nine prior convictions, including two serious or violent felonies. California's three-strikes law mandates long prison sentences for people convicted three times of violent or serious felonies.
Grimes argued that Carey should be out of prison and getting treatment. He filed a report to the court outlining a long history of medical and mental health disorders that might have impaired her ability to understand the events of March 1, including several hospitalizations for "acute episodes of psychosis."
Her chaotic upbringing included her mother steering her into prostitution at age 14, the report said.
Grimes blamed her prior strike cases on her mental illness and "police aggression." His report described the crimes as a 2002 robbery in which she punched the victim in the head and a 2006 assault with a deadly weapon — a ceramic figurine — against a shopkeeper who asked her to leave his store.
Denton argued that the high bail was appropriate based on the seriousness of the charges and her prior strike cases. He also said she needed the "serious and constant care" available in jail for her disabilities, and he argued against her being sent to a sober-living facility.
After hearing the arguments, Jurado reduced Carey's bail, calling the original figure "way too high."
Jurado also ruled that if Carey were to make bail, she must enter a Los Angeles rehabilitation program called A New Way of Life Reentry Project.
The founder of that program, Susan Burton, testified at a hearing this month that she could help rehabilitate Carey at one of her group's family-style recovery homes.
"Maybe, just maybe she would get the first break of her life," Burton told the court.
Twitter: @geholland
ALSO:
L.A. County task force suggests ways to divert mentally ill from jails
Bill Cosby request in sex assault lawsuit denied by California Supreme Court
Judge must decide sentence for LAPD cop who assaulted woman on video
Sign up for Essential California for news, features and recommendations from the L.A. Times and beyond in your inbox six days a week.
You may occasionally receive promotional content from the Los Angeles Times.