Fatal shootings by LAPD down but less lethal use of force is up, report says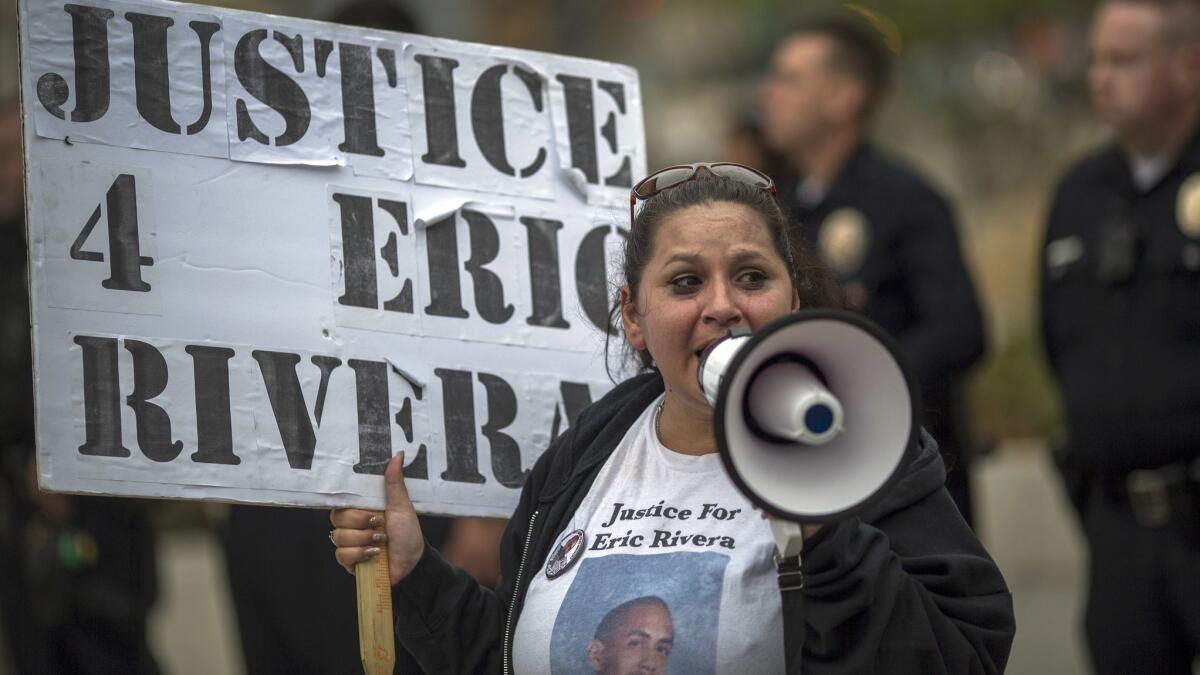 Despite adopting new policies to reduce police shootings, use of deadly force by Los Angeles police increased slightly in 2017 from the previous year, but the number of fatal shootings continued a downward trend, according to a report released Tuesday.
The number of shootings by LAPD officers increased to 44 from 40 in 2016, according to the report presented to the Police Commission.
Of the 44 incidents, 31 people were hit by gunfire. The 17 people who were killed by police represented a slight decrease from 19 in 2016. Officers killed 21 people in 2015, according to the department.
Last year, Latinos represented 58% of those shot by police and whites 29%. In a positive trend, African Americans represented 13% of those shot, a significant drop from 2016 when nearly a third of police shooting victims were black. Nearly half of those shot by police last year — 48% — were armed.
The report comes as the Police Commission, the civilian panel that oversees the department, has adopted a series of changes in recent years that require officers to attempt to defuse potentially deadly encounters before firing their guns and posed questions about how those changes are affecting the level of force used on the streets of Los Angeles.
"It shows we're in the right direction," said the commission's president, Steve Soboroff. "Community policing is demanding more in 2018, 2019 than it ever has."
One revised policy tells officers they must try to de-escalate a situation "whenever it is safe and reasonable to do so," by taking more time to let the incident unfold, or by talking to individuals and calling in other resources. The civilian board has also been pushing the department to provide officers with less-lethal weapons and more training that emphasizes avoiding force whenever possible.
The new policy allows commissioners to consider whether an officer tried to defuse a confrontation when they decide whether a shooting was justified.
Law enforcement agencies around the country, including the LAPD, have come under intense scrutiny in recent years after controversial shootings of black men, and many have adopted new training approaches and policies. The Seattle Police Department requires officers to attempt de-escalation strategies, such as trying to calm someone down verbally or calling a mental health unit.
Santa Monica police have similar rules in place, telling officers to try to "slow down, reduce the intensity or stabilize the situation" to minimize the need to use force.
The number of incidents in which less-lethal force was used by LAPD officers was up 10% last year compared with 2016. Incidents in which a bean bag gun was used were up 31%, according to the report. Officers are required to be equipped with a bean bag shotgun when responding to a call of a person armed with a sharp object, said Capt. John McMahon, whose office compiled the 400-page analysis.
Soboroff said there should be a "demand" for more ways to use less-lethal force.
However, the LAPD leads the nation in fatal police shootings, according to the report. More people were killed by police in the city last year than in Chicago, Houston, New York and Philadelphia. The Los Angeles County Sheriff's Department tied with the Chicago Police Department, with eight fatal shootings. The New York Police Department came in second, with 10.
McMahon stressed that encounters where force is used — 2,195 incidents — represent a very small fraction of the 1.6 million contacts that police had with the public last year.
Attacks on officers were up 26% in 2017 from the previous year, according to the report.
Commissioner Cynthia McClain-Hill said the report showed an "extraordinary level of transparency."
Some members of the public were skeptical.
"It's a PR tool," Melina Abdullah, a leader of the local Black Lives Matter movement, told commissioners Tuesday, adding that the report is a "tool of propaganda."
Valerie Rivera, whose son, Eric Rivera, was one of the 17 people killed by police last year, questioned the report's use of the word "suspect" to refer to people killed by police. Eric Rivera was holding a toy water gun on June 6, 2017, in Wilmington when officers fired 11 rounds, striking Rivera in the head, chest and legs. A patrol car then rolled over him. In April, the commission cleared the officers involved in the shooting, ruling that they were justified in using deadly force.
On Tuesday, Rivera stood in front of the commission in a white T-shirt featuring her son's photograph.
"My son was not a suspect, he was a victim," she said.
For more crime news, follow @nicolesantacruz on Twitter.
Sign up for Essential California for news, features and recommendations from the L.A. Times and beyond in your inbox six days a week.
You may occasionally receive promotional content from the Los Angeles Times.