How much is a life worth? Calculations behind Gardena's $4.7-million police shooting settlement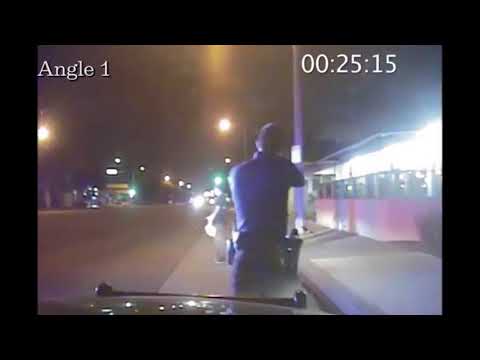 A federal court ordered the release of police videos that show Gardena officers fatally shooting one unarmed man and wounding another in 2013.
An attorney representing the family of Ricardo Diaz Zeferino, whose shooting death by Gardena police was captured in a video made public this week, bristled Wednesday morning talking about the millions the city paid out to settle the family's lawsuit.
"This is not about money," attorney Sonia Mercado said. "Money doesn't bring their son back."
But as countless families before them have discovered, in the courts, most everything translates into a dollar figure — be it suffering, loss or injustice.
In the case of Diaz Zeferino and two other men who were mistaken for robbery suspects by Gardena police officers, the price the city ultimately agreed to pay was $4.7 million. How attorneys, mediators and the city's insurer came to agree on that figure is a tricky and murky calculus.
Diaz Zeferino and co-workers Eutiquio Acevedo Mendez and Jose Amado were looking for Diaz Zeferino's brother's stolen bicycle in June 2013 when they encountered the police. The officers, who were erroneously told that the bike had been taken as part of a robbery, mistook the three men as the robbers.
In the video released Tuesday afternoon, the men are shown with their hands raised as officers had their guns drawn. After Diaz Zeferino drops his hands near his waist multiple times, a flurry of shots are fired. Diaz Zeferino was killed. Mendez was hit near his spine but survived. Amado was unharmed.
The city first settled with Amado for $200,000 in June 2014. Then in February, attorneys were less than a month away from a trial set to take place in federal court when they reached the final settlement for Mendez and Diaz Zeferino's family for $4.5 million. Zeferino's family received $2.8 million and Mendez $1.7 million, according to an attorney for the city.
R. Samuel Paz, Mendez's attorney, said the settlement was the result of about a year of negotiation. The city initially offered nothing, but substantially increased its settlement offers as litigation progressed and the trial date neared, Paz said.
Paz said that because of the video and the evidence attorneys gathered about the shooting, he believed they had a strong case and was planning on asking jurors to award $6 million to $7 million in compensatory damages. Jurors additionally could have awarded much more in punitive damages against the police chief and the officers, if they felt the police's actions were egregious, he said.
Gardena Police Chief Ed Medrano said city officials wanted to settle the lawsuit early on, but the city's insurer insisted on fighting the case. "After we paid our deductible, it was not in the city's hands any more," Medrano said. The city paid $900,000 of the settlement, he said.
Mildred O'Linn, at attorney who represented Gardena, said the settlement was not a reflection of the Police Department's view of whether the officers did right or wrong but a business decision by insurers on what a jury might have awarded.
"There's a significant difference between criminal misconduct and a tragedy like this where a jury might believe officers would've, should've, could've done something different."
The easier part to quantify in a wrongful death or personal injury case is the economic loss, such as medical bills incurred after the shooting, lost wages while recovering or over a deceased's remaining lifetime, said forensic economist Eric Drabkin, who has consulted on about 50 wrongful death cases in his career but did not work on the Gardena case.
Diaz Zeferino helped support his parents and paid for his sister's schooling by working long hours at his restaurant job, said Mercado, the family's attorney. Mendez racked up more than $100,000 in hospital bills from his wounds and was unable to work for about three months, his attorney said.
The rest of the multimillion-dollar sum, Drabkin said, is beyond an economist's ken — what a loved one's companionship is worth. Although other states allow economists to testify on "hedonic damages" or the value of someone's loss of enjoyment of life, California leaves it up to the jury to decide, he said.
"The damages are arising for reasons beyond a pure economic loss that's suffered by anyone," he said.
Attorney Dale Galipo, who has won many multimillion-dollar jury verdicts and settlements in police shooting cases, said myriad factors were behind any settlement, including a city's insurance policy, its politics, the department's history and the shooting victim's criminal record.
Once those factors are clear, attorneys "go back and forth like a poker game" until they reach a sum both sides are happy with, he said.
Galipo also said the city may also have been concerned that in civil rights cases, plaintiffs can recover attorney's fees on top of the jury award. He said the large settlements and verdicts should be a "wake-up call" for police departments.
"Maybe you're not going to be criminally prosecuted, but look at the civil exposure," he said. "Maybe you think twice before shooting an unarmed person thinking there won't be consequences."
Times staff writer Cindy Chang contributed to this report.
Sign up for Essential California for news, features and recommendations from the L.A. Times and beyond in your inbox six days a week.
You may occasionally receive promotional content from the Los Angeles Times.