Man allegedly held hostage and later shot by deputy testifies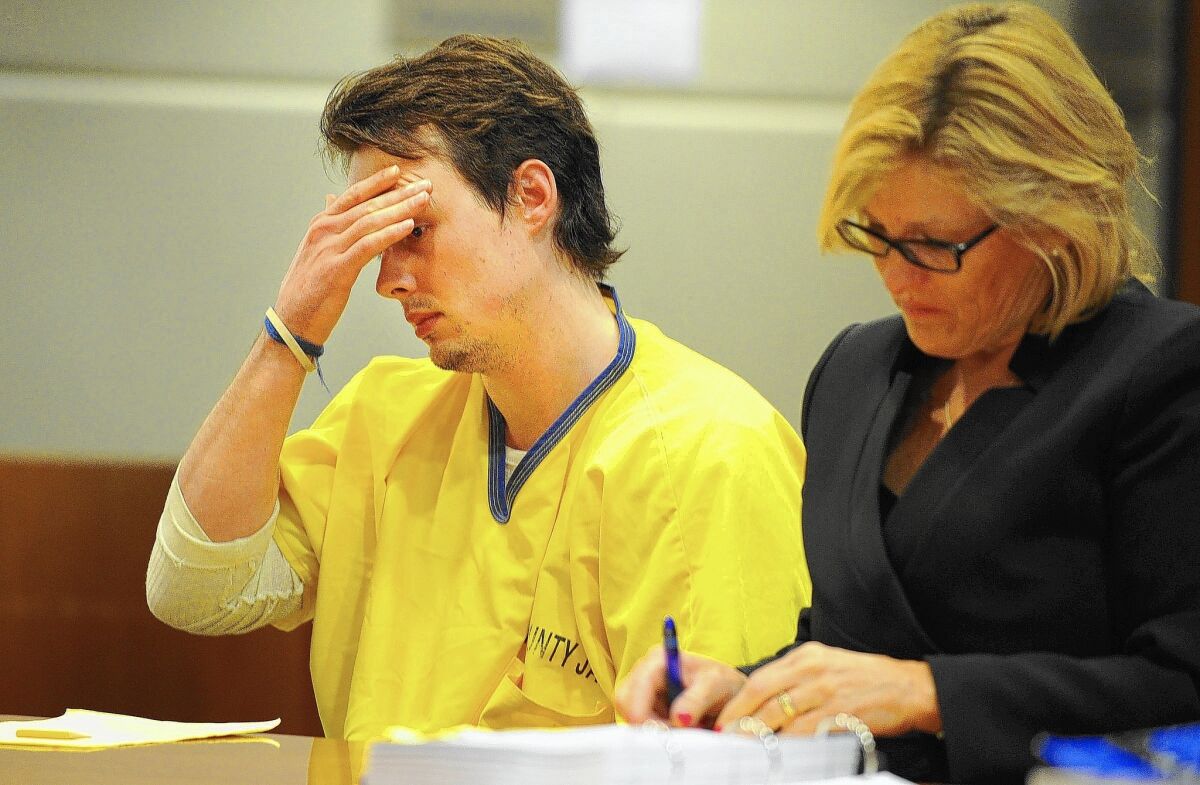 A man allegedly held hostage at knifepoint by his roommate told a judge Tuesday that he was clutching a stab wound on his neck when he rushed out of his West Hollywood apartment and was shot by a Los Angeles County sheriff's deputy.
Liam Mulligan was wounded, but another hostage, his friend John Winkler, was fatally shot during the April 7 incident. The Sheriff's Department later said deputies mistook Winkler, an aspiring television producer, for the assailant who had taken the men hostage.
Mulligan testified that his roommate, Alexander McDonald, had been acting strangely before he pulled a kitchen knife on Mulligan, Winkler and a third man watching the NBA finals on television in the apartment.
"You guys are going to die tonight," Mulligan recalled McDonald telling them. "Maybe one of you will live."
------------
FOR THE RECORD:
Hostage shot: In the Oct. 1 LATExtra section, an article about a man allegedly held hostage at knifepoint by his roommate and later shot by a Los Angeles County sheriff's deputy misstated that the man testified he had been watching an NBA finals game on TV shortly before he was held hostage. He testified he had been watching an NBA playoff game. —
------------
The testimony came during a preliminary hearing in Airport Court for McDonald, who is accused of murder in connection with Winkler's death, two counts of attempted murder and one count of torture. Under California's felony-murder rule, a defendant can be convicted of murder if someone dies while the defendant was committing a felony.
Before holding the men hostage, McDonald, 28, took the knife from an apartment down the hallway.
Jill Shakoor testified that when she arrived home on the evening of the incident she saw McDonald, her neighbor, standing near her refrigerator speaking with her roommate. She described him as shaky and paranoid and said he seemed obsessed with the idea that he was being followed.
"How did you get in?" she recalled him asking her. "Who saw you? Do they know you're here?"
He grabbed a six-inch butcher knife, she said, and pointed its blade at them. Shakoor ran out and down the stairs as she dialed 911. She said deputies arrived four minutes or so later.
A prosecutor asked Shakoor if she had given the deputies a description of the defendant.
"A very good one," she responded, adding that she'd told them that he was white, skinny, about 5 feet, 9 inches tall, had black hair and was wearing a black shirt. Shakoor testified that she showed deputies three pictures of the defendant on her cellphone. It was unclear whether the deputies shown the photos were involved in the shooting.
After leaving Shakoor's apartment, McDonald returned to his unit, where Mulligan and the others were watching television.
Mulligan testified that McDonald repeatedly asked the men if they were actors and at one point sat down on the couch next to Chris Moretti, Mulligan's friend who was visiting from Australia, and ran the blade of the knife up and down his leg.
"You're not real people," he said McDonald told them.
Mulligan said McDonald stabbed one of the men in the leg. As Mulligan jumped in to try to subdue him, McDonald stabbed him in the neck, he said. With blood spurting, Mulligan rushed for the door. Winkler, who was wearing a black shirt, followed, also attempting to escape.
"Basically, I opened the door and immediately took a bullet to the leg," Mulligan told the court.
Winkler, who had recently moved to L.A. from Seattle, was shot in the chest and died.
Sgt. Robert Martindale of the Los Angeles County Sheriff's Homicide Bureau testified that one deputy who opened fire told him he assumed that Winkler was the assailant using Mulligan as a "human shield." The deputy told Martindale that he feared for his own life and for Mulligan's. Another deputy also fired rounds.
Winkler's father sighed loudly and let his reddening face fall into his palms as the sergeant recounted how deputies handcuffed Winkler after the shooting, still thinking he was the suspect.
Los Angeles County Superior Court Judge James Dabney ruled there was enough evidence for McDonald to stand trial on the attempted murder and torture counts but questioned the murder charge. The judge said he would rule Oct. 27 on whether McDonald should face the murder charge.
Twitter: @marisagerber
The stories shaping California
Get up to speed with our Essential California newsletter, sent six days a week.
You may occasionally receive promotional content from the Los Angeles Times.