A parent's guide to AP classes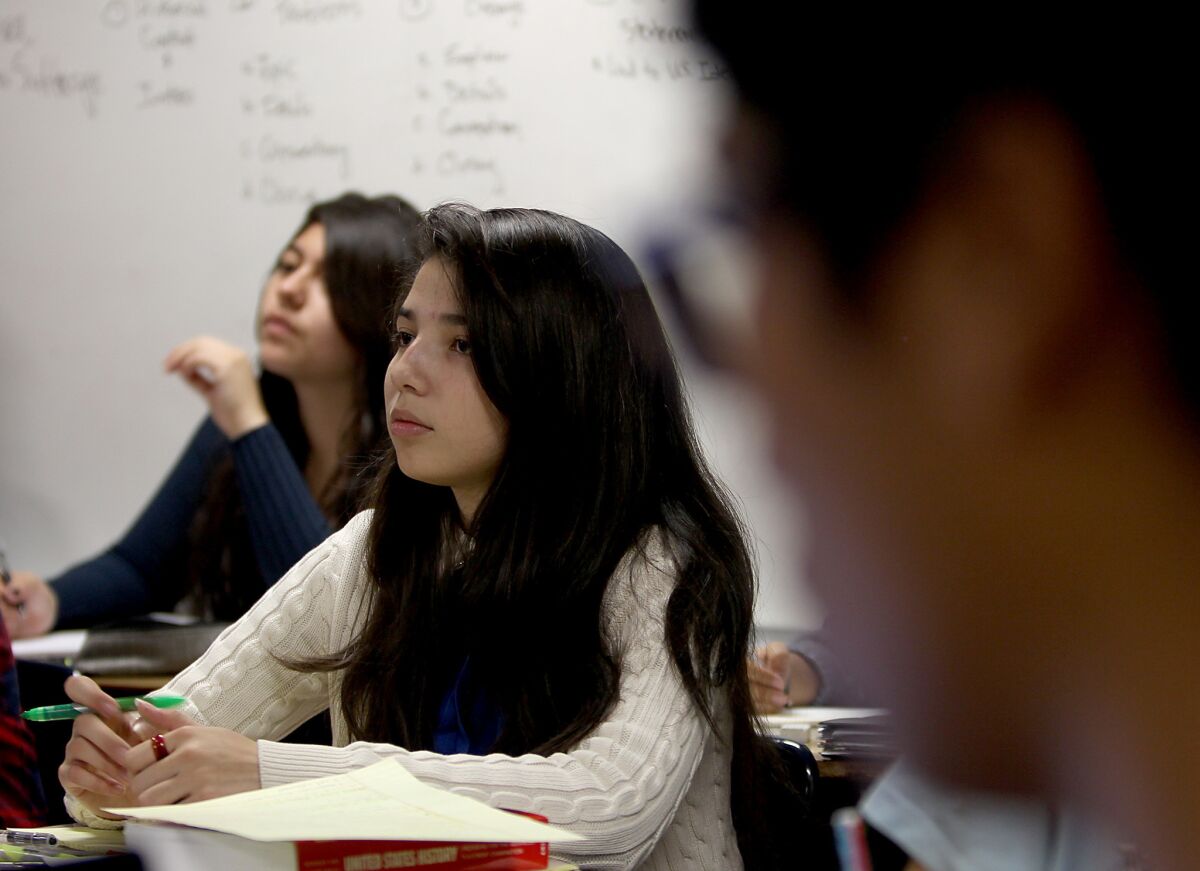 A 4.0 GPA isn't enough to get into any college you want anymore. Now, there are Advanced Placement classes. Once reserved for the most elite high school students, these college-level classes are finding their way into more schools, and more colleges expect to see them on applicants' transcripts.
What are AP classes, and what do you and your teen need to know about them? Education Matters spoke to a number of education experts, all of whom are listed at the end of the post. If you have more questions, you can tweet them to us @LATEducation.
What does AP stand for, and what is the point?
The Advanced Placement program was born in the 1950s and is run by the College Board, the huge education nonprofit corporation that also administers the SAT. AP classes are college-level courses, but they're taught in high school. The goal is to expose students to the rigorous standards they will face in college, to increase college preparedness and to challenge students beyond regular and often beyond honors courses.
There are now almost 40 AP courses offered, though not every school offers every course. The College Board provides schools the curriculum for these classes, and administers AP tests to students each May. If a student scores a 3, 4, or 5 out of 5 on a test, he or she is eligible to receive college credit for that class —and possibly be required to take fewer classes in order to graduate from college.
How is it different from a regular or honors class?
Simply put, AP classes are more difficult than other classes. "It's at least 30% more [work] than another class," said James Keipp, the director UCLA's AP Readiness Program, which offers free support classes to LAUSD students.
AP students are supposed to delve more deeply into topics through research, practical applications and critical thinking. Stanford lecturer Denise Pope gave one example in her book about a healthy balance for high school kids, Overloaded and Underprepared:
"[N]ew AP science courses aim to more closely reflect what goes on in the college science lab and the true process of science and inquiry, including hypothesis testing, experimentation, and analytic reasoning," the book notes of some of the new frameworks.
The differences between honors classes and AP classes vary depending on the school. In many cases, honors classes tend to be for freshmen and sophomores, who then take AP classes in those subjects in their junior and senior years. Another difference between honors and AP is that students can earn college credits by passing AP exams.
AP classes affect GPA as well — regular classes usually weight an A in a class as a 4.0. But many high schools and colleges give AP classes an additional point. So it's possible to have a 5.0 GPA credit from an AP class. Or, a student could get a B in an AP class but still have a 4.0 GPA. Schools often weight honors classes higher than regular classes as well.
How many AP classes should my kid be taking to get into college?
This is one of the most common questions that counselors are asked. The answer varies from student to student, but a student should take AP classes she is interested in, as long as she is still able to get nine hours of sleep after finishing homework and extracurriculars.
For highly selective schools such as Ivy League schools, Stanford, and public universities like UCLA and UC Berkeley, it's common for accepted applicants to take about eight AP classes throughout high school, though that number can range from five to 13.
There are many colleges, though, that don't ask for that many AP classes and offer a very good education, even though they're not in U.S. News & World Report's top 30 schools. Students can get into a four-year school with just one AP, and in some cases, with none. Students with a high school degree can also attend community college without any AP classes, and then transfer to a four-year school.
Students who haven't taken many AP classes can also use written portions of college applications to explain why, and to explain other factors that may have affected their high school performance or the classes they took. Grades, rigor of classes, and test scores may be the foundation of college admissions in many cases, but colleges also look at extracurricular activities and essays.
Keep in mind that these answers certainly do not apply to all colleges — there are many kinds of schools, with different admissions criteria.
My kid's school doesn't offer that many AP options. What can we do?
First, know that colleges look at a student's course load in the context of the options available — so if there are only three AP classes offered at the school and your child takes all three, admissions officers will be impressed.
So it's possible to take few AP courses where few are offered and please admissions officers. But when it comes to educational opportunity and equity, if your child's school offers far fewer AP classes than other schools, your school may be offering a lower-quality education overall. This gap is a problem that districts are trying to address by adding more AP offerings throughout schools.
High school students can also take classes for free at many community colleges, and one semester of those classes translates to a year of an AP class. This requires planning, though -- you must talk to your school's counselor to ensure that the school will accept the class, and find a class that's after school and doesn't conflict with jobs or extracurriculars.
Of course, there are schools where honors classes are just as challenging and fulfilling as an AP course.
Do you need to take the test, or is the class enough?
In terms of college admissions, schools primarily look at the classes a student takes, and his or her performance in that class. Reporting your AP scores on applications usually is optional, so failing the test or not taking won't necessarily affect your admissions chances.
The advantage to taking the tests is that they can count for college credits and could allow you to skip some lower-level classes in college, saving money and time. The College Board offers partial fee waivers for the $89 test, and a number of districts use federal funds to cover as much as $84 of the cost.
Is it better to take more AP classes or to get good grades in regular classes?
Colleges want to see students challenge themselves, so counselors would suggest that students take an AP class and get a B, rather than take all regular classes and get straight A's.
C grades, however, are not acceptable for selective colleges. In those cases it might be better to drop into a regular class.
Some advocates say that all high school students should take at least one AP class whether or not they perform well academically in it, because it exposes them to college-level academics and to an environment in which it's expected that most students will attend college.
The school says my child is not eligible or can't take an AP class. What are the restrictions?
In Los Angeles Unified, any student can take an AP class if she chooses to, according to district policy. If your student is being kept out of an AP class that he wants to take, you can go to the school and express your support for your child or ask why he's being blocked from the class. If that doesn't work or you are not sure what your district's rules are, you can go to a school board member or even the superintendent to ask what the district's policy is regarding AP enrollment.
Policies such as grade requirements, teacher recommendations and entry exams have historically prevented many black and Latino students, and low-income students, from taking AP classes. Now the College Board and school districts are recognizing that, and districts around the country are flipping access so that any student can choose to take an AP class — that's the policy in both Los Angeles and Long Beach unified school districts.
However, this policy doesn't always make it down to the campus level. Counselors and teachers may still tell a student that she shouldn't take an AP class, based on her past grades and test scores. If that's the case, a parent can talk to the teacher or counselor to enroll the student in the class, and to have a conversation about the supports necessary to make sure the student succeeds. The U.S. Department of Education is investigating schools where the population of AP students is different from the overall population.
My kid is up until 3 a.m. doing homework for AP's every night. What do I do?
Look into tutors, and/or drop a class.
As AP classes become the norm for many students, it's easy to forget that they are, indeed, college-level courses. Few college students take five courses at a time, so it's perhaps unreasonable to expect a high school student to do the same. Before choosing classes, ask teachers how much homework students can expect on average, and plan out each day accordingly. Ideally, there should be enough time for school, homework, any extracurriculars or work commitments, and nine (yes, nine) hours of sleep.
At the beginning of the year when schedules are still flexible, students should think hard about whether they can manage the courseload. If during the year students are feeling the mental and physical toll of too many AP classes, they can try to drop one or more and take the ones that they are most interested in, or the subjects in which they do best.
I can't afford tutoring. How can I make sure my kid succeeds in APs? What community resources are there for my kid?
There are a number of programs for students in AP courses. For example, UCLA's AP Readiness Program offers four-hour sessions one Saturday a month, free to all LAUSD students who are not in independent charter schools. The district also provides transportation. For other students, they cost $320 for the entire year. Parents who are interested can talk to their student's AP teacher about organizing a group to get a better rate, or can ask the school to cover the cost.
Community colleges also often have free tutoring programs for high school students, as do local groups such as the ones listed on this L.A. County database.
To get these questions and answers, Education Matters interviewed the following people:
Audrey Kahane, a private college counselor
Kathryn Favaro, a college counselor and founder of California College Prep
Tyrone Howard, UCLA education professor
Denise Pope, Stanford senior lecturer and co-founder of Challenge Success
James Keipp, director of UCLA AP Readiness Program
Christina Theokas, director of research at Education Trust
Reach Sonali Kohli on Twitter @Sonali_Kohli or by email at Sonali.Kohli@latimes.com.
The stories shaping California
Get up to speed with our Essential California newsletter, sent six days a week.
You may occasionally receive promotional content from the Los Angeles Times.