Black and Latino students in California score better on AP tests than peers elsewhere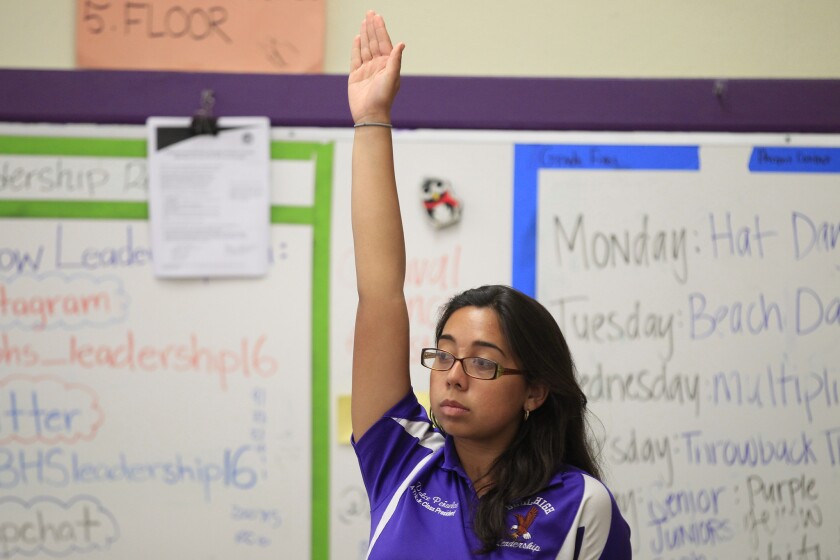 Black and Latino students in California who passed Advanced Placement exams outperformed their peers elsewhere, but a gap persists between them and their white and Asian counterparts, according to new test score results.
In addition, the number of underrepresented minorities — black, Latino and Native American students — who took the tests is higher in California than elsewhere: 38.9% of test takers in the state compared with 26.2% of all test takers, according to 2015 results from the College Board.
------------
FOR THE RECORD: A previous version of this article stated that the College Board had said that data on the income level of racial groups would be available next month. The College Board now says it does not have that data.
------------
The AP program allows high school students to take high-level classes for college credit. It also provides a boost for college admission and can help students more quickly place in advanced classes in college.
Black students in California performed significantly better than their counterparts outside the state: Nearly 43% in California had a passing score of 3 or higher out of 5 on at least one exam, compared with 32.3% elsewhere. California Latinos also did better: 53.1% received a 3 or higher on at least one test, compared with 50% elsewhere.
White students in the state also outperformed their peers elsewhere: 73% had a score of 3 or higher on a test, compared with 66% outside the state.
About 71.5% of Asians in the state scored a 3 or higher on a test, compared with 72.2% elsewhere.
NEWSLETTER: Get the day's top headlines from Times Editor Davan Maharaj >>
The number of students, particularly minorities, taking AP classes and tests is growing, both in California and the country. Districts are removing stringent entrance requirements such as grades, admission tests and teacher recommendations that disproportionately keep students of color out of these classes.
In L.A. Unified, pass rates have decreased from 41.5% in 2008 to 38.7% this year. (Unlike the College Board, the district considers all the tests taken rather than the number of students who passed at least one test. Many students take more than one exam.)
But more students are taking the tests, district data show.
Making these classes available to more minority students is a positive move despite the fact that scores may decrease when that happens, said Nicole Mirra, an assistant professor in English education at the University of Texas at El Paso who has studied disparities among California high schools.
Whether or not they pass the test, the students are exposed to higher academic standards and classrooms in which college is considered a viable option for them, she said.
To ensure that these students succeed, however, districts should start preparing low-income students and students of color for AP classes as early as elementary school and continue that support in AP classrooms, Mirra said.
"Equity is not just about opening the door to the classroom," she said. "But thinking about 'What do we need to do to offer them the support they need once they get there?'"
The racial makeup of AP classes in L.A. Unified has changed from 60% Latino in 2007-2008, to 68% in 2014-2015, while the white and Asian populations have decreased. Black students continue to represent only 7% of AP students, even though they are 10% of the student population.
In L.A. Unified, the pass rate was lower for black and Latino students: 21.7% and 33.5%, respectively.
It's difficult to explain the discrepancies without more data, said Patricia Gandara, an education professor and co-director of the Civil Rights Project at UCLA.
Gandara said she would like to see data that show the income levels of the racial groups taking the tests.
"We have tremendous wealth and we have tremendous poverty" in California, Gandara said.
Students from higher-income black and Latino families could account for the better results because the number of those students taking AP classes remains relatively low. Additionally, Gandara said, they may have the parental support to encourage them to enroll in AP classes.
Interested in the stories shaping California? Sign up for the free Essential California newsletter >>
L.A. Unified's performance might rely on a number of factors, Gandara said. The district has a much higher poor population than the state: three-fourths of L.A. Unified students are on free or reduced-price lunch, a poverty indicator, compared with 59% in the
state.
Additionally, the L.A. Unified numbers don't include results from independent charter high schools, which had nearly 43,000 students last year and are growing. Those independently run campuses have been shown to take better-performing students from low-income and minority communities, Gandara said, adding that that trend could skew the district's results downward.
sonali.kohli@latimes.com
Twitter: @sonali_kohli
MORE ON EDUCATION
Back to school in Long Beach, where the superintendent has lasted longer than your K-12 career
State Senate panel approves three for UC regents board
New report finds ongoing iPad and technology problems at L.A. Unified
---
Life is stressful. Our weekly mental wellness newsletter can help.
You may occasionally receive promotional content from the Los Angeles Times.