How many recent college grads get an $81,000 salary? Some CSU Maritime alumni do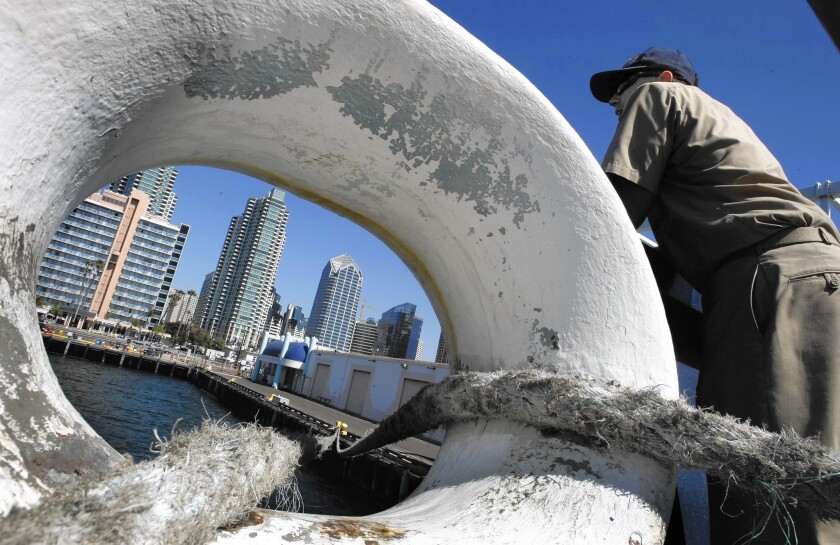 VALLEJO, Calif. —
As Sylvan Gallawa, 24, prepared to graduate from college last year, he found himself in an enviable position: He had the luxury of choosing from seven job offers. He eventually accepted one that paid six figures.
Stories like Gallawa's aren't unusual at California State University Maritime Academy. This small, public university in the Northern California city of Vallejo prepares students for maritime careers at sea and on shore. It also happens to produce some of the nation's top-grossing alumni.
Colleges that train students for specific professions are often dismissed as "trade schools." The ivory tower glamour of more prestigious research institutions usually dwarfs their appeal. Ivy League schools like Harvard and Princeton have long topped college rankings circulated by competitive parents, making schools like CSU Maritime feel obscure. But as the traditional measures of a school's appeal evolve, the standing of high-quality professional schools like CSU Maritime is poised to rise.
Last month, President Obama unveiled the administration's revamped College Scorecard, which gives prospective students and their parents information about cost, graduation rates and salaries after graduation.
Another side effect: It gives professionally oriented institutions a chance to garner attention for post-graduation opportunities as more students worry about debt and diminishing career prospects.
Already, some of the nation's seven public maritime academies are seeing more interest from prospective students. Maine Maritime Academy saw a 20 percent increase in applications over the last five years. Texas A&M Maritime Academy in Galveston, Texas, saw a similar boost. As a result, it expanded its program. The school now has 630 students, up from 250 in 2010.
"People see that graduates get jobs and want to send their kids here," said Col. Richard Mallahan, deputy superintendent of Texas A&M Maritime Academy.
In California, CSU Maritime has experienced similar growth. In the last nine years, the number of applications has nearly doubled. Perhaps the median income earned by the school's graduates has something to do with it.
The Times' new education initiative to inform parents, educators and students across California >>
Within 10 years of starting at CSU Maritime, the school's alumni who received federal financial aid earn a median annual income of $81,000. That's higher than Princeton ($75,100), which topped the 2015 U.S. News & World Report ranking. It's also a little more than neighboring Stanford University ($80,900) and well above the median income earned by graduates of every school in the University of California system.
CSU Maritime places 92 percent of its students in jobs or graduate school within six months of graduation, according to Director of Public Affairs Robert King. That figure gives the school a higher job placement rate than any of the other much larger 23 CSU campuses, according to U.S. News & World Report. And with an annual in-state tuition of $10,682, CSU Maritime is also far more affordable than many private institutions.
Students at the school, which was established in 1929, are predominantly male, with females comprising 14.6% of the school's fall 2015 student body of 1,075. About half of all students are white, 17.2% are Latino and 1.86% are black.
Ryan Kozlowski grew up in a fishing family in Bodega Bay, north of San Francisco. He learned about the school when he drove by the campus one day, saw a ship and sought to learn more about it online.
He majored in maritime transportation, graduated in 2014 and works on a tugboat that pulls an oil barge for Kirby Offshore Marine. His work has taken him from Puget Sound to Alaska, and it pays him roughly $100,000 a year depending on the number of days he spends on the boat. "I had a lot of friends who went to UC Davis and San Francisco State," he said. "They are ... hating life because they are in debt and their jobs have nothing to do with their majors."
CSU Maritime's goal is to have students ready to work the day after graduation. Students in two of the most popular majors, marine transportation and marine engineering technology, regularly work with sophisticated simulators that allow them to hone skills such as navigating a supertanker through Hong Kong Harbor in all weather conditions.
The success of CSU Maritime alumni reflects not only the school's quality but also its narrow, specific focus. But some students may find it's not the right place for them. CSU Maritime's 58 percent graduation rate is above the national average but remains well below those of schools such as the University of California, Berkeley and UCLA. CSU Maritime officials attribute this statistic to the intense workload students pick up between lectures and labs.
There's another contributing factor to CSU Maritime's relatively low graduation rate: The school's relatively small size and limited programming — 1,200 students and only six majors — means that students must leave if they decide against a maritime career. "If a student decides that they want to go into education or nursing, they can't do that here," said Provost Susan Opp.
The majority of graduates pursue jobs at sea, but some choose to remain on land as engineers in power plants or high-rise buildings. "My degree gives me a lot of options," said Alexander Baird, who is in his final year of the marine engineering technology program. "A power plant on a ship is the same as a power plant anywhere."
Gallawa, who chose a job with offshore drilling contractor Transocean from his many offers, agreed. He said he is qualified to work anywhere that has a backup generator, which includes hospitals and airports, and venues that are more intrinsically Californian. "When I graduated a year ago," he said, "a lot of wineries were trying to hire us."
This story was produced by The Hechinger Report, a nonprofit, independent news organization focused on inequality and innovation in education.
ALSO:
Meet the company that helped make Halloween R-rated
California doctor convicted of murder charges in overdose of patients
Pharmacist at center of Valeant scandal accuses drugmaker of 'massive fraud'
---
The stories shaping California
Get up to speed with our Essential California newsletter, sent six days a week.
You may occasionally receive promotional content from the Los Angeles Times.