Say goodbye to eighth-grade Algebra I and hello to the rise of Common Core math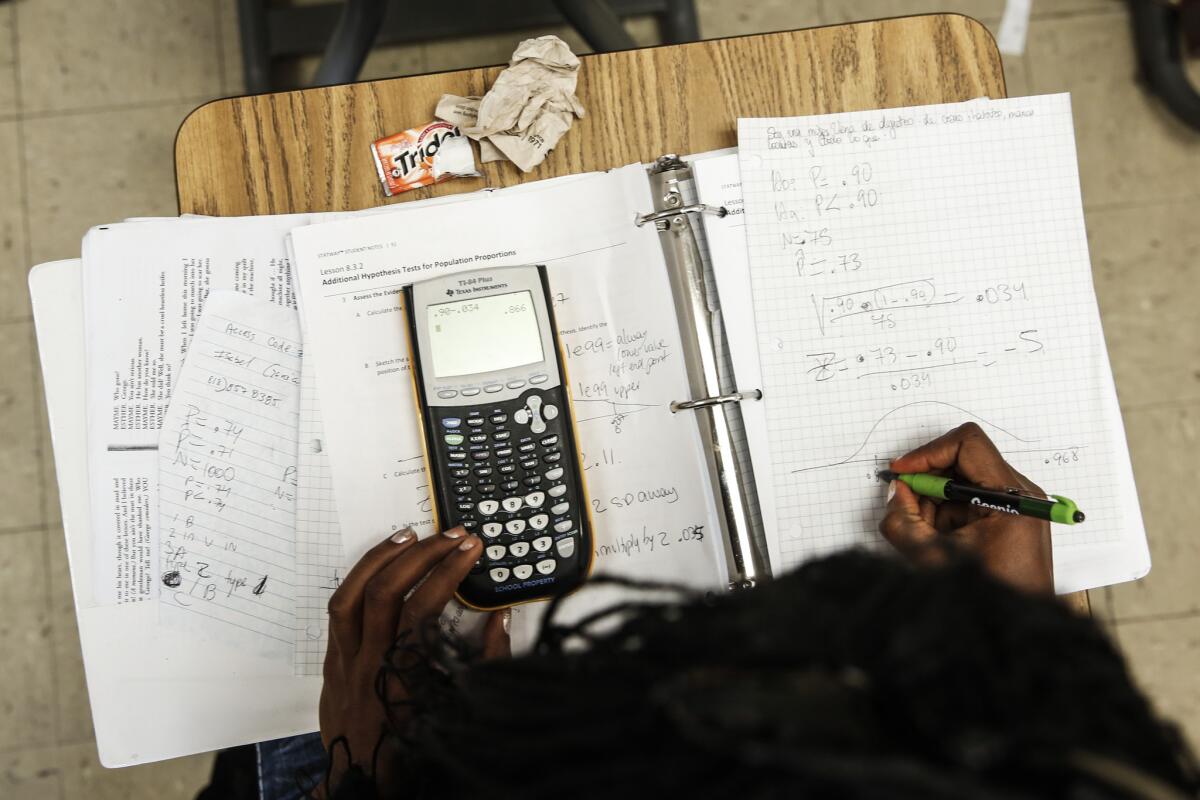 Eighth-grade math is changing: Instead of emphasizing Algebra I where only some students thrive, many schools are placing all students in the same general class that covers several concepts.
Common Core standards for the eighth grade call for all students to learn the same general math concepts, a departure from the push toward Algebra I that middle schools made in the late 1990s and early 2000s. Common Core is a set of English and math learning standards that most states have adopted, meant to be more rigorous and uniform than states' previous learning goals.
See the most-read stories this hour >>
A new study from the Brown Center at the Brookings Institution, a nonprofit research group, found that the percentage of students in advanced math classes has decreased, while the share of students in general math has gone up.
That doesn't mean that the "general" classes are less difficult than Algebra I. Instead, they're supposed to include concepts of algebra, geometry and statistics. But in his study, author Tom Loveless considered advanced classes to include Algebra I, and general math enrollment to include Common Core math classes.
That change is even more stark in California since 2013, when the state got rid of incentives for middle schools to offer Algebra I, instead shifting its focus to Common Core math implementation.
Having more students taking a single, general eighth-grade math course might help solve a different problem: the segregation that happens inside schools and between classrooms, when black and Latino students are kept out of high-level classes.
Students are still separated into different classes — there are others in pre-algebra classes, not shown in the results. And even within Common Core, school districts can implement an "accelerated pathway" for high-achieving middle school students, as L.A. Unified has done.
But the shifts tell Loveless that as Common Core gains ground, fewer students are being pushed into algebra.
Last year, California's legislature passed a law requiring school districts to put their high school math placement policy in writing, a recognition that math, particularly algebra, is one of the classes that's most difficult for students to pass, accounting for many dropouts.
But recording these policies in high school might be too late, said UCLA education professor Tyrone Howard.
In the 2011-2012 school year, black students were equally represented in Algebra I in middle school, while Latino students were underrepresented. White and Asian students were overrepresented.
By the time students are learning Algebra II, black students become underrepresented along with Latinos, while white and Asian students still maintain their overrepresentation in these classes.
This is important for California students because they need to complete Algebra II or its equivalent to qualify for University of California or Cal State University admission, the cheapest and highest-quality four-year college options for state residents.
In 2014, a few years after some of those students took -- or missed -- Algebra II, white and Asian students were more likely than their Latino, African American and Native American counterparts to meet UC and CSU entrance requirements.
Beyond math, school districts such as Long Beach Unified and Los Angeles Unified have taken a stand against the practice of tracking by opening AP classes to all students.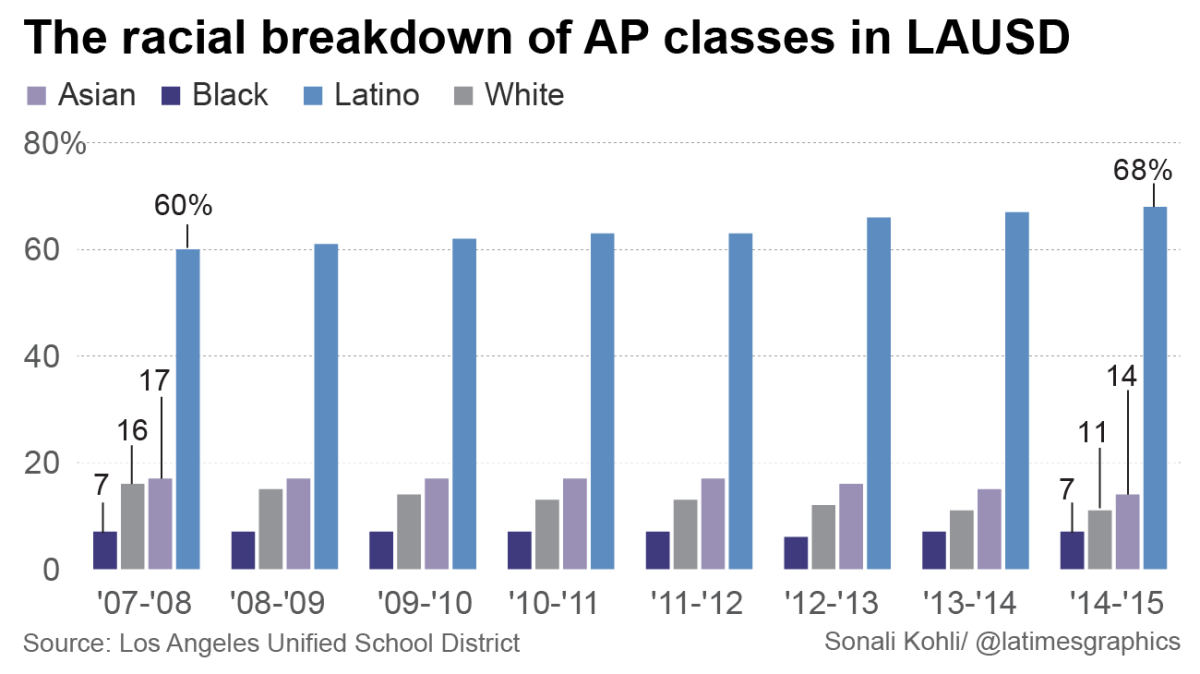 In L.A. Unified, the share of Latino students in AP classes has increased in the last eight years, though Latino and black students are still underrepresented.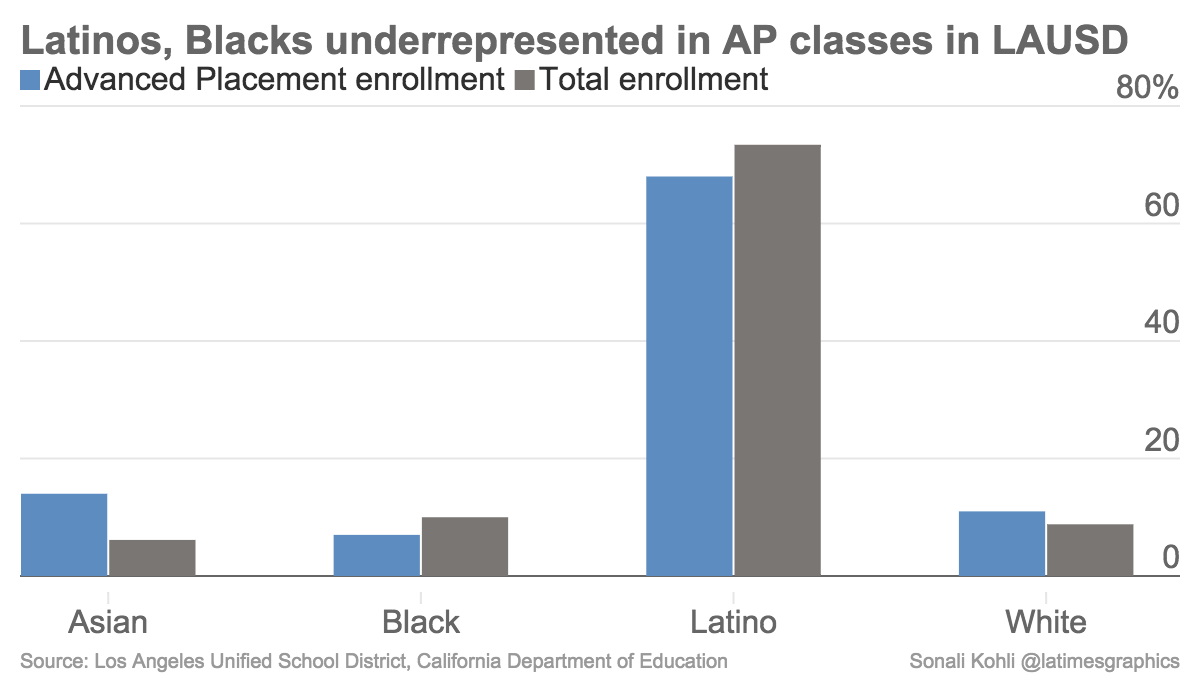 Reach Sonali Kohli at Sonali.Kohli@latimes.com or on Twitter @Sonali_Kohli.
ALSO
Do out-of-state students hurt Californians' chances at UC schools? State audit to weigh in
Report finds flaws in L.A. County's system for defending children accused of crimes
California proposal for state-run retirement plan for private-sector workers moves forward
Sign up for Essential California for news, features and recommendations from the L.A. Times and beyond in your inbox six days a week.
You may occasionally receive promotional content from the Los Angeles Times.