Five things to know about what America's college freshmen are thinking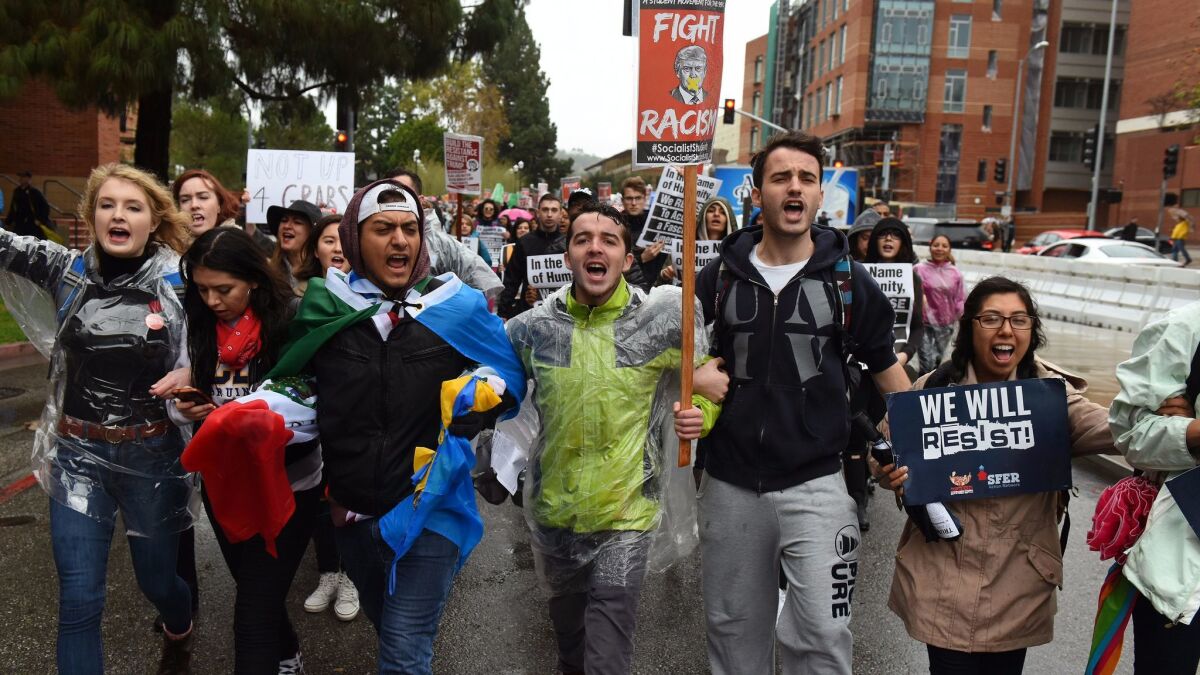 Massive campus protests over the election of President Trump. Violent clashes over free speech. Rallies against rising tuition. At many campuses in California and nationwide, the young people who started college last fall walked into one of the most tumultuous periods in higher education.
Now a new national survey has found that today's freshmen are more polarized by their politics than ever before, and also have growing anxiety and worries about paying for college. The survey, released Monday, has been conducted annually for five decades by the UCLA Higher Education Research Institute. This year's findings are based on responses from 137,456 full-time first-year students at 184 U.S. colleges and universities.
"Today's college freshmen are more politically divided and more interested in political engagement than their peers of the last 50 years," said Kevin Eagan, the report's lead author and the institute's managing director. "College and university leaders need to be proactive in providing opportunities for students to discuss their differences, political and otherwise, in constructive ways while also ensuring that their campuses respect and protect students' free speech."
Here are five key takeaways:
Students are feeling their politics strongly
Only 42.3% of freshmen described themselves as middle-of-the-road, the lowest figure since the survey began in 1966. The proportion of freshmen who call themselves liberal or far left is increasing — 35.5% in 2016 — while 22.2% said they were conservative or far right. Conservatives have not outstripped liberals on campus since 1981, when Ronald Reagan stepped into the White House.
More freshmen than ever value political engagement. Nearly half said keeping up with political affairs was very important or essential to their lives, and more than a quarter said a life goal was to influence the political structure — the highest such responses the survey has ever recorded.
Tolerance and empathy have partisan tilts, the survey found. Among liberals, 86.6% of students said they strongly or somewhat strongly tolerate others with different beliefs compared with 82% of moderates and 68.1% of conservatives.
The political gender gap is growing
Women are leading the progressive surge on campuses, with an all-time high of 41.1% identifying themselves as liberal or far left, compared with 28.9% of men. Women are more likely to support federal action on climate change and stricter gun control laws.
More women than men say they can see the world from another's perspective and work cooperatively with diverse people. Perhaps reflecting greater comfort with confrontation, more men than women say they are open to having their views challenged and can discuss and negotiate controversial issues.
College costs have students worried
The rising cost of college has dominated the news, both nationally during the 2016 presidential election and in fierce debates over tuition hikes at California's two public university systems. California Democrats introduced a bill in March to cover both tuition and living expenses for an estimated 400,000 students in what would be the most generous college aid plan in the nation.
UCLA found that more than half of freshmen surveyed were worried about paying for college, with concerns expressed by 65.7% of women and 34.3% of men. Latino and African American students were more than twice as likely as whites to voice "major concerns."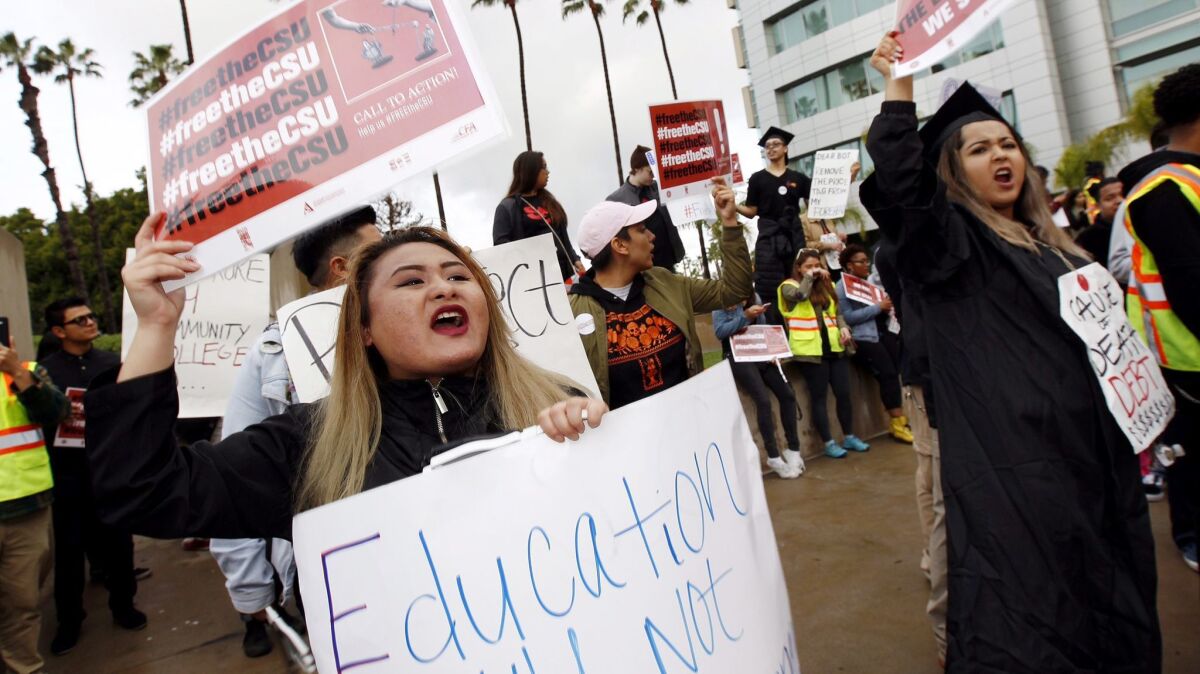 Mental health problems are growing
Demand for campus mental health services is growing nationwide. The University of California has increased student fees to hire more clinicians to expand access to counseling.
The UCLA survey confirmed the rising need for such services. For the first time since the survey began, fewer than half of respondents said their mental health was better than average compared with their peers. More than one-third said they frequently felt anxious, while about 1 in 8 students said they were frequently depressed.
About 1 in 5 entering freshmen said they had a learning disability, attention deficit hyperactivity disorder or chronic illness. Those students were far more likely to feel depressed and seek counseling.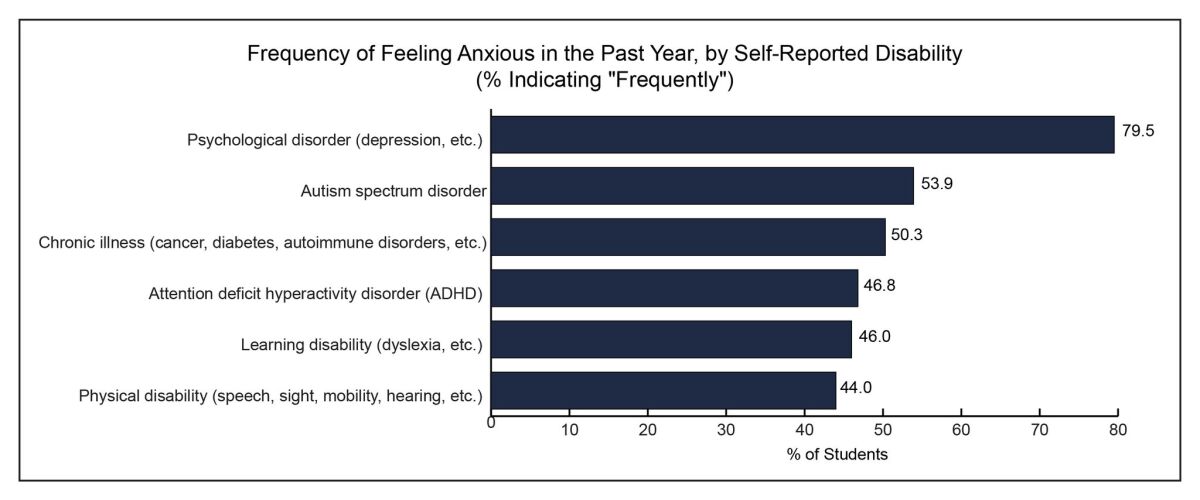 Students' time on social media has soared
Social media use has risen to a record high among freshmen. The survey found that 40.9% of the entering class of 2016 use social media six hours or more a week, shattering the previous high of 27.2% in 2014. Women, liberals, Asian Americans, African Americans and LGBTQ students used social media the most.
But Twitter, Instagram, Snapchat, Facebook and other social media did not substitute for personal interaction, the survey found. About three-fourths of students who used social media at least six hours a week also said they spent that much time or more socializing with friends in person. Those who used social media less frequently also spent less time with friends.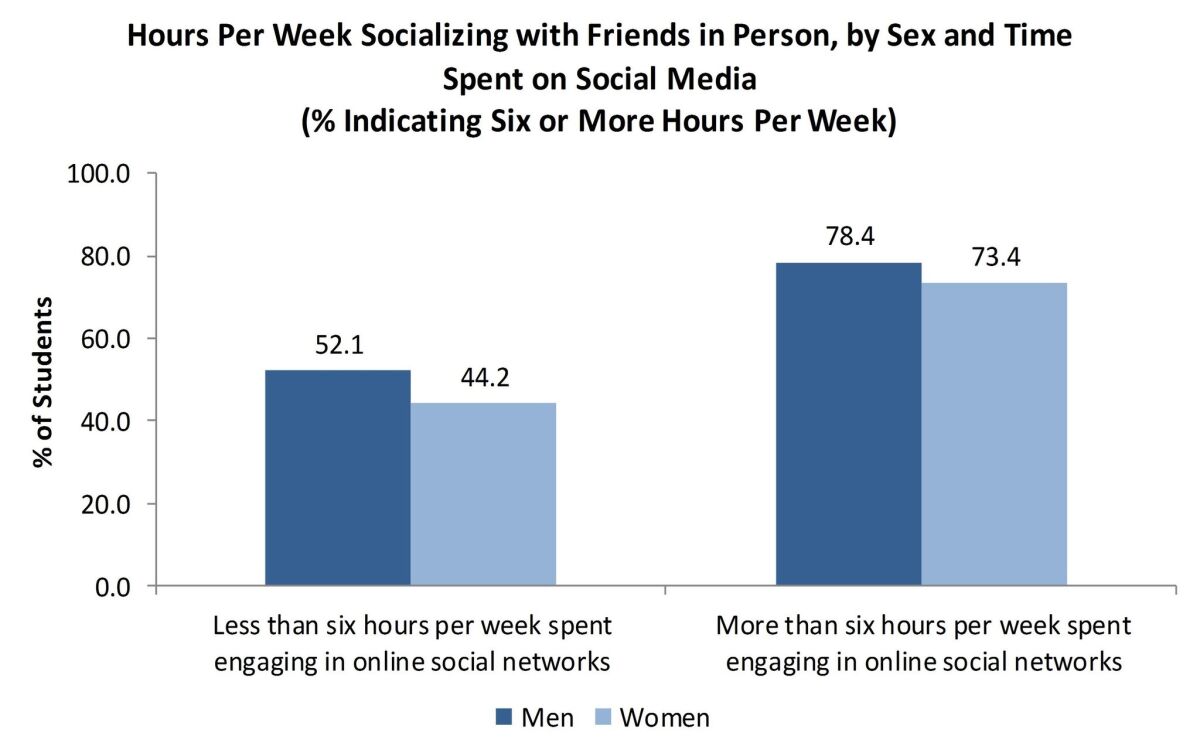 The stories shaping California
Get up to speed with our Essential California newsletter, sent six days a week.
You may occasionally receive promotional content from the Los Angeles Times.