UC and Cal State will consider the first tuition hikes in six years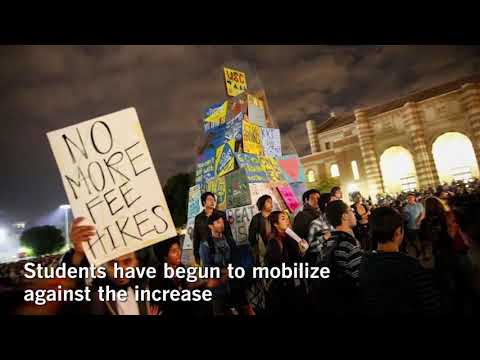 The proposed hikes, which could amount annually to $270 per student for Cal State and $280 for UC, would be covered by financial aid for most students.
Squeezed to do far more with much less, the University of California and California State University are considering raising tuition for the first time in six years as they grapple with escalating demands to enroll more students, graduate them faster and hire more faculty — all with a smaller share of state dollars than in years past.
Leaders of both institutions say they are pressed to find more money to preserve the vaunted quality of the nation's largest and most prestigious public university systems. As record numbers of high school graduates statewide qualify for admission, officials are scrambling to find dorms, classrooms, lab space and instructors for them, along with more academic support for the growing share who are low-income or the first in their families to attend college.
UC, for instance, has added about 83,000 students since 2000. Yet the state's share of paying for each of them dropped from 72% in 2000 to 41% last year, administrators said.
The proposed hikes, which could amount annually to $270 per student for Cal State and $280 for UC, would be covered by financial aid for most students, officials say.
"A tuition increase is something none of us want to do," Cal State Chancellor Timothy P. White said in an interview. "Sometimes you have to end up making decisions that may not be popular at the moment, but that serve a much bigger public good. Having the resources, one way or another, is going to be essential for us to make good steps on admitting more students and getting them to degree sooner."
As the governing boards of both systems prepare to discuss next year's budget plans in separate meetings this week, students across the state have begun to mobilize against any increases. They argue they're already strapped by the highest annual tuitions in California history — which have more than doubled since 2006 to $5,472 for CSU and $12,294 for UC.
UC student leaders Ralph Washington Jr. and Giovanni D'Ambrosio said tens of thousands of students across the system's 10 campuses can't afford nourishing meals or decent housing, much less even a modest tuition hike. They called on UC officials to seek alternatives, such as curtailing wasteful spending or trimming executive pay.
"This is an opportunity for UC collectively to demonstrate our values and use our creativity and intellectual resilience to solve our problems in ways that won't create additional burdens for students who are hurting the most," said Washington, a graduate student in entomology at UC Davis and president of the UC Student Assn.
The impending tuition debate has increased calls to reshape the traditional college model to meet escalating demand for higher education in more cost-efficient ways. UC, for instance, is exploring a three-year degree path, reductions in course requirements and more online learning.
"We are largely assuming that yesterday's university should be tomorrow's model," said William G. Tierney, co-director of the Pullias Center for Higher Education at USC. "This is a time for experimentation, and instead we're relying on the tried and true, but with much less revenue."
California's future is inextricably tied to a well-educated populace. The Public Policy Institute of California's higher education center estimates the state will need 1.1 million more workers with college degrees by 2030, as the highly educated baby boomer generation begins to retire. Most will rely on the accessibility and affordability of public education.
"At the end of the day, if we do not provide meaningful higher education opportunities for our students, our state will be in worse financial shape, with a lower quality of life than we otherwise would have," said the center's director, Hans Johnson. "The long track record of economic progress in the United States and California from one generation to the next is tied very, very closely to improvements in educational outcomes. What's at stake is risking that long-term history and progress."
The state slashed nearly one-third of its support to UC and CSU after the 2008 recession but has steadily restored funding in the last six years. Gov. Jerry Brown pledged annual increases in exchange for a freeze on tuition increases until next year and reforms to improve student performance.
Even so, the state's funding per full-time student for UC declined from $24,644 in 2000 to $12,709 in 2014, according to the latest numbers available in a PPIC analysis. Cal State's per-student funding declined from $9,393 to $7,916 during that same period.
UC and CSU are more vulnerable to budget cuts because they do not have the constitutional funding guarantees that protect community colleges and public primary and secondary schools.
In his May budget statement, Brown said it would be "reasonable" for UC to begin modest and predictable tuition hikes next year. H.D. Palmer, a spokesman for the state finance department, said the Brown administration would continue to expect reforms from both systems, including higher four-year graduation rates and more widespread use of technology.
White has outlined a proposal, set for discussion Tuesday, that would increase Cal State tuition by $270, about 5%. The 23-campus system, which educates about 470,000 students, relies on state general funds for about half of its operating costs. The rest is covered by fees and tuition. Only once in the last four years has the state fully funded Cal State's budget request, White said, and administrators had to turn away more than 30,000 eligible applicants this fall.
The shortfall also exacerbated CSU's financial challenges in meeting demands for faculty raises and pressure to raise enrollments and graduation rates. The system also is behind on building upgrades and maintenance to the tune of $2 billion.
White said it was unrealistic to hope that state support would return to its previous high levels. The best that could be hoped for, he said, was more state funding each year. A tuition increase, he said, is a last resort and no decision will be made until after the governor proposes a new budget in January.
UC officials have told campus chancellors to assume a 2.5% tuition increase, about $280, in their budget planning for next year. Tuition for out-of-state students could rise by 5%.
The Board of Regents will discuss next year's budget this week but is not expected to vote on any tuition hike.
UC President Janet Napolitano has said she does not plan to make a public recommendation on tuition until January. But she told UC student leaders at a meeting last month that a modest increase would be needed to make up for insufficient state support, according to Michael Skiles, graduate chairman of the UC Council of Presidents, who attended.
UC committed to enrolling an additional 10,000 California students between 2016 and 2018, partly in response to criticism of the rising number of out-of-state and international students. But it is grappling with the costs of building more housing for them, hiring more instructors and upgrading aging facilities.
Pension and retiree health services costs also continue to go up for both university systems.
Both also face rising costs for remedial education, counseling, financial aid administration and other student services because of the greater needs of the growing number of UC and CSU students who are low-income or the first in their families to attend college.
A 2014 PPIC study found that such student services costs rose 24% at UC and 40% at CSU between 2006 and 2012, while administrative and faculty spending did not increase significantly.
Nathan Brostrom, UC chief financial officer, said in an interview that any tuition hike would be covered by financial aid for three-fourths of UC's 252,000 students. And despite the past hikes, tuition at UC and Cal State remains lower than at comparable public universities around the country, according to state Department of Finance data.
But such assurances have not headed off a backlash.
Shocked and angry about news of a possible hike, Cal State students are rallying their classmates to protest at the board of trustees meeting in Long Beach on Tuesday. They also are reaching out to faculty groups, alumni associations and the business community to push for more state funding. Many worry that ending the tuition freeze would make annual increases the new normal.
David Lopez, president of the California State Student Assn. and a second-year graduate student at Cal State East Bay, said students are saddled with many more costs than tuition. Students in high-rent cities are particularly burdened. He said his housing rose by about $1,000 this year.
As an undergraduate, Lopez worked 40 hours a week to make ends meet.
"It's not just tuition that we're paying for…. There's a housing fee, there's a gym fee, and there's just so many other fees that just keep adding up," he said. "When you put everything together, it's a lot of money."
What needs to be figured out, said the PPIC's Johnson, is how to pay for all of the California students who have worked hard through high school to qualify for admission to UC and CSU.
"These are students who have done everything right, and I find it astounding that we haven't found a way to better accommodate them," he said.
To read the article in Spanish, click here
ALSO
Anti-Trump protest updates: Los Angeles students stage walkout
Lawyers for president-elect file motion to delay Trump University trial
Sign up for Essential California for news, features and recommendations from the L.A. Times and beyond in your inbox six days a week.
You may occasionally receive promotional content from the Los Angeles Times.