Cal State chancellor vows a tuition increase is 'off the table'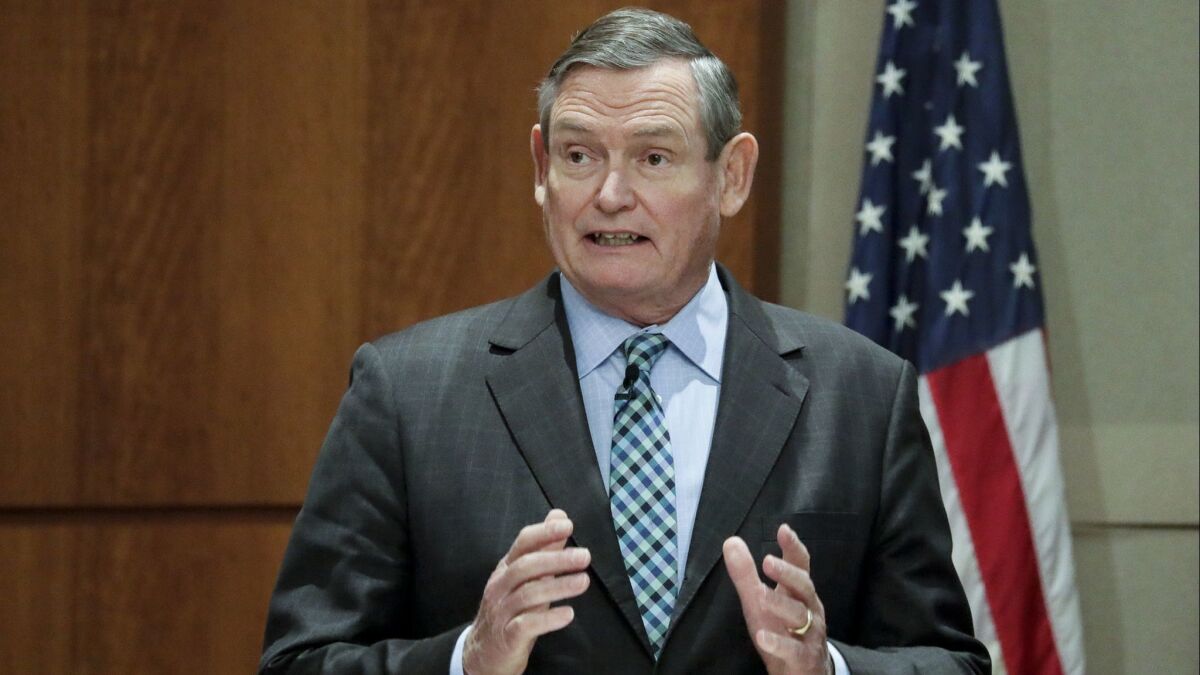 California State University, anticipating the largest state funding increase in its history, won't raise tuition in the fall, Chancellor Timothy P. White announced Tuesday.
"You heard me correctly. Tuition is off the table," he said, drawing applause at the start of the Board of Trustees' two-day meeting in Long Beach.
In his annual State of the CSU address, White declared that 2018 was, in many ways, the best year ever for the nation's largest and most diverse public university system — with 487,000 students on 23 campuses.
Last year, he noted, Cal State had the largest number of graduates in its history. Four-year graduation rates also increased by six percentage points to 25.4%, and the achievement gap narrowed between low-income and underrepresented minorities and their peers.
Gov. Gavin Newsom's "visionary" proposal for a $300 million increase in ongoing permanent funding for Cal State will help campuses keep the momentum going, White said.
In his budget message this month, Newsom touted Cal State's "critical importance in preparing the workforce of California." He noted that the university system trains about half of the state's teachers, more than half of its nurses, and many others who work in business, engineering, technology, agriculture, communications, health, and public administration.
The proposed increase would help fund the university system's initiative to raise four-year graduation rates to 40%, six-year rates to 70% and two-year transfer graduation rates to 45% — all by 2025.
The funding would also help Cal State boost enrollment by more than 8,100 Californians in 2019-20 — a 2% increase. Although university officials had asked for enough money to enroll 21,000 more students, they said Tuesday that they were grateful for any increase to add seats. Cal State had to turn away 32,000 fully qualified students in 2017-18 because there was no room for them.
The governor also is proposing one-time allocations of $247 million to help repair aging campus facilities, and $15 million to support students struggling with hunger and housing.
For Student Trustee Emily Hinton, the proposed funding to help students with food, housing, and other basic needs was a "huge win" — one with deep personal meaning. She said she slept in her car during her first few months as Sonoma State University student body president in 2016. The experience inspired her to create a campus food pantry and later, as a student trustee, to lobby for increased funding.
"My whole life was in my car," Hinton said. "That's why basic needs is a focus for me."
The rosy budget picture sparked mostly optimism at the Board of Trustees' first meeting of the year.
San Diego State University student Rose Rastbaf, a liaison on a systemwide subcommittee, said White's message resonated with her because she has seen progress on her own campus. Last year, students approved a multi-million dollar gym expansion and plans for a second campus in Mission Valley are underway.
Juan Fernando Garcia, a student trustee who attends Cal Poly Pomona, hailed the freeze on tuition, saying "we're in a good spot right now."
But Mia Kagianas, president of the Cal State Student Assn., cautioned that tuition — currently $5,742 annually — is just a small part of the overall cost of college. The average this year ranged from $17,422 for students who live at home to $26,139 for those who live off campus. Food and housing were, by far, the largest non-tuition costs, amounting to about $14,000 annually for the nearly two-thirds of students who don't live at home, according to Cal State data.
"Although tuition may be 'frozen,' financial aid funding has been in the ice age for far too long, and needs to be thawed and reworked" to better support students, Kagianas said in an email.
On Tuesday, Cal State administrators gave trustees an overview of the system's financial aid program. Nearly 60% of students pay no tuition. Overall, about 80% receive financial aid.
Board Chairman Adam Day asked officials to explore what legal changes would be necessary to overturn bans on federal and state financial aid for students with drug convictions. He said he did not want a "one-time mistake by a young student to be a stumbling block" to future success.
White said he embraced that sentiment but, referring to the notorious Mexican drug lord, added that "El Chapo isn't somebody we want to admit."
Faculty leaders, for their part, responded to White's address with both optimism and caution. Catherine Nelson, who heads the Cal State Academic Senate, said she agreed "1,000%" with White's vision of making education more accessible to all Californians.
But, she said, faculty also were concerned that they have not been adequately consulted on matters — such as general education requirements — which White revised in a 2017 executive order.
"The innovation and the contributions we make to California… I am just amazed at how great the impact of the institution is," Nelson said. "But you want to make sure that the expertise that we are hired to provide is respected and used."
Twitter: @TeresaWatanabe
The stories shaping California
Get up to speed with our Essential California newsletter, sent six days a week.
You may occasionally receive promotional content from the Los Angeles Times.