A man was caught with an arsenal of weapons outside an L.A. middle school. Parents want to know why it was kept secret
By any measure, what happened outside Reed Middle School one day last month was scary: A man with an arsenal of weapons was found hanging out on the edge of campus — the same man who just the week before had tried to lure schoolgirls to his truck.
School police thwarted any possible bad outcome, and the man is now headed to prison. But for some parents at the Studio City campus, relief mixed with anger — because the Los Angeles Unified School District waited more than two weeks to acknowledge what had happened.
"We receive robocalls from LAUSD and Reed when someone even sneezes but aren't made aware of this until weeks after his arrest," said Michelle Vick, whose daughter is in eighth grade. "Beyond maddening!"
In a statement, the district indirectly acknowledged the frustration, noting that the administrative office in that area is "reviewing its protocols for parent notifications."
The events leading up to the arrest of Russell Polsky, 60, began on Oct. 5, according to accounts by district and law-enforcement sources.
Polsky had parked his red truck during school hours at the end of a cul-de-sac abutting the fenced southeast perimeter of the school. He was on one side of the fence, and three girls were on the other. He asked them aggressively if they wanted to pet his dog.
The students were unsettled enough to run away, but they did not report the incident to the administration, according to a district spokeswoman. On Oct. 8, a parent called in a report but a police patrol could not find the suspect.
Then on Oct. 11, one or more of the girls reported seeing the truck again.
School police confronted Polsky, approaching him and asking, "What are you doing here?" said Gilbert Gamez, president of the Los Angeles School Police Assn., who described the encounter at a recent school board meeting.
"He said something to the effect: 'I'm just kicking back,'" Gamez said. "Next, the officer asked him if he had any weapons. He said, `Yes, I do.'"
Officers arrested Polsky and recovered a loaded short-barreled shotgun, an unloaded AK-47-style assault rifle, an unloaded and unregistered semiautomatic handgun, loaded rifle magazines and a bag containing ammo.
School police said that Polsky did not appear poised to use his weapons.
"At no point, starting from the beginning on Oct. 11, did we feel there was any threat or any serious cause to alarm anybody about this arrest," said Sgt. Julie Spry, public information officer for the school police. "It was unusual in this location, but it is not unusual to recover these kinds of weapons from adults."
According to public records, Polsky was born in New Mexico, has lived at times in Studio City and Venice and may have worked in the past as a production assistant. He had a previous conviction on an alcohol-related offense.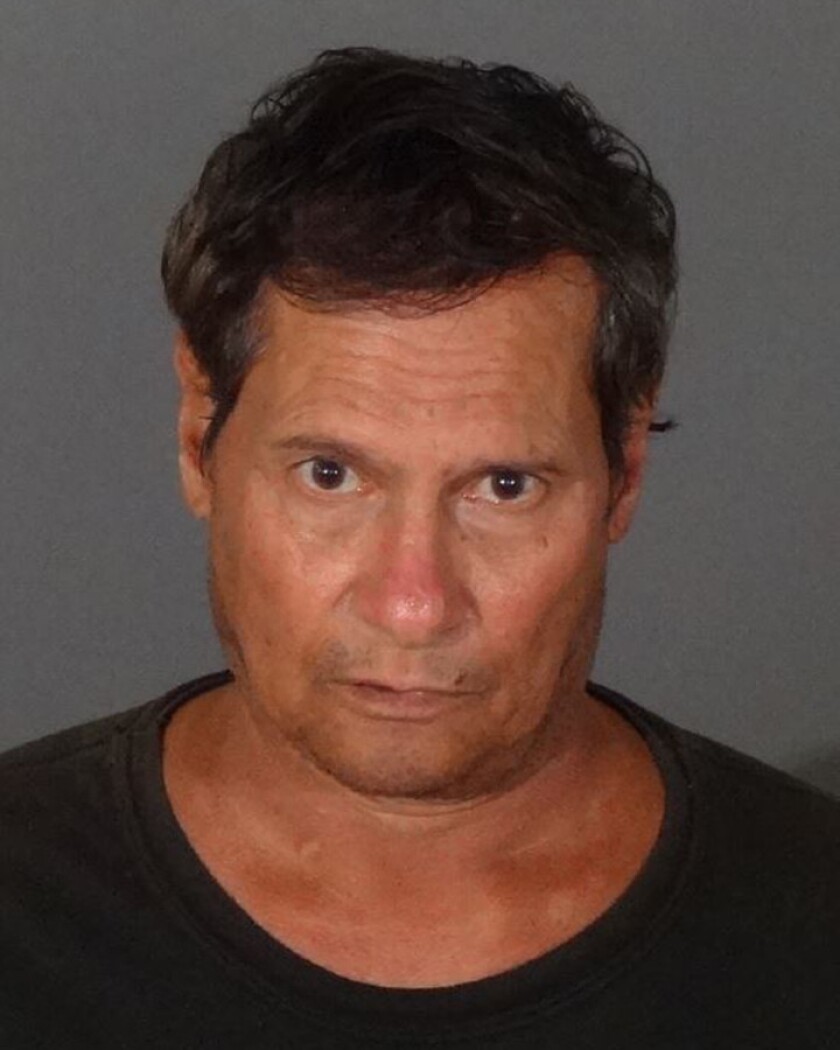 The district attorney charged Polsky with three gun-related felonies and three misdemeanor counts of child annoyance. He pleaded no contest on Oct. 24 to one felony count of possession of an assault weapon and was sentenced to 16 months in state prison, said Ricardo Santiago, a spokesman for the L.A. County District Attorney.
The school police department on Oct. 30 mentioned the arrest on social media to highlight the department's good work. The department didn't post sooner, Spry said, to avoid interfering with the investigation.
That same day, Reed Principal Jeanne Gamba sent the district's first campuswide message to parents: "I am calling to share that school police successfully filed multiple charges against an individual who was found in possession of firearms in our area recently."
After seeing the incident reported more fully on local TV news stations the next day, some parents felt the district intentionally understated the incident.
"The message was vague and gave so few details that my takeaway was it had nothing to do with the school," Vick said.
The next day, Gamba sent a second message, acknowledging the media reports: "Please know that we worked closely with school police on this matter, and that our students and staff were not in any danger."
L.A. Unified and other districts have struggled with how much to tell families about distressing incidents. Parents at numerous schools in recent years have been angered to find that the district has frequently failed to disclose information about employees accused or convicted of sexual misconduct.
Parent fury led the school system to establish a policy that it would provide basic information within 72 hours about the misconduct-related removal of an employee, provided that such notice would not compromise an investigation. The district's regional superintendents can choose to limit or prohibit disclosures.
The Reed incident, however, did not involve an employee and so did not fall under this policy.
Still, the common-sense test should have applied, said parent Julia Bricklin, whose daughter matriculated from Reed in June. Even before finding the weapons, "the school had knowledge of somebody trying to lure young females and didn't alert the parents. There were two lapses in reporting."
Twitter: @howardblume
---
The perils of parenting through a pandemic
What's going on with school? What do kids need? Get 8 to 3, a newsletter dedicated to the questions that keep California families up at night.
You may occasionally receive promotional content from the Los Angeles Times.