El Camino charter makes changes to avoid possible L.A. Unified takeover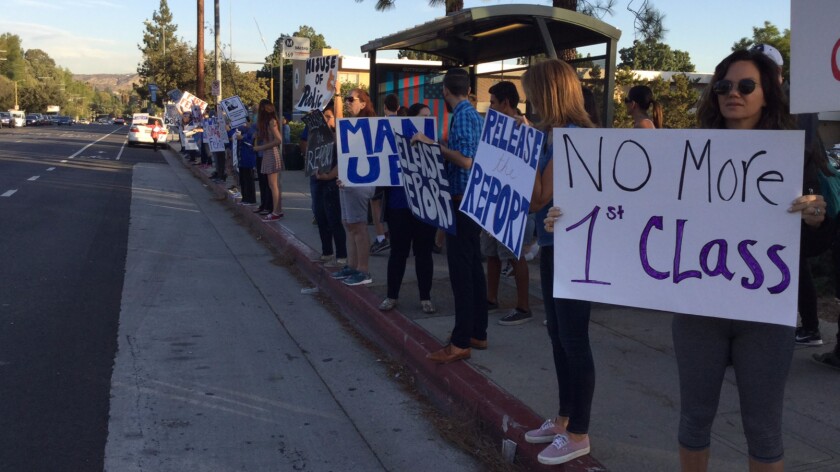 The board of El Camino Real Charter High School on Wednesday announced the departure of one top administrator and a cut in pay for another in hopes of staving off more drastic action after criticism for questionable spending.
The moves were the latest efforts to prevent the Woodland Hills campus from being taken over by the Los Angeles Unified School District, which owns the property and ran the school until 2011.
L.A. Unified sent El Camino a "Notice of Violations" in August, a possible precursor to shutting down the independently operated charter school. The district accused charter leaders of inappropriate spending, poor fiscal controls and open-meeting violations. Charter supporters insist that the school has made great strides and that being run once again by the school system would be a step backward.
"The El Camino Real Alliance Board of Directors is fully aware of the gravity of the threat," the school wrote in an Oct. 5 letter to the community that was posted online. "We understand the substantial unrest this has caused for students, teachers, staff, and the community, and for that we truly apologize."
The letter said that the board "wishes to act transparently, decisively, and cooperatively."
The statement, which followed a closed-door meeting, announced "staff transitions," including the departure of chief business officer Marshall Mayotte by Dec. 31 or sooner. It did not specify whether Mayotte resigned or was fired. On Thursday a school spokesman declined to say, calling it a confidential personnel matter.
The board also announced that the school's executive director, David Fehte, would have his base pay reduced, that his contract would include new performance incentives and that he would receive "training" — though what sort was unspecified. On Thursday, the school clarified that Fehte's new contract still was being negotiated.
The school's most recent nonprofit tax filing reported Fehte's annual salary as $221,475 and noted that he received additional compensation of $15,809.
Mayotte earned $172,643, with additional compensation of $27,915, according to that filing.
El Camino came under fire this year after it became known that Fehte used his school credit card to purchase wine, costly meals, first-class air travel and expensive hotel rooms. Fehte has called the use of the school card for such purchases "inadvertent," and said he reimbursed the school for more than $6,000 when the charges were pointed out to him.
Fehte has long been seen as a key player in the school's academic success and overall financial health as well as its drive to become independent from the nation's second-largest school system. His supporters, who consider him instrumental to the school's success, want him to remain.
The campus of 3,900 has a solid academic reputation. It fielded the winning team in the 2014 national Academic Decathlon.
Mayotte has in the past been praised for his money management.
It's not clear whether Mayotte's departure will be enough to satisfy L.A. Unified or community critics. Some observers feel that Fehte's resignation may be necessary. On the other hand, the vast majority of charter schools authorized by L.A. Unified — particularly ones with decent track records — have survived management mistakes or indiscretions.
In recent months, the school has taken steps to tighten financial controls. Staff members, including Fehte, no longer have credit cards. The only school credit card is kept on campus. The school also has prohibited the use of school funds to purchase alcohol or "any items related to the consumption of alcohol." Travel must now be approved in advance, with no upgraded fares. Meals off campus are strictly limited.
The school submitted a detailed account of these policy changes to L.A. Unified on Sept. 23.
L.A. Unified provides oversight for the charters within the school system, but doesn't control budgeting, hiring or academic programs.
"We're still evaluating the actions taken by the El Camino board last night and will take action based on that evaluation," said L.A. Unified's general counsel, David Holmquist.
Twitter: @howardblume
---
The stories shaping California
Get up to speed with our Essential California newsletter, sent six days a week.
You may occasionally receive promotional content from the Los Angeles Times.