It may feel like the middle of summer, but it's back to school for L.A. Unified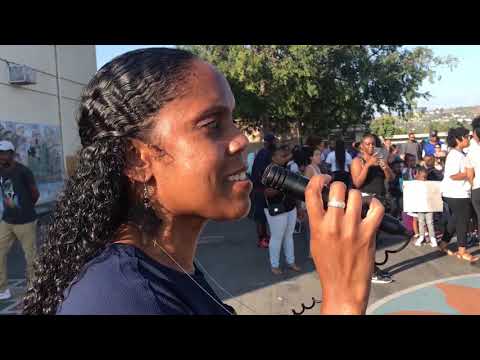 Scenes from the first day of school as students arrive at Baldwin Hills Elementary.
Los Angeles Unified Supt. Austin Beutner welcomed students and staff back to school Tuesday with a tour of the district that began hours before the first students arrived and was expected to end well after most of them had gone home.
At 5 a.m., Beutner arrived at the Edward R. Roybal Learning Center, a high school just west of downtown, where two student government leaders showed him around the campus. He greeted a cafeteria worker, shook hands with the campus plant manager and visited a math teacher's classroom. He asked each of them: "What else can we do to help you?
Surrounded by TV cameras that left some of them slightly stunned, those he questioned smiled politely and asked for the basics: more staff and better communication.
The superintendent's 12-stop tour, which will take him to schools in Venice, Woodland Hills and Crenshaw, among others, is his second daylong circuit in the three months since he was chosen to lead L.A. Unified. It's an annual tradition, as well as a way for the district to highlight success stories at a time when it is struggling financially, dealing with labor unrest and losing enrollment.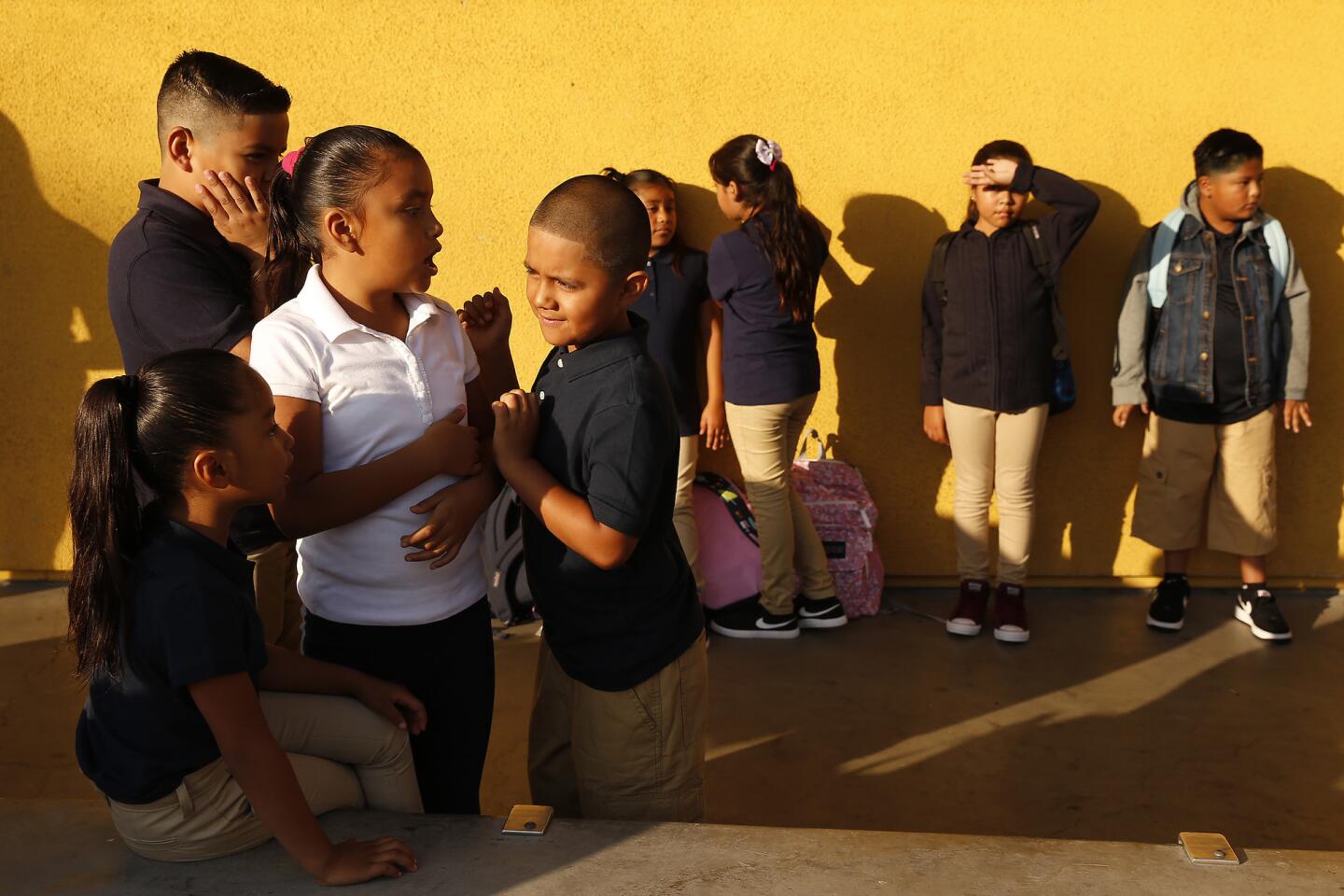 Leslie Toriz, in white shirt, plays with her cousin Alex Toriz as the third-graders wait for doors to open on their first day back at Dolores Huerta Elementary School in Los Angeles on Tuesday.
(Al Seib / Los Angeles Times)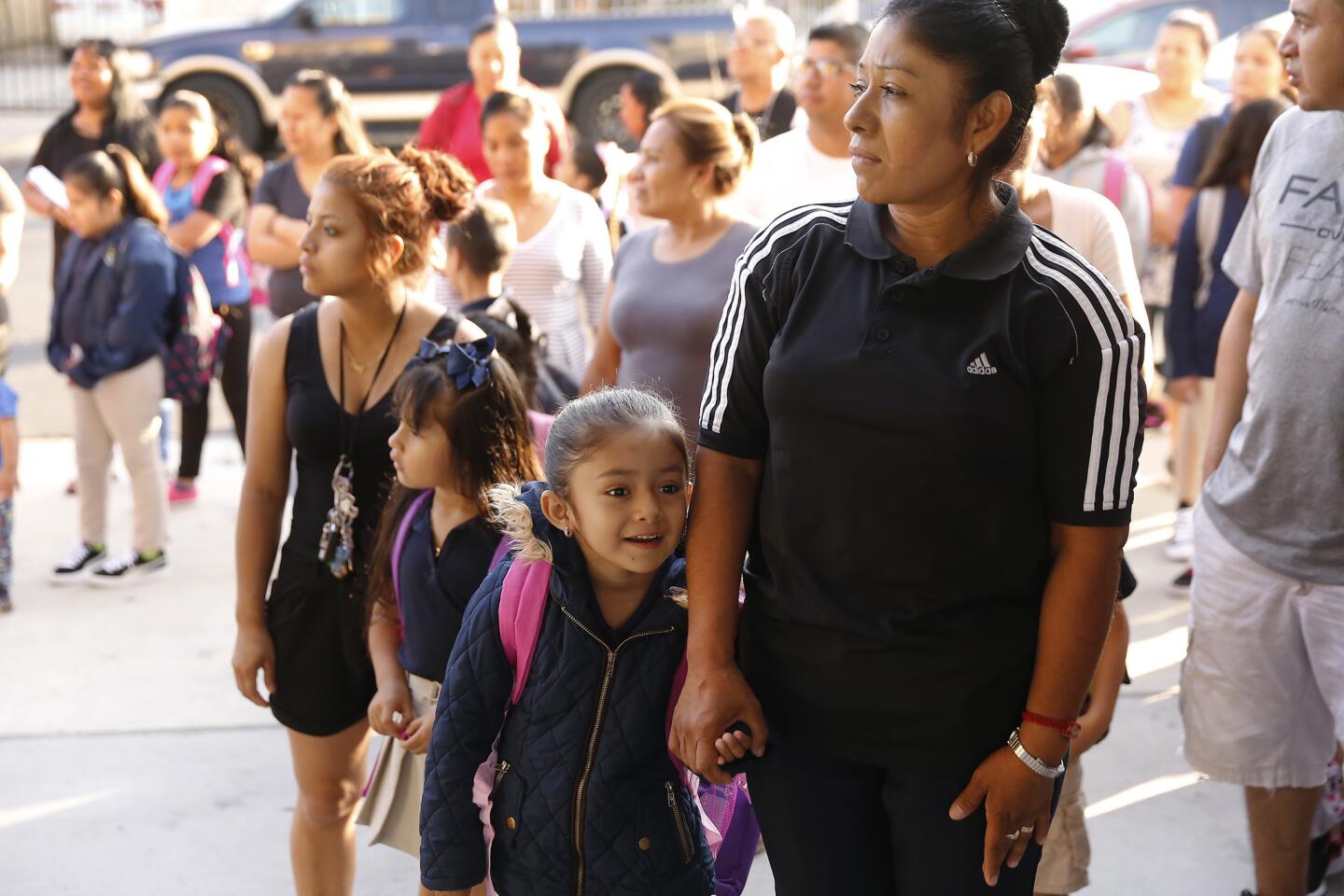 Apolonia Aragon holds the hand of daughter Josefa Aragon as parents with students form a line at the front door on the children's first day of kindergarten at Dolores Huerta Elementary School in Los Angeles.
(Al Seib / Los Angeles Times)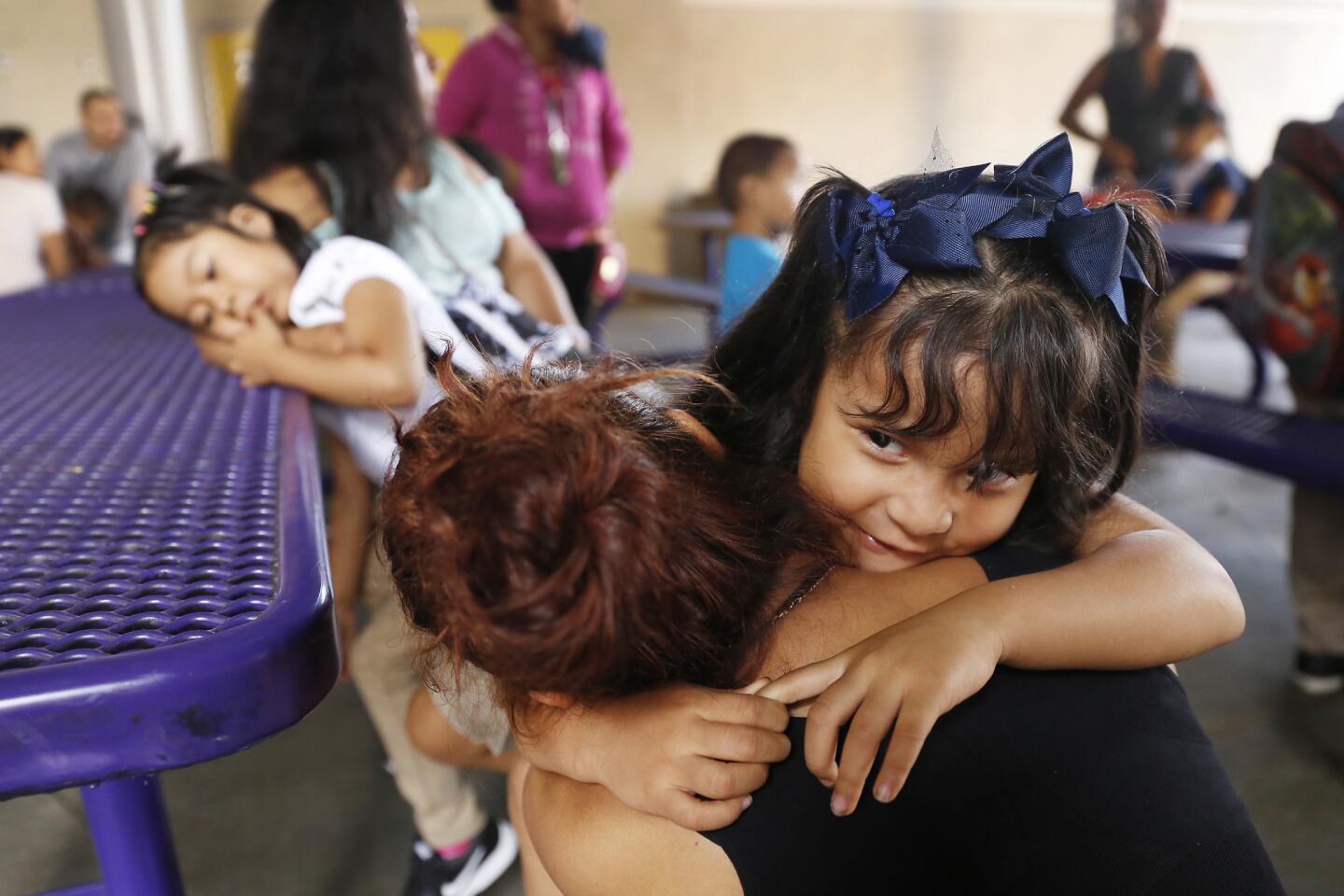 Kelly Rodriguez comforts her daughter, Ashley Morales, on her first day of kindergarten, at Dolores Huerta Elementary School.
(Al Seib / Los Angeles Times)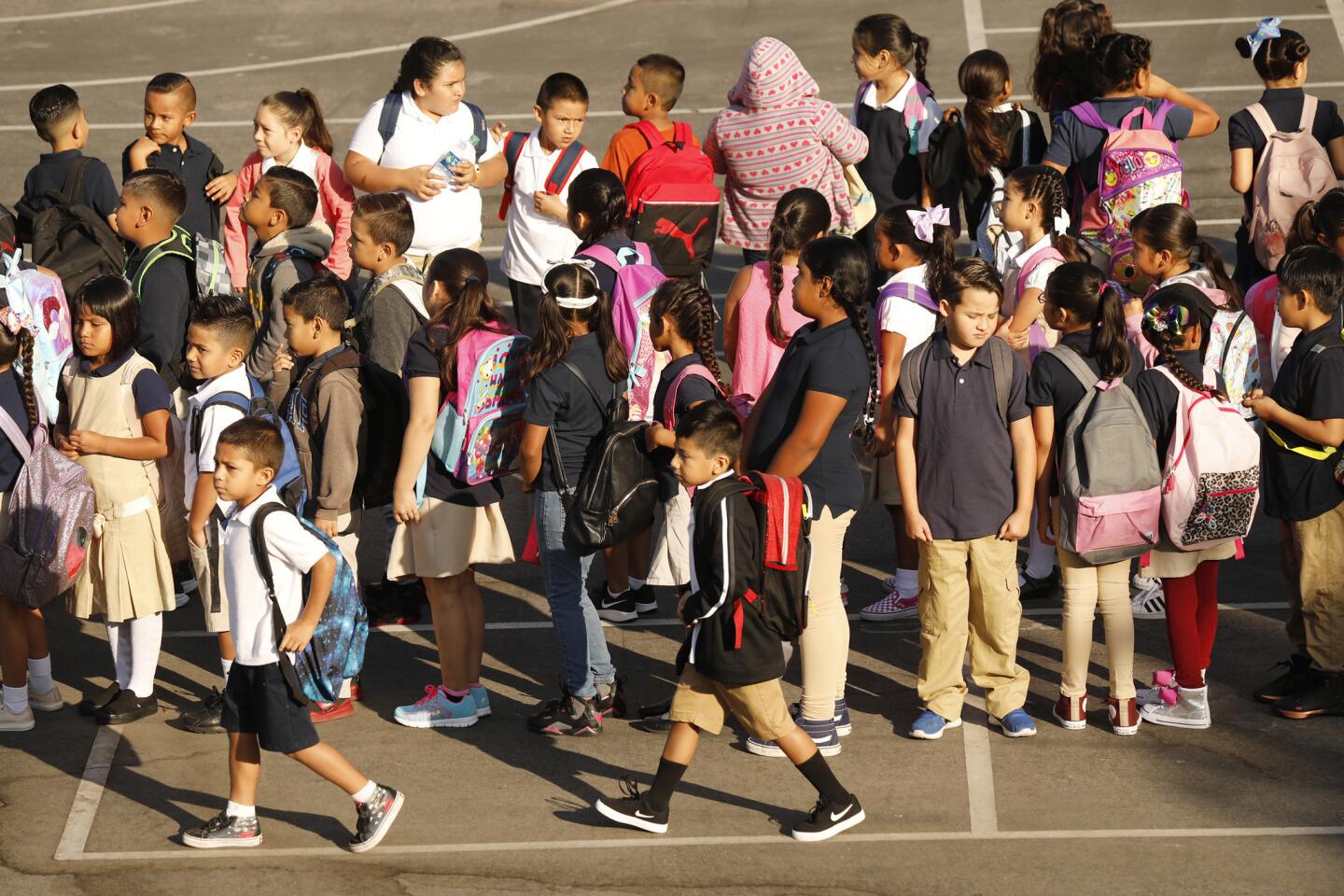 Students form lines on the playground as they prepare to go to their classrooms on the first day of the school year at Dolores Huerta Elementary.
(Al Seib / Los Angeles Times)
Students arrive at Baldwin Hills Elementary School for the first day of class for the Los Angeles Unified School District, the nation's second-largest school system.
(Irfan Khan / Los Angeles Times)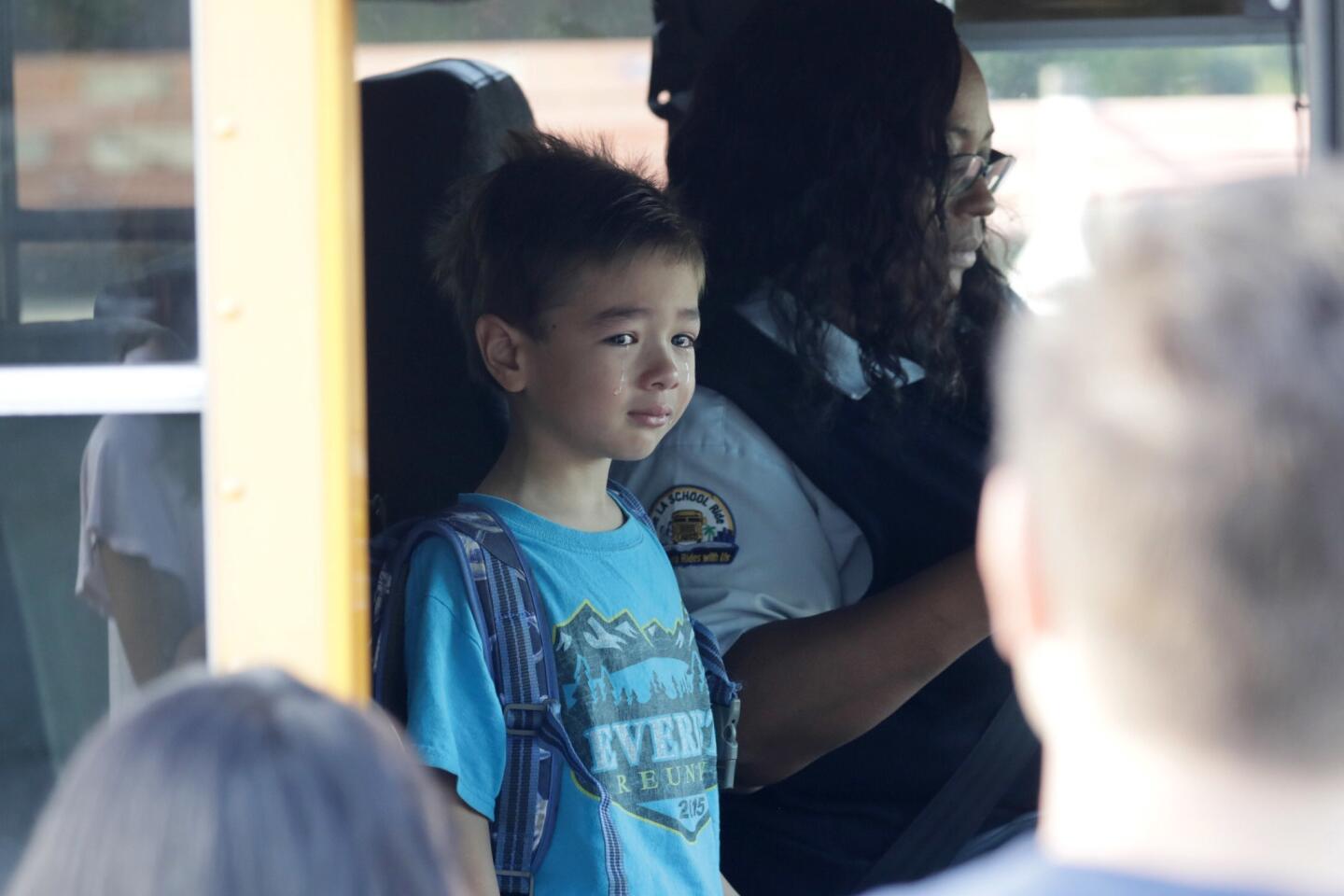 School bus driver Sharon Clark comforts a teary-eyed Porter Everist, 6, as he arrives at Community Magnet School on the first day of class.
(Irfan Khan / Los Angeles Times)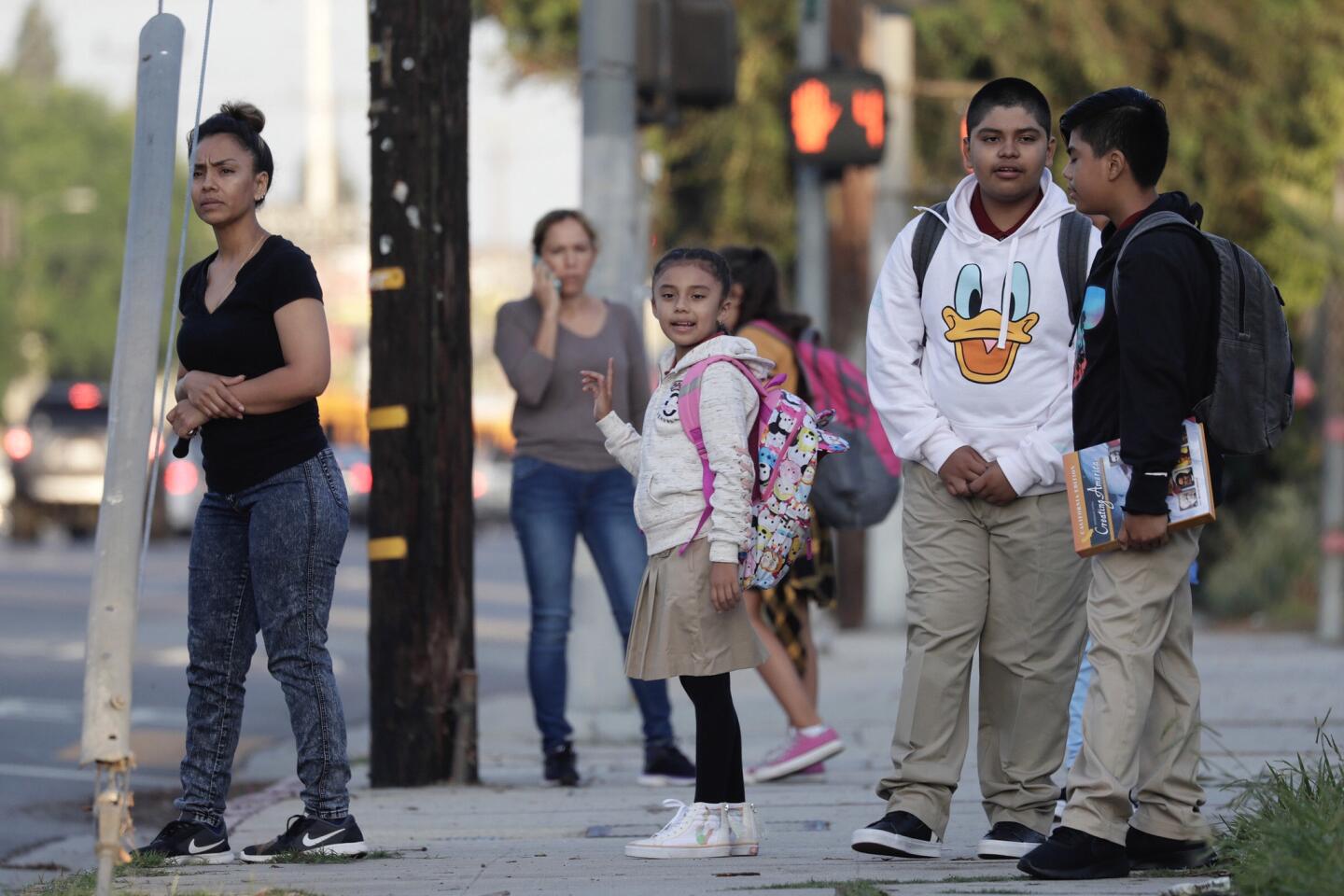 Students wait for their school bus on Rodeo Road in Los Angeles, as LAUSD begins the new school year.
(Irfan Khan / Los Angeles Times)
Beutner ducked reporters' questions about the threat of a teacher strike.
"Today is a celebration of the start of school, it's a celebration of students," he said. "If you'll allow me to celebrate students today, we'll talk about that in due course."
He touted the district's latest campaign to increase attendance. On Monday, every student in L.A. Unified received a prerecorded voice message from a sports star, Beutner said, urging them to wake up Tuesday and come to school to start the new year. District officials hope that cheery messages from the Los Angeles Rams' Todd Gurley, Kyle Kuzma of the Lakers, Sydney Wiese from the Sparks and others will encourage students who might otherwise skip class to show up more often.
"Imagine you're that fifth-grader, not quite sure you're going to school today, and Todd Gurley woke you up yesterday and said it's a new season, come join us, great things are happening at L.A. Unified," Beutner said.
Beutner's long day began at Roybal — a famously expensive school built atop an oil field — and continued to the headquarters of the district's Police Department, where 400 school safety officers checked in for roll call. From there, he was expected to visit a magnet program for students interested in becoming firefighters or police officers, a cooking program, a charter school for students with disabilities, and several others. His last stop is scheduled for 6:30 p.m. at an adult education center in Lincoln Heights.
Unlike his predecessor, who rose through the ranks and was well known to principals and administrators, Beutner had never run a school or a school district before his appointment. The former investment banker and deputy mayor has a background in finance and philanthropy.
In his introductory speech to principals last week, he urged them to be "rule breakers" for the benefit of students. He repeated that message on Tuesday and called for, "less top-down, compliance-driven, rule-driven bureaucracy."
Twitter: @annamphillips
Sign up for Essential California for news, features and recommendations from the L.A. Times and beyond in your inbox six days a week.
You may occasionally receive promotional content from the Los Angeles Times.