America's high school seniors' reading and math scores have hit a wall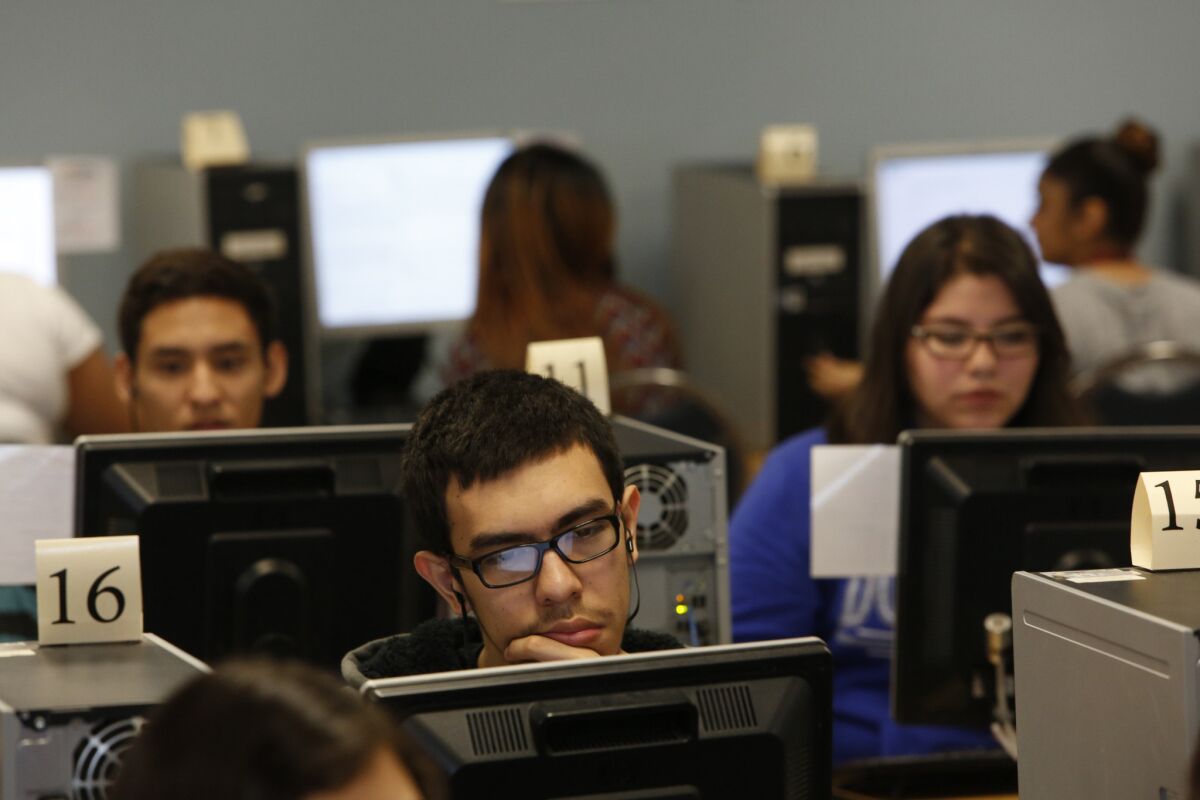 America's high school seniors' reading and math test scores are barely holding steady or slumping, according to national standardized test results released late Tuesday.
Between 2013 and 2015, on average, students dropped slightly in math and held steady in reading.
The National Assessment of Educational Progress, known as NAEP, is a test administered by the federal government. It is considered the gold standard in measuring what students really know, because the results don't have consequences that could encourage teachers or test takers to game the process.

In math, the average score dropped from 153 to 152, out of 300 points.
On the 500-point reading test, scores dropped one point to 287--a decrease officials called statistically insignificant.
The results for seniors weren't available on a state-by-state basis, but the national figures reflect a trend across other grades in California.
In the fall of 2015, fourth- and eighth-grade scores released showed that California stagnated in reading and math since 2013, though the scores increased somewhat since 2002.
"We're stalled. That's the bottom line," said Mark Schneider, a vice president at the American Institutes for Research who used to run the government agency that administers NAEP. "We're not making any progress."
The scores come as the country continues to teach and test the Common Core State Standards, a set of learning benchmarks intended to make school more demanding and lessons more consistent among states.
California is now administering its second round of tests tied to the standards. On Tuesday, the California Department of Education posted new brochures online to help teachers better understand the material and explain it to parents.
Officials are confident that the National Assessment accurately captured what students across the country are learning. They said they know that in part because the declines on math were consistent across the areas tested, including geometry, data analysis and algebra.
In 2015, NAEP tested almost 19,000 students in reading and 13,000 in math. In both of those subjects, 37% of students were deemed to be ready for college.
Scores on the lowest end of the reading and math tests were worse than they had been in 2013.
The gap between students who tested well and those who tested poorly concerns Peggy Carr, acting commissioner of the National Center for Education Statistics, the government arm that administers the exam. "We need to look at what it means," she said.
There was one bright spot: In math, the test scores of English language learners, a key demographic in California, increased by six points since 2013.
But students with disabilities remained stagnant, and students who reported that their parents didn't finish high school dropped by four points. And since 1992, black students dropped by eight points in reading.
The scores come against the backdrop of major change in the governance of schools: Late last year, President Obama signed the Every Student Succeeds Act, marking the end of the No Child Left Behind Act, the much-maligned federal law that required regular standardized testing and doled out consequences in accordance with test results.
As a result of the new law, California — along with all other states — must now devise a new way to rate its schools, and to communicate those ratings to parents.
"The achievement gaps that we see support the notion that we have to have a strong accountability system," said Ryan Smith, executive director of EdTrust West, an advocacy group that recently introduced legislation on this front.
"We've not focused enough on closing achievement and opportunity gaps in the state. It has not been our North Star, it has not been central."
You can reach Joy Resmovits on Twitter @Joy_Resmovits and by email at Joy.Resmovits@LATimes.com.
The stories shaping California
Get up to speed with our Essential California newsletter, sent six days a week.
You may occasionally receive promotional content from the Los Angeles Times.