Vacant school board seat could remain unfilled for months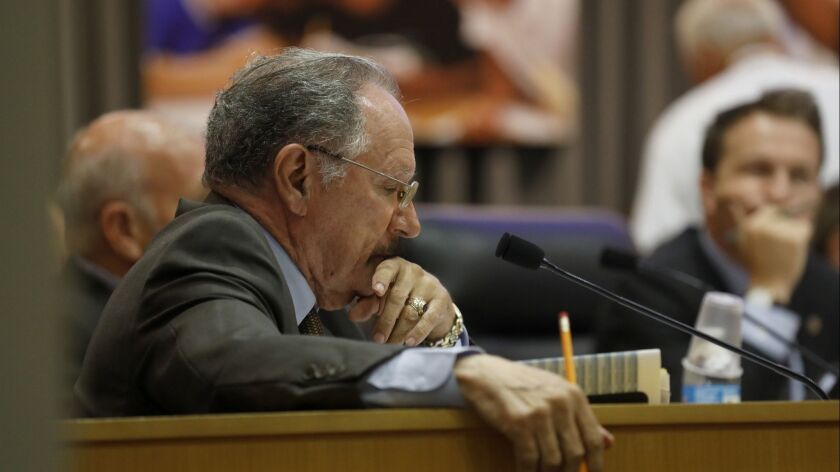 Before Ref Rodriguez resigned from the Los Angeles school board in July, he was part of a four-member bloc that, when it counted most, stuck together to push through decisions.
On Tuesday, the board — now six members instead of seven — had no problem agreeing on an election date to replace Rodriguez, but it kept splitting on another pressing issue: what to do until a successor could take office.
As expected, the Los Angeles Board of Education scheduled a special election for March 5, although not without debate. A runoff, if needed, would take place May 14.
The bigger argument, however, was over whether to name a temporary replacement to serve until those election results are certified, which could be as late as mid-June.
After two hours of discussion and testimony, a proposal to appoint former board member Jackie Goldberg fell short. So did a separate proposal to open up the application process and make a final decision at a meeting Sept. 11.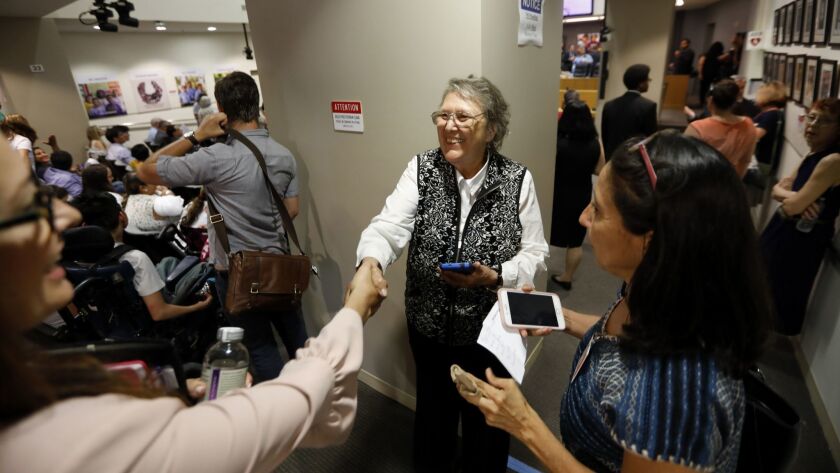 Rodriguez resigned July 23, the same day that he pleaded guilty to one felony and three misdemeanors related to political money-laundering during his successful 2015 campaign for the board. The timing of the election means that nearly a year could pass before there's a new representative for Board District 5, which includes neighborhoods northeast and northwest of downtown as well as cities in southeast L.A. County.
Some critics of Rodriguez argue that Board District 5 essentially has been unrepresented for nearly a year already because Rodriguez was hobbled as a board member after prosecutors filed charges against him.
The board debated two approaches for naming an interim board member. Scott Schmerelson proposed the outright appointment of Goldberg, who served two terms as a board member from 1983 to 1991. She later served on the Los Angeles City Council and in the state Legislature, representing much of Rodriguez's District 5.
Before the board could vote on that motion, Nick Melvoin put forward a substitute, which had to be dealt with first. He wanted to give potential candidates a period of time to be nominated or apply, which he called "a more transparent and community-driven process."
The board could then pick from a broader list, which could include Goldberg, at its early-September meeting, he said.
At this point, the board paused for comments from more than two dozen speakers.
Goldberg has her own constituency, built up over her long career, and some of them testified or sent in endorsements, including teachers, parents and minority activists. One letter was from United Farm Workers icon Dolores Huerta.
Retired teacher Susan von Manske called Goldberg trusted, balanced and fair: "She was the best board member that I ever remember."
The teachers union also has backed Goldberg, which almost makes her appointment a non-starter for supporters of charter schools. Charter backers and the teachers union are the two major parties in district politics, and the main combatants in school board elections. Most charters are nonunion.
An advocacy group called Speak Up was among those that organized to oppose an immediate appointment of Goldberg. The group's leadership has aligned itself especially closely with Melvoin and Supt. Austin Beutner. Its contingent on Tuesday included Raquel Toscano, who lives in the Southeast city of Bell and has two children at a local high school.
"Do you care about my civil rights and democracy and my right to vote?" Toscano asked the board. She called Goldberg a tool of special interests and said that schools in her area had long suffered from second-class status in the nation's second-largest school system. She said Rodriguez had been willing to listen to the concerns of parents in his district.
Board member George McKenna backed Goldberg and tried to win over reluctant colleagues by reminding them that Goldberg had promised not to run if she received the interim job. All bets were off, he warned, if she was not appointed.
"If she runs, c'est formidable," said McKenna, a Louisiana native, pulling out his Cajun French. "In District 5, she has never lost an election.... It would be hard for her not to win. She'd have to try not to win."
Melvoin's plan for an extended appointment process went down first, on a 3-3 split. Then, Goldberg won only two votes — those of McKenna and Schmerelson.
Earlier, McKenna had cast the only vote against a March election. Instead, he favored the earliest election possible, which would have been Jan. 22. That date would cost half as much, he noted, about $2.4 million versus $4.3 million, based on estimates from city and county election officials.
But a board majority decided that March 5 offered the best balance — allowing time for a campaign without unwarranted delay.
Among those who have expressed interest in the seat are public affairs consultant Ana Cubas, former Cerritos Community College trustee John Paul Drayer, neighborhood activist Rocio Rivas, Huntington Park City Councilwoman Graciela Ortiz, district principal Cynthia Gonzalez and Los Angeles Board of Public Works member Heather Repenning.
Twitter: @howardblume
---
The stories shaping California
Get up to speed with our Essential California newsletter, sent six days a week.
You may occasionally receive promotional content from the Los Angeles Times.