L.A. teachers strike appears more likely as a key report fails to bring the union and district together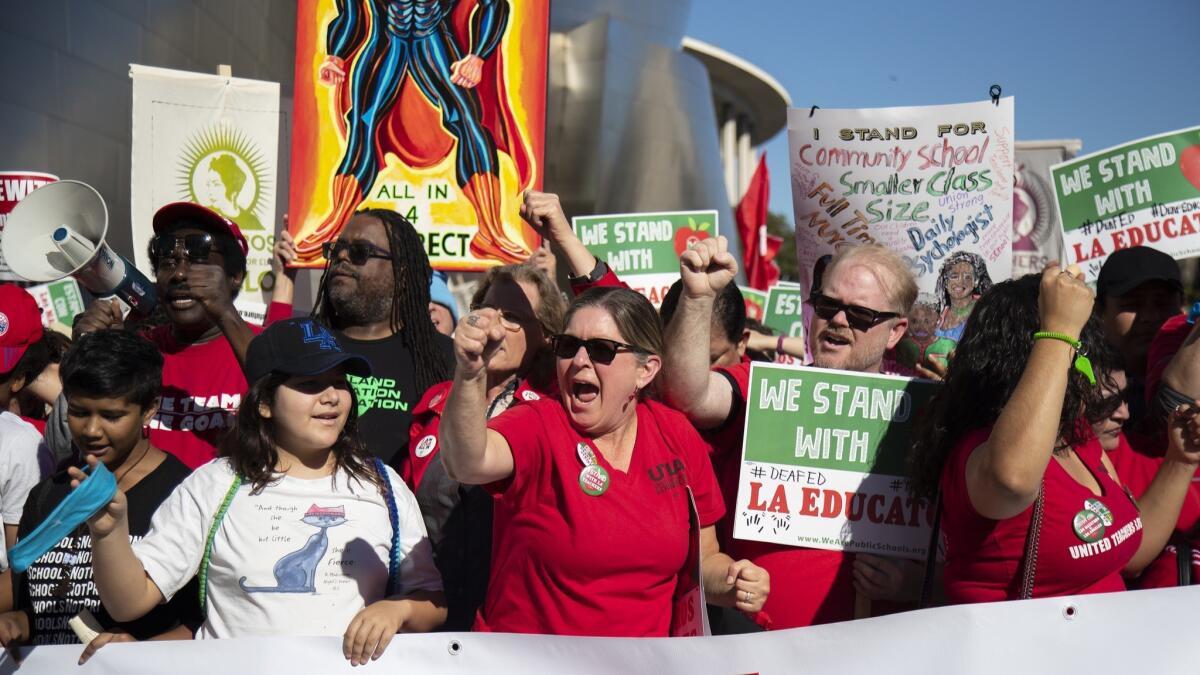 Los Angeles teachers may have moved one big step closer to a strike.
Tuesday marked the release of a report from a fact-finding panel, the last legal step in a process that clears the way for them to walk out. The aim of the panel is to try to find common ground that could pave the way toward a settlement.
But the rhetoric from the union and the district after the report came out suggests long odds for a breakthrough.
The report included support for both sides — which is typical of fact-finding. Panel members try to give negotiators a factual basis to work from and to suggest and encourage reasonable compromise.
L.A. Unified prevailed on a major point. The three-member panel, which included a representative chosen by labor, supported the district's salary offer of a 3% raise retroactive to July 1, 2017, and an additional 3% as of July 1, 2018.
The union has been seeking a 6.5% raise retroactive to July 1, 2016.
Panel Chairman David A. Weinberg, who was selected as a neutral party, said it came down to what the nation's second-largest school system could afford.
"I agree with the union's argument that the bargaining unit deserves to be higher ranked in comparison to other jurisdiction[s] given the combination of a higher cost of living in the L.A. metro area, and the difficulty in teaching a population of students with so many needs and challenges," Weinberg wrote. "However, the district does have financial limitations that must be balanced with these needs."
The union also has been calling for ramped-up hiring: new teachers to allow for smaller class sizes as well as more nurses, counselors and librarians to give schools the support they need. Those hires also would be represented by United Teachers Los Angeles.
Here, the panel majority leaned toward the union position, recommending that the district set aside the equivalent of a 1% to 3% salary increase toward those ends. It's not clear that the union would be satisfied with that degree of hiring or whether the district would be willing to pay for it.
The district has offered to contribute up to $30 million for additional staffing and Supt. Austin Beutner said he is willing to negotiate with United Teachers Los Angeles on how that money would be spent as well as on other matters. But he said that adding costs in one area would necessarily mean less money available in others.
Where Beutner got into fresh trouble with the union on Tuesday was his assertion to reporters that the union had agreed to the district's salary offer. Beutner based his claim on the position of the labor-appointed member of the panel.
"The report says that Los Angeles Unified's offer of 6% is appropriate and UTLA has agreed it's appropriate.… And back pay to 2017 is appropriate," Beutner said at a news conference. "On that, we agree."
Union leaders responded with fury.
"No agreement — salary or otherwise — has been reached between UTLA and LAUSD," the union said in a statement. "Beutner's latest stunt proves he wants to create confusion and chaos rather than be a willing partner in the reinvestment and sustainability of our school district."
The union's bargaining proposal is detailed and sweeping, with nearly 70 pages that cover topics including who should control standardized testing, how to govern schools and when a traditional campus could be converted to a magnet school, which is a program with a special academic focus.
The panel suggested pilot projects to test out some ideas while recommending that some proposals on both sides be dropped.
A panel majority accepted the union's position on some points, including UTLA's objection to a current contract provision that allows the district to override class-size caps in the contract by claiming financial hardship. Beutner said the district is willing to negotiate on this point.
The majority also supported the union's proposal that would give staff at schools more input over the use of their campuses by charter schools. Charters are privately operated public schools; most of them are nonunion.
In their rhetoric, union leaders have called for curtailing charter growth and for stricter oversight over charter schools. But their contract proposal is more limited, calling for advance notice when a charter is offered classroom space at a school and union participation in meetings involving a charter's use of a campus.
In the end, the fact-finders appeared as flummoxed as others about how to resolve the conflict.
"There remains in dispute over 21 articles, which have multiple issues within them," Weinberg wrote. "There seems to have been almost no progress made on any issue, which normally would be reflected in multiple counteroffers being exchanged by each side that reduce the issues between the parties."
Beutner said the union is unwilling to negotiate and refuses to recognize the district's financial problems. He said the union long ago decided to stage a strike, before negotiations even began.
Union leaders put the blame on Beutner and the school board majority. These district officials have an underlying agenda of trying to undermine traditional public education in favor of charter schools, union President Alex Caputo-Pearl said.
Beutner and board members have denied this allegation.
Schools began their winter break Friday, so a strike could not happen until January.
On Saturday, the teachers union and its supporters staged their largest rally. The event drew thousands, and a sea of demonstrators filled the 3rd Street tunnel from end to end as they passed through during a march downtown.
Twitter: @howardblume
Sign up for Essential California for news, features and recommendations from the L.A. Times and beyond in your inbox six days a week.
You may occasionally receive promotional content from the Los Angeles Times.