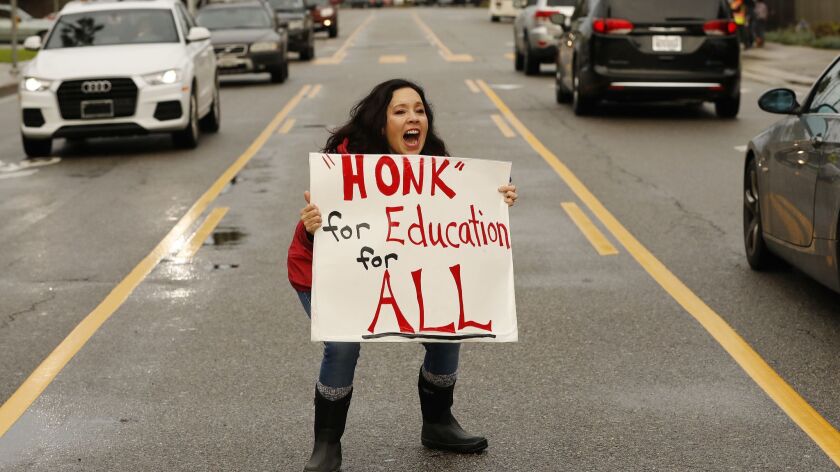 The Los Angeles Unified School District is not giving the public enough information about how schools use more than $1 billion a year in state funding meant for high-needs students, according to a complaint filed Thursday with the California Department of Education.
These dollars are part of a funding formula that California implemented during Gov. Jerry Brown's tenure. Districts receive extra money for each student who is low-income, an English learner or a foster youth.
L.A. Unified is the state's largest school district by far, and most students fall into one of the three categories. The funding accounts for about 15% of the district's annual budget, and the community is supposed to be involved in how the money is spent.
"You're not having a meaningful conversation with the community because what you're putting out is such crap, the community doesn't know what's in your plan," said John Affeldt, managing attorney at Public Advocates, one of the law firms that filed the complaint on behalf of two L.A. Unified parents. "They don't know how much you're spending on particular items."
The state requires school districts to identify how much is spent and how the extra money is being used. Districts must also establish goals and measure the progress of programs — such as after-school resources or counselors, the complaint says.
But L.A. Unified packages many unrelated items together, making it difficult to determine the effect of its spending, or for parents to know where money is going, Affeldt said.
In the 2019-20 budget, for example, one area alone — school autonomy — accounts for $880 million of the $1.1 billion of that extra money, the complaint notes. More information about how much money for autonomy programs goes to each school, and how schools use that money, should be easily available, Affeldt said.
School autonomy funds have been used for multiple goals, including improving school climate, parent involvement and student academic achievement, the complaint notes. But these programs should not all have a vague umbrella label, the complaint says.
"As a parent, I would like to have more access to this information," said Ana Carrion, one of the parents named in the complaint. Her son is a seventh-grader in South L.A., and Carrion said "we don't know if that money is being spent in the way that it should" — which makes it hard to know what to advocate for.
L.A. Unified and the state Education Department each received the complaint and were reviewing it Tuesday afternoon, according to spokeswomen from both agencies.
The complaint could be a precursor to a lawsuit. If the state education department decides to accept the complaint and investigate it, or foster a mediation, L.A. Unified could be forced to rework the plan in order to qualify for the $1 billion. But if no agreement is reached, the parents could choose to sue the district and the L.A. County Office of Education, which authorizes its budgets.
Reach Sonali Kohli at Sonali.Kohli@latimes.com or on Twitter @Sonali_Kohli.
---