L.A. school board signals support for an education tax increase this year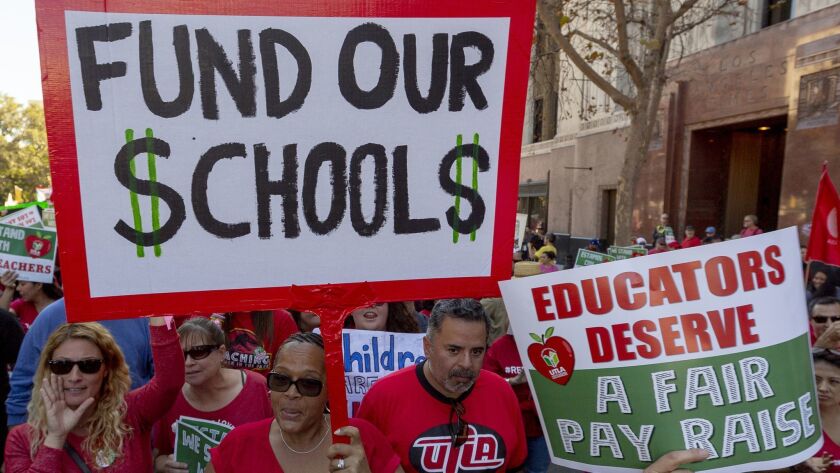 Hoping to harness the momentum of a six-day teachers' strike that drew broad public sympathy, L.A. schools Supt. Austin Beutner is pushing a measure to raise local taxes for education.
If Board of Education members approve the plan — and all six have said they will — a parcel tax would go on either the June or November ballot. Getting on the June ballot would require board action before the end of next week.
District staff, pollsters and attorneys unveiled the funding plan at a board meeting on Tuesday. When board members expressed enthusiasm, Beutner said he'd come back later this week with a resolution for the ballot they could vote on.
"This will allow for the accelerated improvement in student learning, further reduction in class size and providing more support to students and educators in schools," Beutner later said in a statement. "It is time to build on the commitment the community has expressed and move forward together."
Still to be decided are the size of the proposed tax increase and how a new tax would be calculated. The measure would require the approval of two-thirds of voters within the boundaries of the nation's second-largest school system.
Officials' new sense of urgency is a contrast to last July when the board split 3 to 3 on a tax measure and Beutner called the idea premature. New to the job then, Beutner wanted to wait until 2020, to give the district time to rebuild credibility and put together a well-coordinated campaign. A teachers' strike already threatened then, and some thought that made a tax measure's prospects doubtful.
Those who backed it, however, thought getting additional money might forestall a strike by giving the district new resources.
When teachers walked out in January, they struck a chord with residents in arguing that the city's schools need more funding.
Wondering if that sympathy could be capitalized on, Beutner commissioned a poll. And on Tuesday, the board was told that the odds of passing a tax had improved.
Pollster Adam Sonenshein said a survey commissioned by the district found that 82% of voters agreed that there was a great need or some need for increased school funding. That was a higher level of support than in previous surveys, he said.
The survey of 700 registered voters was conducted Feb. 14-19 by cellphone and landline, in English and Spanish. Pollsters estimated a margin of error of plus or minus 3.7 percentage points.
Sonenshein said he leaned toward the June ballot because it was closer to the teachers' strike.
"This is a snapshot of today," he said. "Memories start to fade."
There are other risks. In either June or November, a tax measure would go on a ballot without much else, increasing the likelihood of a low turnout. Voters who show up to vote in those elections tend to be more fiscally conservative. The cost of paying the county to hold the election is estimated at about $12.5 million.
In June 2010, an L.A. Unified parcel tax proposal hampered by an anemic campaign received only 53% of the vote, falling well short of the required two-thirds majority.
This time, district officials promise a vigorous effort. They also are seeking more than the annual $100 per parcel that they asked for in 2010.
Several community groups expressed support at Tuesday's meeting. And business and community leaders who call themselves the Civic Alliance sent a letter offering a qualified endorsement. Part of the district's strategy for broadening public support will be to share the proceeds with privately operated charter schools, a powerful local constituency.
On Wednesday — even before a formal board vote — there will be an unofficial event in support of more funding at the Museum of Tolerance in Pico-Robertson. "All In for Public Education" promises testimonials from students, teachers and "community partners" as well as student performances.
Board President Monica Garcia said she wished the board could have voted immediately to put a measure on the ballot.
"I am so encouraged that there is an opportunity to bring dollars to the district faster than was previously understood," Garcia said.
Board members looked at two funding scenarios: a flat tax on every parcel versus a tax based on the square footage of structures on properties. Staff members said a tax based on square footage would be more progressive — putting a greater burden on wealthier residents.
The board also discussed two different tax amounts: one that would raise $340 million per year versus one that would raise $500 million per year. Board members appeared to be leaning toward the larger number. The larger amount, if taxed as a flat fee, would come to about $537 per parcel.
A successful June vote would mean that money could begin flowing into the school system as early as November. If voters approved a measure in November, money would not arrive until at least November 2020, according to the staff report.
"We're at our time right now," board member Richard Vladovic said of a tax measure. "We need it and I think the public understands."
Twitter: @howardblume
---
Life is stressful. Our weekly mental wellness newsletter can help.
You may occasionally receive promotional content from the Los Angeles Times.