How realistic is L.A. Unified's common enrollment application plan?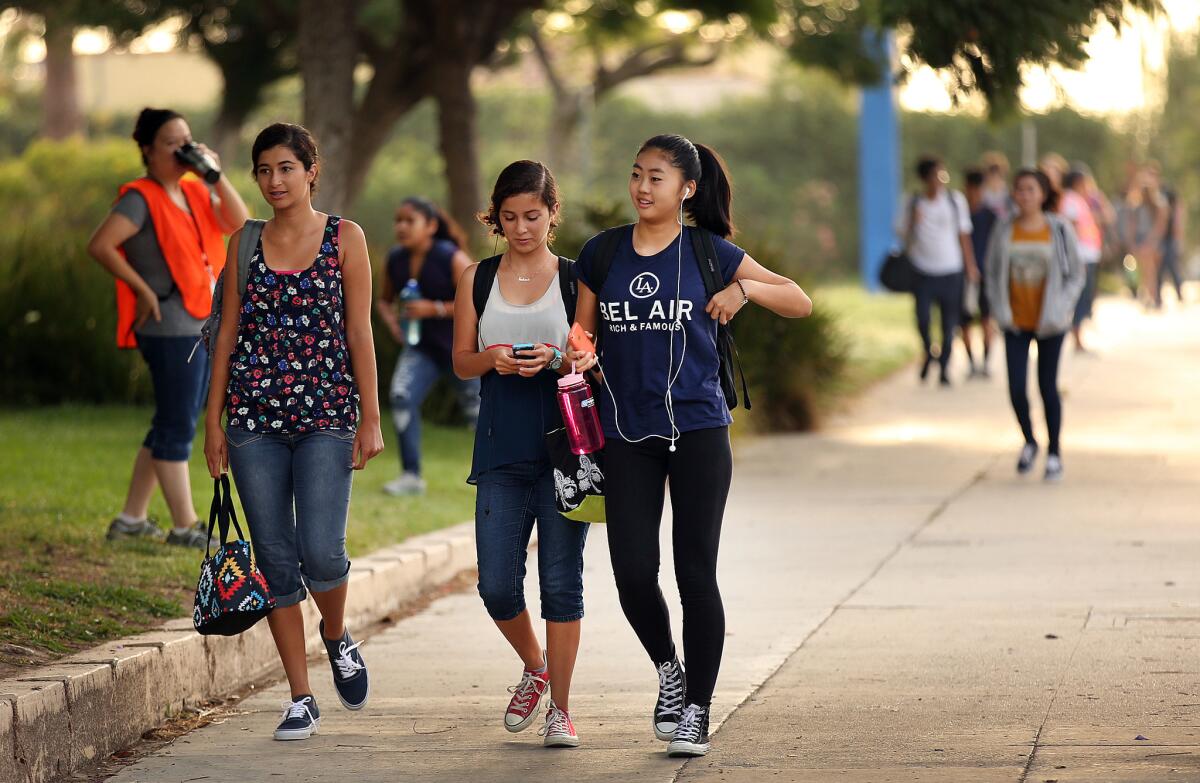 Alberto Retana wants a very specific kindergarten experience for his 4-year-old son: a dual-language Spanish and English immersion program, close to home near View Park-Windsor Hills, with a diverse student population and a track record of preparing students well.
Now the Los Angeles Unified School District wants to make it easier for parents like Retana to find the school that best fits their child by creating a search-engine-style website and a single application process for almost all district public schools, but not its charter schools.
According to a report that district employees prepared for the board of education in October and was obtained by The Times in April, the district would favor a website like that of Boston Unified School District, in which parents can come to one website, enter their preferences for their child and receive suggestions on schools that fit the criteria. The information technology department recommended hiring a vendor to create this "search engine," according to the report.
The paper also suggests moving the application timeline to the fall semester, and creating one common application for all L.A. Unified schools. This would allow the district to compete with charter schools that have their lotteries early in the school year.
Unlike some other districts that have adopted this kind of process, L.A. Unified would not include independent charters. During a budget meeting in March, superintendent Michelle King told board members this single enrollment system would be a way to keep students, and the revenues they bring, in traditional public schools.
The discussions come as more students abandon district schools in favor of charter schools.
Right now there are about 10 kinds of public school options for families, including neighborhood schools, magnets, open enrollment, and zones of choice. Even if parents know that they have options and figure out what the alphabet soup of words means, the enrollment and application dates are at different times of the year, from October through March.
Retana, the father in Windsor Hills, has extra familiarity with L.A. Unified because he heads the South Los Angeles group Community Coalition, a nonprofit that works to improve education. So if even he has trouble finding a school for his son, he knows that other parents do, too.
But how long will parents have to wait before a unified enrollment system is a reality?
It could take a while.
There's no timeline or budget estimate for the project yet, district administrator Jesus Angulo said in April.
It's difficult to say how much it would cost to develop, implement and maintain the system, since each school district has different needs, said Neil Dorosin, co-founder and executive director of the Institute for Innovation in Public School Choice, an education reform nonprofit that helps districts implement unified enrollment plans.
Dorosin spearheaded New York City's move to unified enrollment and now sells the algorithm software to other school districts for up to $300,000. He said it could cost another $1 million to create and develop the program in the early stages.
Dorosin said Los Angeles Unified has not contacted him about the software.
In other cities that have implemented systems, it's taken about a year to get off the ground, said Betheny Gross, research director at the Center for Reinventing Public Education at University of Washington Bothell.
Creating a single enrollment process wouldn't guarantee children a spot in the school of their parents' choice, though. If there's a high demand for a few schools, families might be assigned a school they don't want, Gross said.
Dorosin also points out that while this would help families, it wouldn't necessarily keep them out of charters in the long-run: charter schools could just create their own unified enrollment process.
Jason Mandell, spokesman for the California Charter School Association, said the group plans to approach the district about the possibility of including charter schools, though they have not asked charter school members if they would want to be included in the district's system. There are currently no plans to create their own single enrollment system, Mandell said.
Keisha Mitchell knows firsthand the difficulty of finding a good school. In August 2014 she was in Tucson getting ready to move to L.A. and trying to find a school for her son from 500 miles away. Met with a confusing website and fragmented information sources, Mitchell couldn't figure out what all of her options were, so he attends his neighborhood school. She's happy with it, but wishes she had known her options.
Now as a community organizer for Parent Revolution, Mitchell spends her days helping other parents navigate the complicated web of finding the right school.
Parent Revolution is a group best known for helping parents take control of their schools under California's parent trigger law. But in January, Parent Revolution launched a program to help families navigate school choice.
"It can be very daunting for families," Mitchell said. "We're dealing with working-class families who really don't have a lot of time."
Mitchell would much prefer one enrollment process, during one time. That would allow working parents like herself and others in South L.A. to focus on this and simplify a complicated process.
Some critics say that if the goal is to keep students in the district, then the best use of money is to improve existing schools.
Retana wants to find the right school for his son and thinks this system would make it easier for him and other families. But he also wants the district to respond to Community Coalition's request for more resources, such as restorative justice counselors, for South Los Angeles schools.
"What would keep me in L.A. Unified isn't necessarily how easy the process is," Retana said. "It's knowing that we have quality programs."
Reach Sonali Kohli at Sonali.Kohli@latimes.com or on Twitter @Sonali_Kohli.
Sign up for Essential California for news, features and recommendations from the L.A. Times and beyond in your inbox six days a week.
You may occasionally receive promotional content from the Los Angeles Times.