L.A. Board of Education chooses Monica Garcia as new president to replace Rodriguez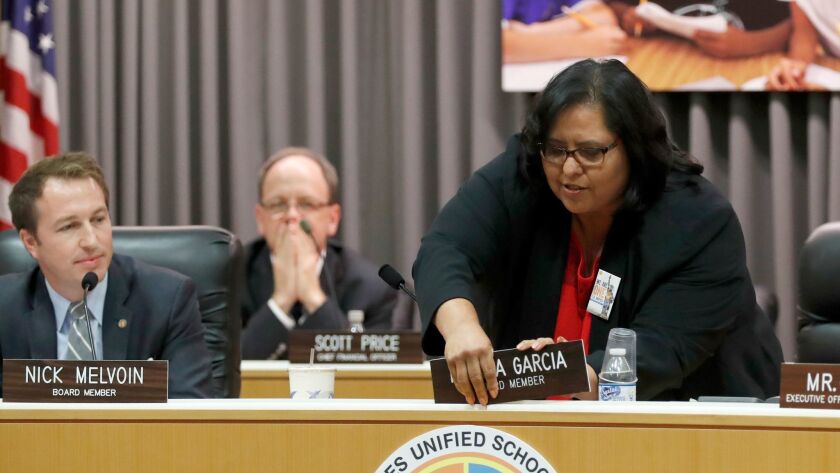 A week after Ref Rodriguez resigned as president of the Los Angeles Board of Education, he helped vote in his successor, an ally and familiar name in city politics who happens to be familiar with the job.
Monica Garcia, 49, the longest-serving current board member, was chosen quickly, without debate. She led the board from July 2007 through June 2013.
The 4-3 vote to put her in charge showed that the majority she is part of, elected with the strong support of charter school backers, still held the reins despite Rodriguez's legal troubles.
"Thank you, colleagues," Garcia said. "It is always an amazing day to be on this school board, and to be able to support this district and this board as chair is an absolute honor and privilege…. We have much to do."
Rodriguez, the co-founder of a charter school group, became board president in July but surrendered the job after prosecutors charged him with three felonies and 25 misdemeanors for alleged campaign fundraising violations.
Although he left the board's top post, he did not leave the board — and his vote mattered Tuesday. Garcia was the logical choice in the charter-backed bloc because its other members, Nick Melvoin and Kelly Gonez, just took office in July.
After the vote, Garcia immediately selected Melvoin as her vice president. Of the two new board members, Melvoin has been the harsher critic of Los Angeles Unified School District and the more ardent supporter of charter schools.
If Rodriguez remains on the board, the slim majority backed by charter school supporters is widely expected to help spur charter growth, change the district's charter oversight process and make more space available for charters on district campuses. His resignation would make reaching such goals more difficult.
Charters are run by private boards, independent of the school system, and their rapid growth has been controversial. The three board members not part of the charter-backed bloc have expressed strong concerns about the effects of charter growth on L.A. Unified.
All three speakers during the public comment period before the vote urged Rodriguez to recuse himself from voting and to give up his board seat.
"The felony criminal charges against you are serious," said Karla Griego, a special-education teacher from Buchanan Street Elementary School in Highland Park. "They cast a shadow of doubt."
Garcia's selection included an element of drama because, in a random drawing, Rodriguez got the first opportunity to nominate his successor. He passed.
Scott Schmerelson was next and nominated Rodriguez. Then he apologized and explained that he had misspoken and had meant to nominate Richard Vladovic, a past board president.
Gonez nominated Garcia, and Melvoin seconded the nomination.
Because Vladovic was nominated first, the board voted first on his nomination. It failed 4 to 3, with the majority bloc sticking together. Garcia was elected, the whole process over in less than 10 minutes.
Neither candidate made remarks before the vote.
The president sets the meeting schedule, determines who sits on board committees, decides which committees exist and often speaks and lobbies for the nation's second-largest school system.
Garcia over the years has been effective at influencing events less publicly as well. When she and other board members began to question the performance of then-Supt. David Brewer in 2008, she helped to orchestrate the hiring of veteran educator Ramon Cortines as his second-in-command. Cortines replaced Brewer late that same year.
More recently, Garcia has pushed to shift more resources to schools serving neighborhoods with the highest poverty, which would especially benefit schools in her district in and around downtown.
She's been a fierce advocate for District 2. L.A. Unified's flagship arts school is located within it, and she got admissions rules changed so the top priority would be to enroll students from the neighborhood rather than from all over the school system.
She also was the first and strongest board ally of Antonio Villaraigosa, who is running for governor and served as L.A.'s mayor from 2005 to 2013. She supported his unsuccessful attempt as mayor to take over the school system.
Although Garcia has been at odds with the teachers union, she's forged an alliance with SEIU Local 99, the largest group of nonteaching district employees.
During previous stints as president, she pushed successfully to shorten meetings that frequently were turning into all-day marathons. She also eliminated most board committee meetings. Her supporters said that freed staff up to do more important work and made public proceedings more efficient. Critics said her moves resulted in less transparency and oversight.
Twitter: @howardblume
---
UPDATES:
6:50 p.m.: This article was updated throughout with additional details from Tuesday's vote.
1:40 p.m.: This article was updated with a quote from Garcia, the vote count and her selection of Melvoin as her vice president.
This article was originally published at 1:40 p.m.
---
The stories shaping California
Get up to speed with our Essential California newsletter, sent six days a week.
You may occasionally receive promotional content from the Los Angeles Times.