Occidental College president, who weathered campus racial turbulence, to step down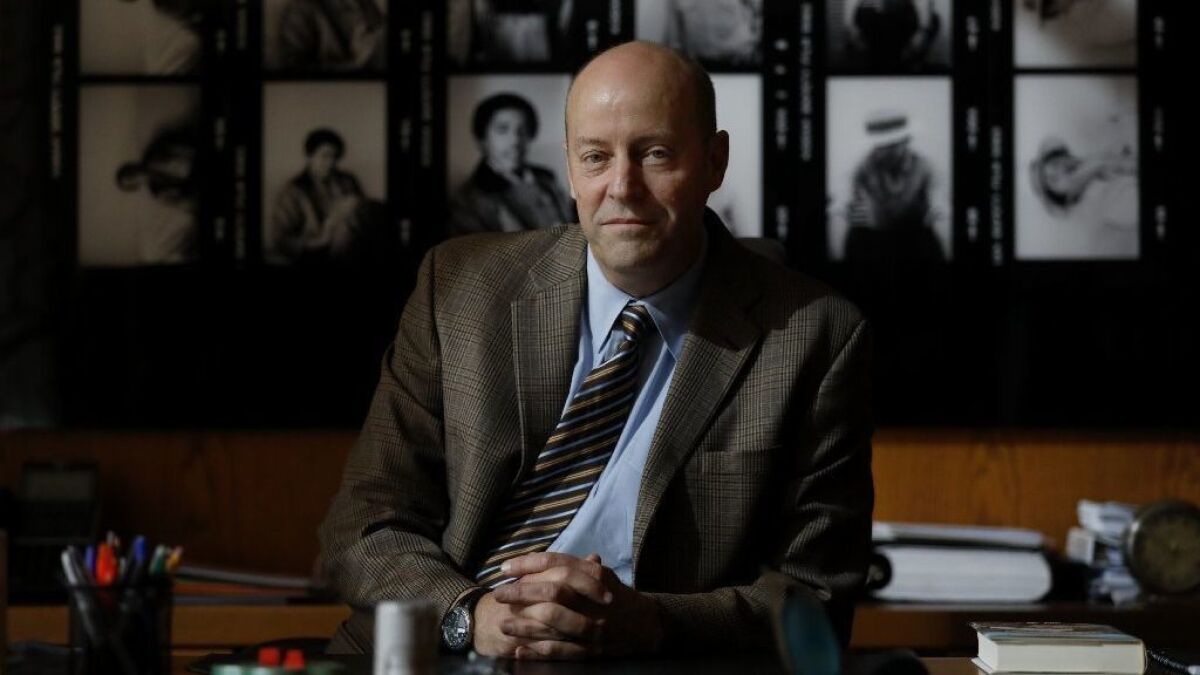 Occidental College President Jonathan Veitch, who weathered turbulent campus protests over sexual assault and racial inequity, will step down next year, the school's board of trustees announced Sunday.
Veitch, 59, said he is resigning voluntarily because he longs to return to teaching, research and writing — passions he put on hold while leading the Eagle Rock liberal arts college that President Obama attended for two years. Trustees will begin a national search for his successor.
He said he feels "satisfaction" in looking back on his decade-long tenure — including the controversies that rocked it.
"I don't regret any of it — these are the most vexing issues in our country," Veitch said in an interview. "It's been a real source of satisfaction to try to address them. And it's a work in progress. You never quite get to where you want to be."
In 2015, as racial protests inflamed campuses nationwide, scores of Occidental students occupied the administration building for a week, calling for Veitch's resignation as one of many demands to diversify the school. Veitch didn't quit, but the college has since launched a black studies program, hired a vice president for diversity and inclusion, increased the number of women on its faculty and boosted funding for diversity programs, he said.
In 2013, Occidental drew national headlines when 50 students, alumnae and faculty members filed federal complaints alleging the college had fostered a hostile environment for sexual assault victims. The U.S. Department of Education's civil rights office ultimately found that Occidental — the first California campus it investigated — had failed to address some sexual misconduct complaints promptly but did not otherwise violate federal civil rights laws and voluntarily agreed to reforms.
Those reforms included expanded training and education to prevent sexual assault, a new Title IX coordinator and confidential advocate to support victims, revamped investigative procedures and a 24-hour confidential hotline.
"There's no question about it: They were difficult and challenging," Veitch said of the controversies. "They forced me to really think and grow and reflect on what we'd done."
In a message to the Occidental community Sunday, board of trustees Chairwoman Susan Howell Mallory praised Veitch's "passion, creativity and considerable skills as a fundraiser," saying few of the college's presidents have served so long and accomplished so much. She said the board encouraged Veitch to extend his contract, which ends June 30, 2020, but he declined.
Gretchen North, a biology professor and president of the Faculty Council, said Veitch improved the college's financial footing and led it to emerge stronger after the sexual assault and race controversies.
"There were months where things didn't look so good, but we weathered it and came out a better college," North said, adding that she was speaking as an individual.
Veitch was dean of the New School's Lang College in New York City when he was tapped as Occidental's 15th president in 2009. His selection marked a homecoming for the Los Angeles native and scion of a Hollywood family — his step-grandfather was the actor Alan Ladd and his father, John Veitch, was president of Columbia Pictures' worldwide productions.
He saw Occidental's great potential in its location, as one of the few liberal arts colleges nestled in the heart of a major metropolitan area — "this incredible, glorious, dysfunctional city" as he put it. He worked to build partnerships with such prominent cultural institutions as the Getty Center, the Autry Museum of the American West and the Huntington Library, Art Collections, and Botanical Gardens.
In 2017, the college launched the Barack Obama Scholars Program, which provides students a full scholarship to cover more than $250,000 in all college expenses over four years. Obama has endorsed the program and asked that it focus on community college transfer students, military veterans and the first in their families to attend college. So far, the college has raised $10 million and enrolled the first two recipients; Veitch said it hopes to raise four or five times that amount to bring on more scholars.
"The goal is to put them through a curriculum that will make them effective change agents on behalf of the public good," said Veitch, whose office is dominated by an enormous reproduction of a 1980 campus photo shoot of Obama the student in a series of playful poses. "We're very proud of our connection to President Obama. It's not every liberal arts college that educates a president."
College officials believe Obama is a major reason that applications have steadily increased since his presidency — from 6,013 in 2009 to a record 7,500 for this fall. The college enrolls about 2,000 students.
Veitch also has boosted Occidental's annual fundraising haul from $12 million in 2008-09 to an average of $22 million every year since then. The endowment has grown from $274 million to $434 million during that time, according to college data. Veitch largely credits more active outreach to alumni for the increased contributions.
In addition, Occidental has launched several new projects under Veitch, including a solar energy system, environmental science center, career center and Olympic-sized pool and tennis center. He also spearheaded a drive to create a global affairs center and enroll more international students, who have increased from 2% to nearly 7% of the student body in the last decade.
Now, however, the intellectual life is luring him back. After he steps down in June 2020, Veitch said he plans to teach at Occidental and write a book about democracy and the liberal arts tradition. He argues that a liberal arts education, for all its naysayers, is "absolutely the best preparation" for an information-based economy and healthy civic society because it cultivates the ability to analyze complex problems and negotiate disagreements.
"It's been a good ride and I really enjoyed it, but I really miss the chance to read and write and think," he said. "Over the holidays, my daughter was at home reading Russian novels and I was reading memos. So I thought, 'I want her job.' "
---
The stories shaping California
Get up to speed with our Essential California newsletter, sent six days a week.
You may occasionally receive promotional content from the Los Angeles Times.