Your summer baby might have a hard time getting into that private kindergarten
Admissions stress isn't just for the college-bound these days. On Friday afternoon, parents across Los Angeles will be checking their emails frantically as they await the biggest decision affecting their child's life so far: whether they've been accepted by a private kindergarten.
Some kids have a built-in advantage, though — their birthday.
In this rat race, age matters. Many private schools are less likely to take students who are going to turn 5 in the summer, thanks to rigorous curricula that have made kindergarten more like first grade.
For some of the most exclusive schools, the admissions process is demanding, requiring essays, open houses, parent interviews, child assessments and in some cases even IQ tests. And most schools send their acceptance letters on the same Friday afternoon in March, a day that mothers have long dubbed "Black Friday."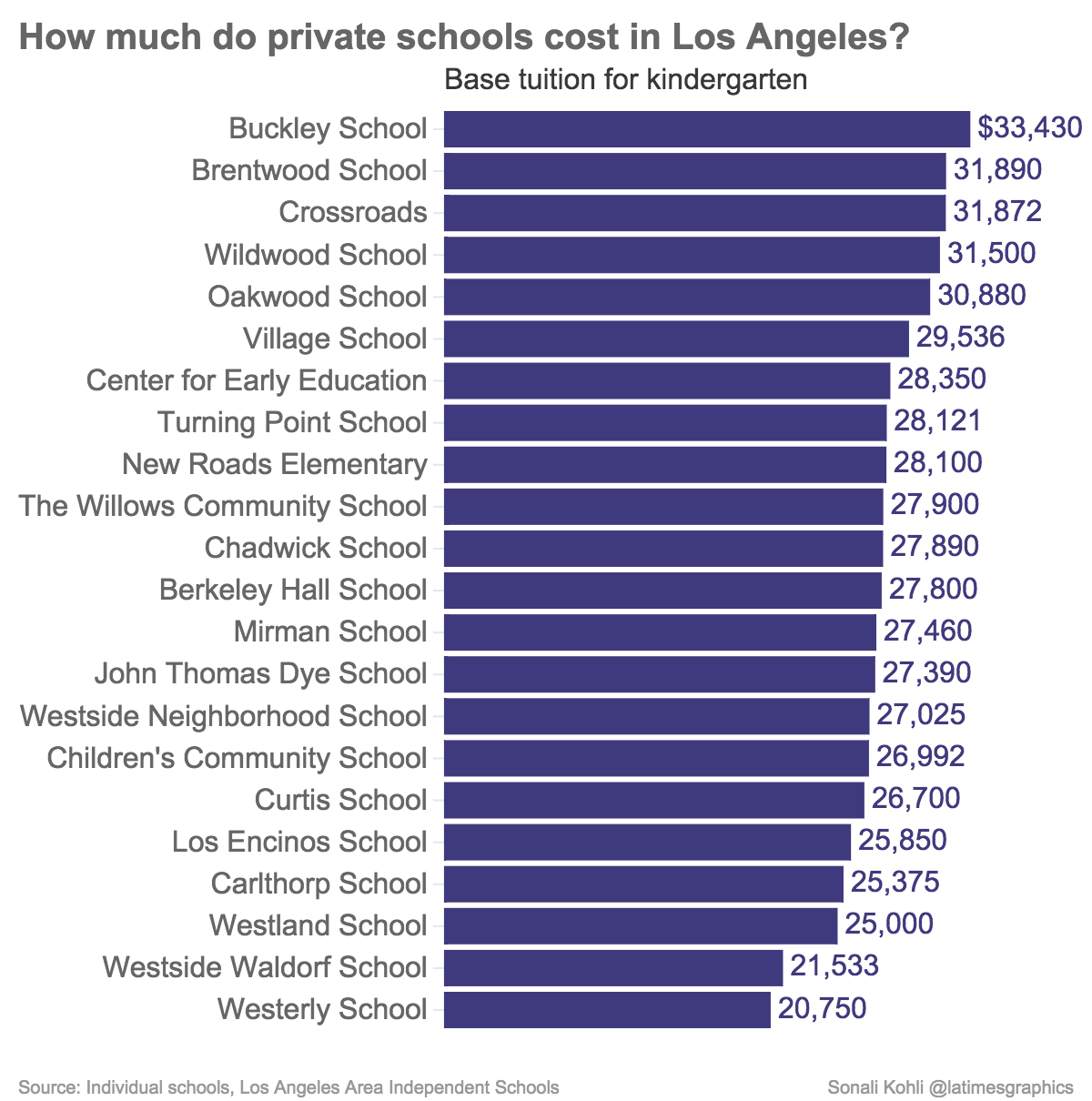 Kindergarten is no joke. That's especially true in the world of exclusive Los Angeles private schools that can cost from $20,000 to upward of $30,000 before added costs like new student fees, "grounds" fees, activity fees and parent organization fees.
Even with those costs, there can be five or more applicants for every available spot, and kindergarten admission ensures that the student has a spot through at least elementary school, and often a better chance at enrolling in elite middle and high schools.
In recent years, as kindergarten has become less about building blocks and more about performing on math and reading comprehension, "private schools are looking more and more for slightly more mature kids," said Sandy Eiges, founder of L.A. School Scout, a school admissions consulting service.
Part of the shift comes from an education trend in public schools, too — the kindergarten cutoff date used to be December birthdays, but that changed after the state adopted Common Core standards in 2010.
Follow the Times' education initiative to inform parents, educators and students across California >>
Now, children who are going to turn 5 between September and December can go to transitional kindergarten, a lower-pressure option. Fall babies can go to kindergarten, but only after they turn 5.
Private schools don't have to follow Common Core standards. But they certainly pay attention to the benchmarks, even as early as kindergarten.
Why? Nathalie Miller, director of admissions at Berkeley Hall, says it's because the current president of the College Board, which administers the SAT and Advanced Placement exams, both of which private school students take, also helped develop the Common Core.
See more of our top stories on Facebook >>
An age-old practice
It's no secret that younger kids might have a tough time breaking through the barrier that is private kindergarten.
"Smart parents will give their child the gift of an extra year if their child has a late birthday or a fall birthday," Miller said.
This isn't a new trend, she said. Miller's own daughter, who is now 24, repeated kindergarten at Berkeley Hall because, having an October birthday, she wasn't ready.
It's better for children to have an extra year of preschool than kindergarten, because they don't feel like they're being "held back," Miller said.
Some schools have early summer cutoff dates for kindergarten applicants, or will talk to parents about keeping their child in preschool another year, until he's developmentally ready to learn academically.
Some parents who do apply receive "young letters," Eiges said. In those cases, the school rejects the parents by letting them know that their kid is great, but maybe just a few months shy of ready. Try again next year, they might say.
Even at schools like Children's Community School in Van Nuys, a progressive school where there are no tests or textbooks and the birthday cutoff date is Dec. 31, students skew older, not because the curriculum demands it but because it's en vogue to hold them back and let them be the oldest in the class rather than the youngest, said Heather McPherson, the school's director of advancement.
See the most-read stories this hour >>
What are schools looking for?
Schools are notorious for talking about finding children who are "a good fit," a phrase that fills parents with anxiety and confusion.
Part of that good fit, admissions counselors say, is the feeling parents get when they visit the school: Do they like the instruction style they see? The administration's mind-set?
But part of it is if the child is ready. Whether or not he can read a full sentence yet doesn't matter for all schools. Instead, they might want to know that he's ready to interact with other children in a play-based learning environment, or that he'll be able to sit in a classroom and comprehend information for fixed periods of time.
For 4- and 5-year-olds, a few months can make that difference.
"There is a push for academics much more today than ever before with the competition for ... places at these schools," said Elizabeth Fraley, the director of KinderPrep at Academic Achievers, a tutoring company based in Santa Monica. Fraley works with students as young as 3 to prepare them for kindergarten and holds $1,000 weeklong camps during the summer to get children ready for "the rigor of kindergarten."
On Friday, parents will find out if they're accepted, wait-pooled (more fluid than "wait list") or declined (more polite than "rejected"). Here are some moves that will not help your 4-year-old get one of those coveted spots:
It's L.A., everyone knows a celebrity. "Recommendation letters from celebrities do not help," said Miller, who recalled a parent who asked if a letter from Barbara Walters would help her child's chances. "We're in L.A., people will try anything," she said. Don't pad the admissions file with more letters than necessary -- admissions officers have to read everything, and a lot of the extra stuff is useless
Money doesn't talk. By all means, attend the school's fundraising gala and get to know the admissions officer there, but schools say that they keep their fundraising departments and admissions departments at arm's length from each other. And the schools we spoke to said they do not accept donations from applicant families. "You can't grease our palms," Miller said.
Keep your distance. Showing up to school tours and open houses can be a good thing, since that tells the school that you're invested. If you're wait-listed, call the school and express your interest. But don't show up repeatedly, or attach yourself to the admissions directors, said Darlene Fountaine, director of admissions at Westside Neighborhood school. They might realize that they don't like you all that much.
Perhaps the most important advice to keep in mind Friday comes from McPherson at Children's Community School:
"Just remember," McPherson said, "That it's only kindergarten."
Reach Sonali Kohli at Sonali.Kohli@latimes.com or on Twitter @Sonali_Kohli.
MORE EDUCATION NEWS
Why Finland has the best schools
Are charter schools suspending too many students?
UC proposal on intolerance says 'anti-Zionism' is unacceptable on campus
Sign up for Essential California for news, features and recommendations from the L.A. Times and beyond in your inbox six days a week.
You may occasionally receive promotional content from the Los Angeles Times.