Focusing can be hard for kids when going back to school in the summer means hot classrooms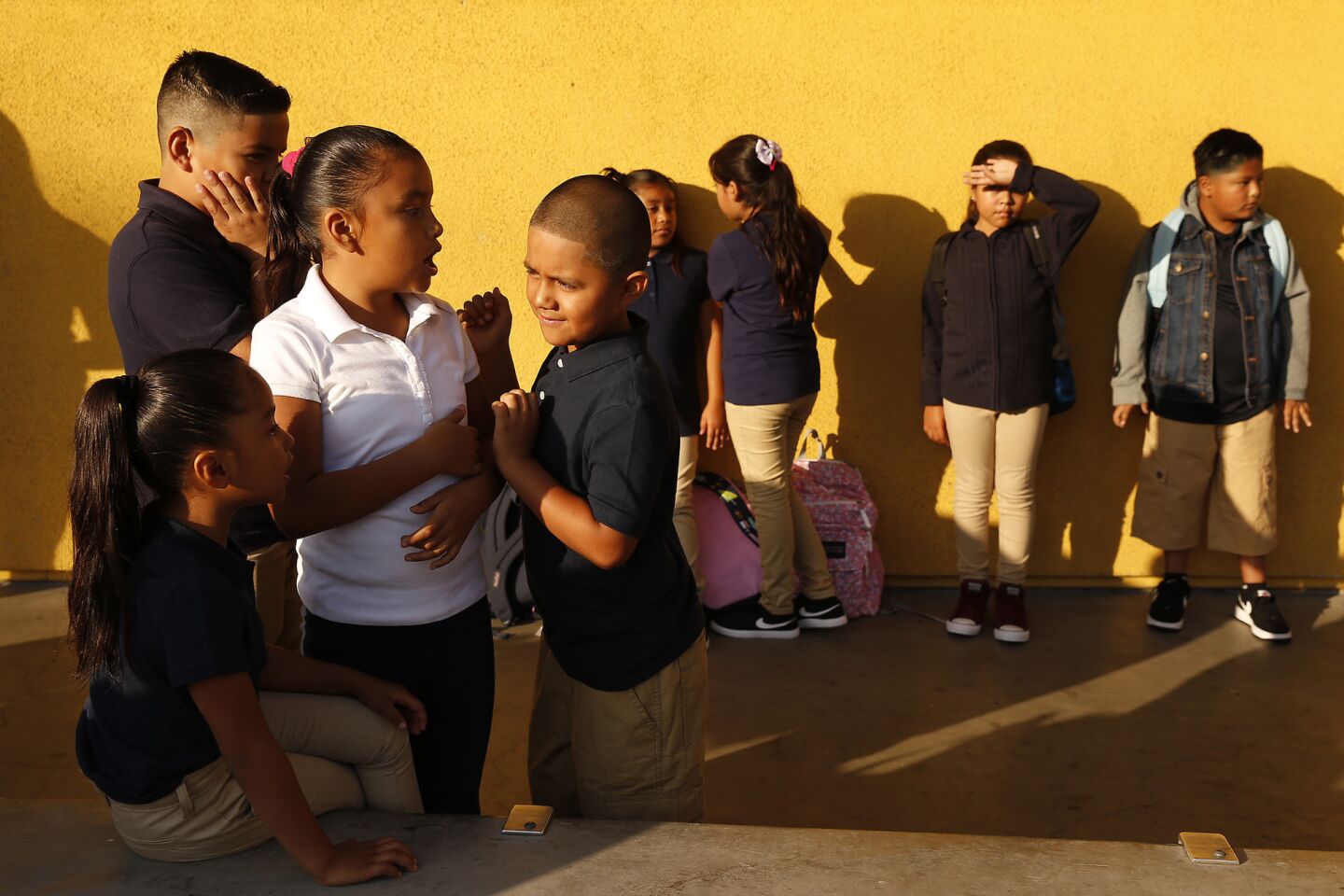 Leslie Toriz, in white shirt, plays with her cousin Alex Toriz as the third-graders wait for doors to open on their first day back at Dolores Huerta Elementary School in Los Angeles on Tuesday.
(Al Seib / Los Angeles Times)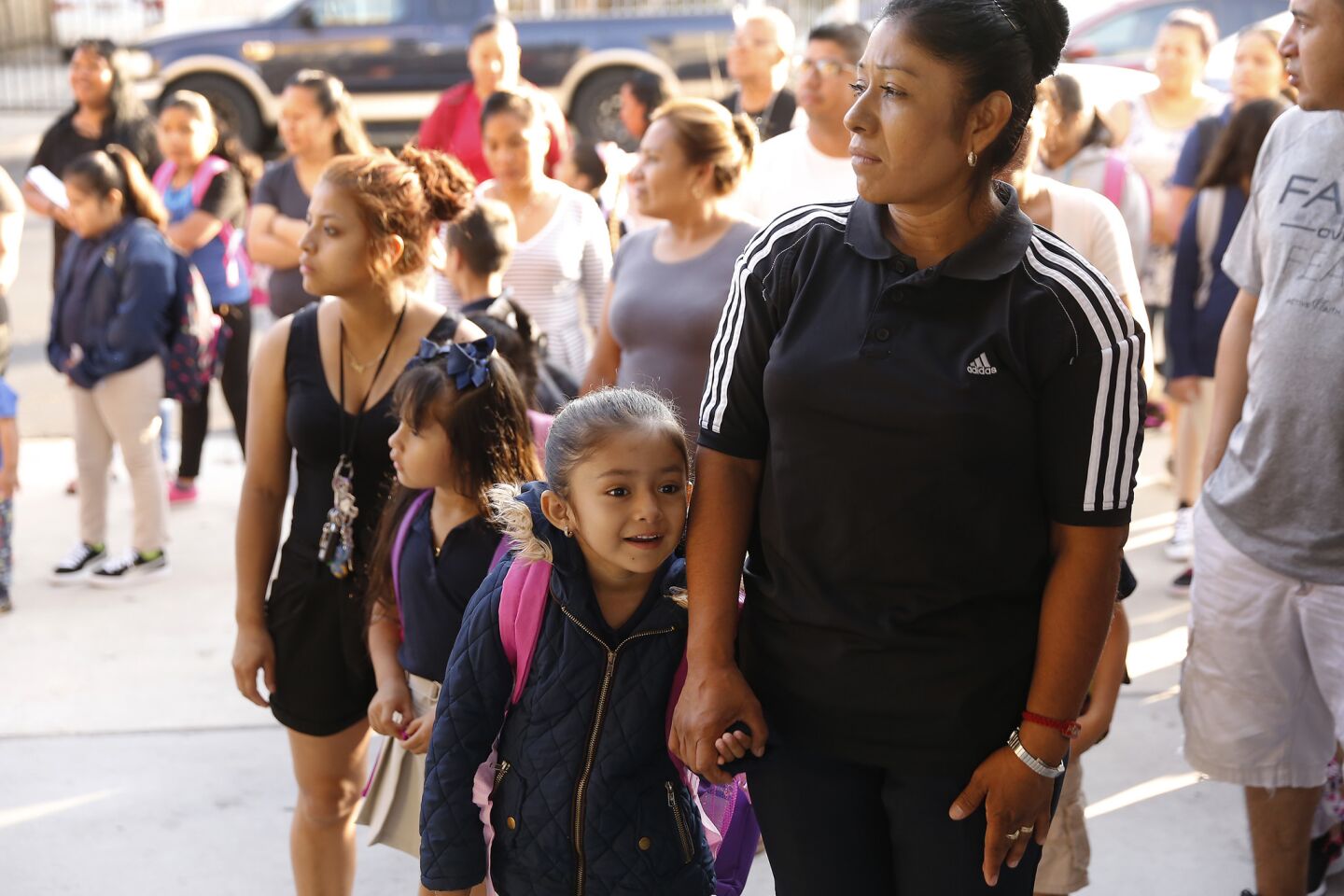 Apolonia Aragon holds the hand of daughter Josefa Aragon as parents with students form a line at the front door on the children's first day of kindergarten at Dolores Huerta Elementary School in Los Angeles.
(Al Seib / Los Angeles Times)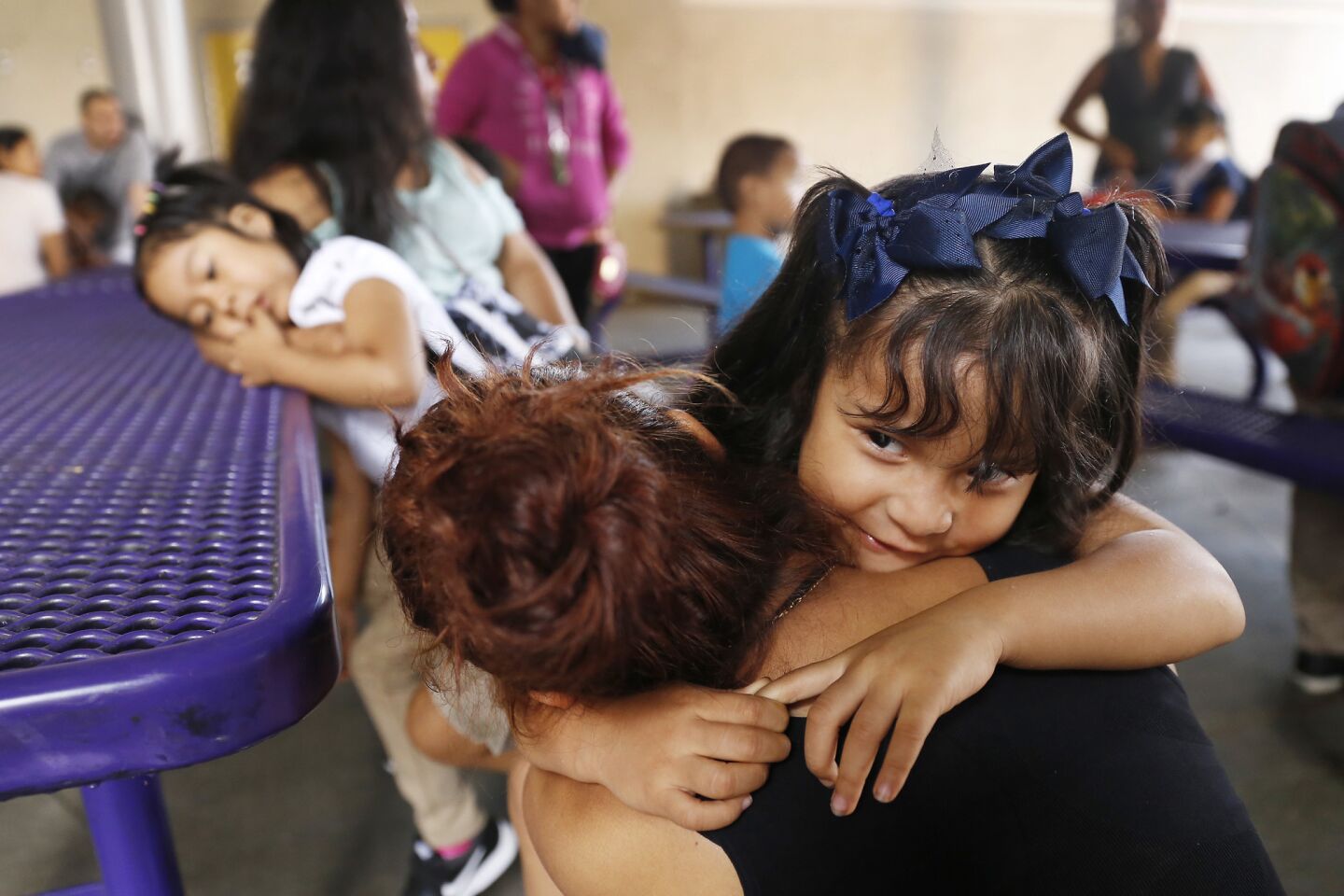 Kelly Rodriguez comforts her daughter, Ashley Morales, on her first day of kindergarten, at Dolores Huerta Elementary School.
(Al Seib / Los Angeles Times)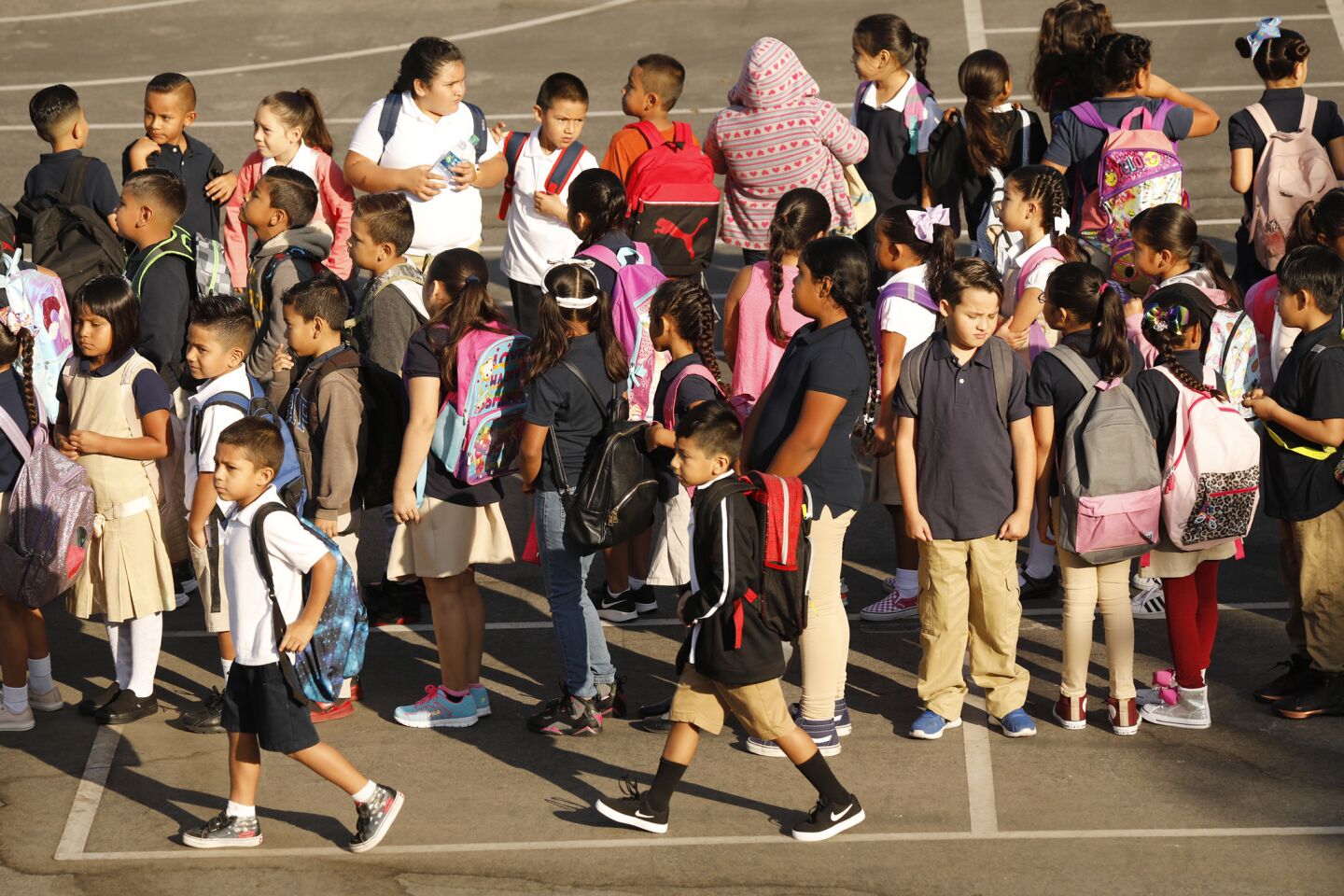 Students form lines on the playground as they prepare to go to their classrooms on the first day of the school year at Dolores Huerta Elementary.
(Al Seib / Los Angeles Times)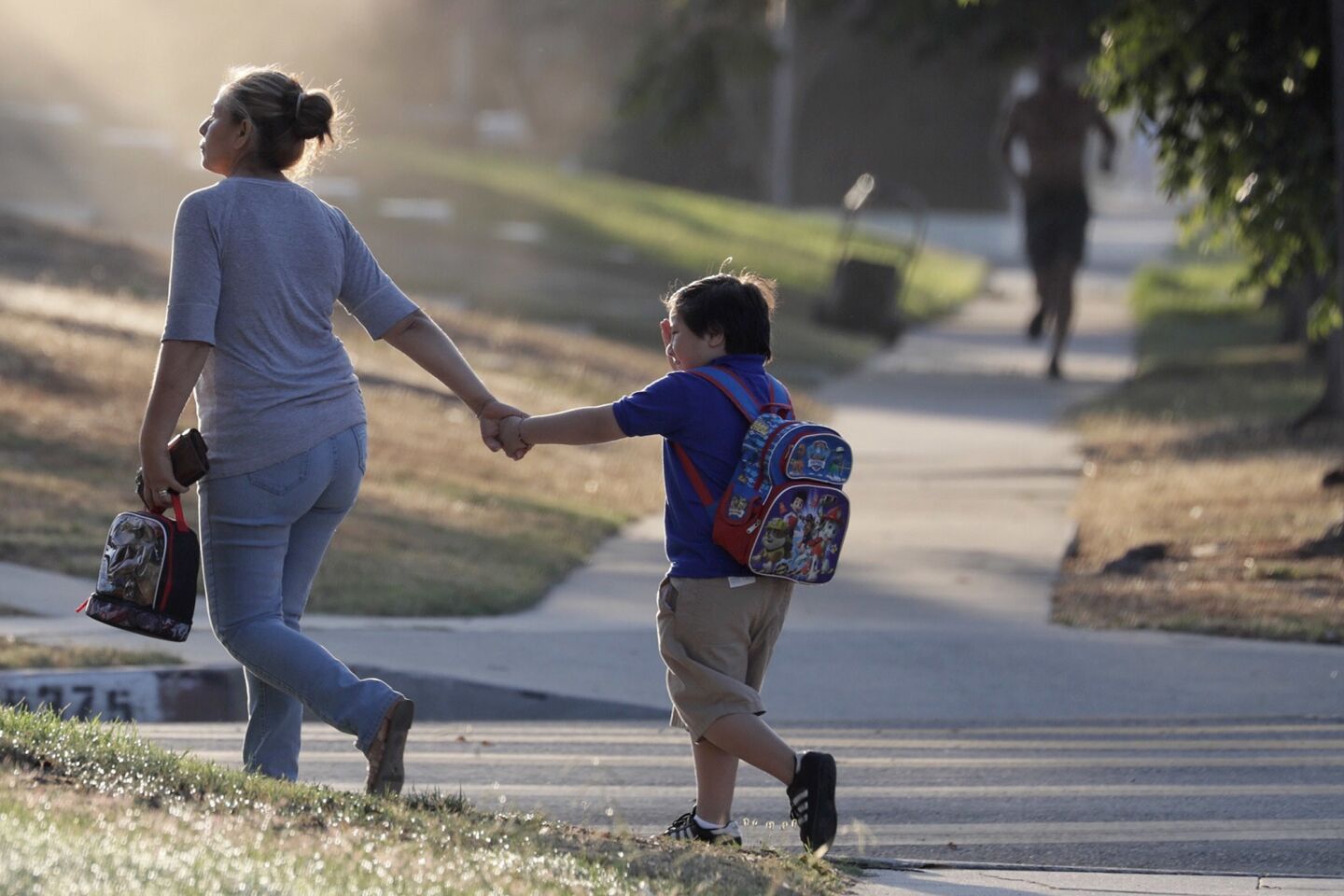 Students arrive at Baldwin Hills Elementary School for the first day of class for the Los Angeles Unified School District, the nation's second-largest school system.
(Irfan Khan / Los Angeles Times)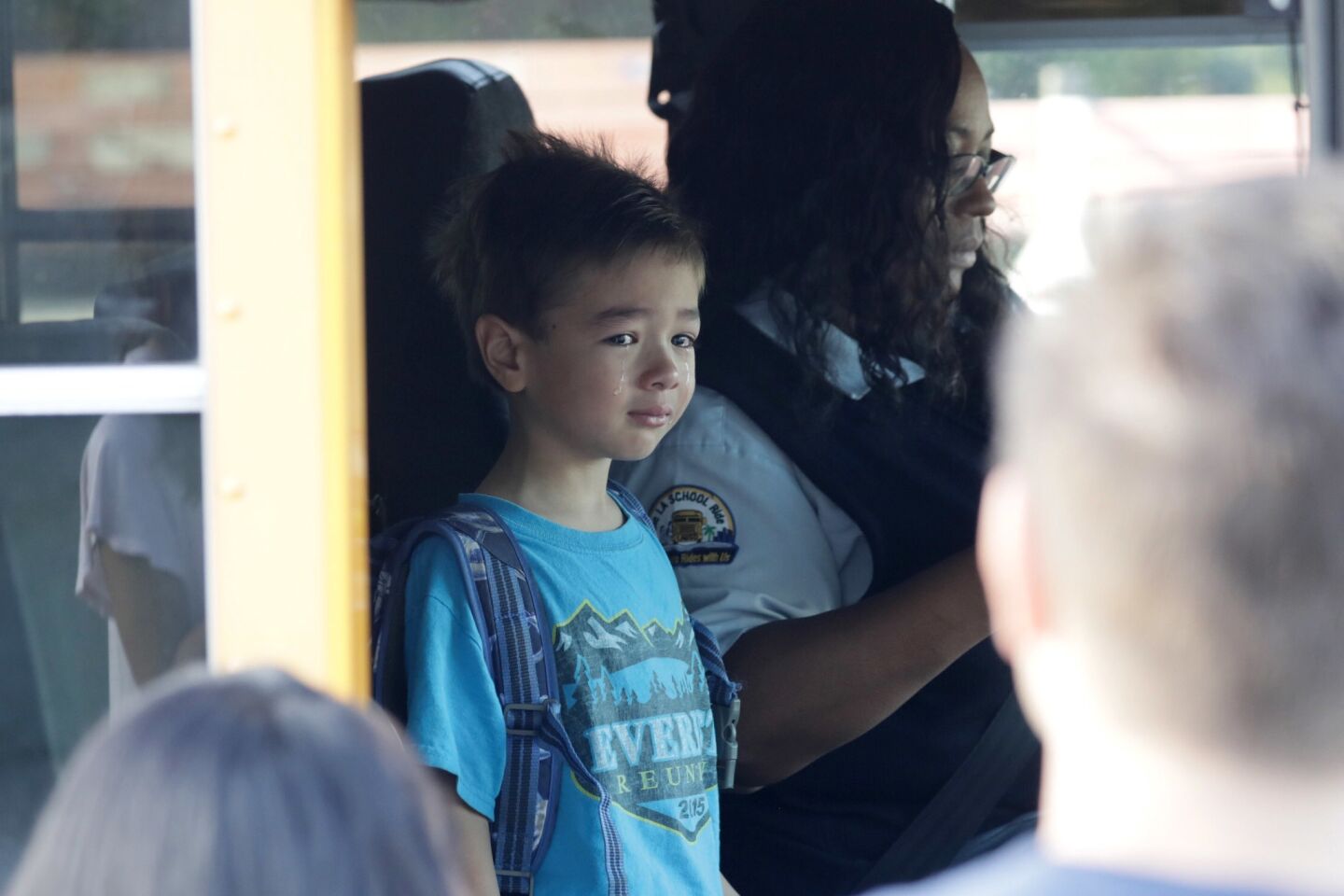 School bus driver Sharon Clark comforts a teary-eyed Porter Everist, 6, as he arrives at Community Magnet School on the first day of class.
(Irfan Khan / Los Angeles Times)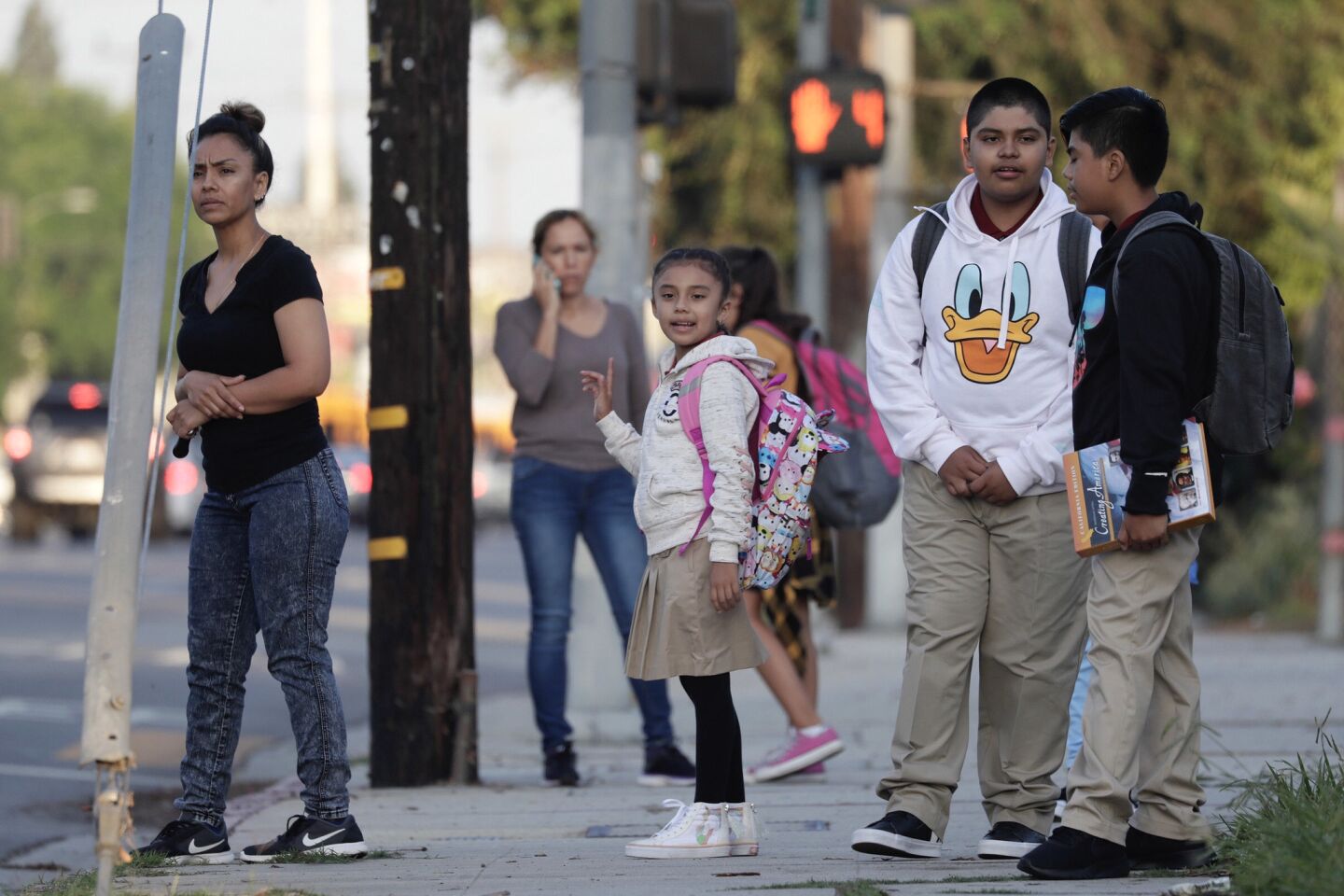 Students wait for their school bus on Rodeo Road in Los Angeles, as LAUSD begins the new school year.
(Irfan Khan / Los Angeles Times)
Hundreds of thousands of L.A. Unified students returned to class Tuesday — but not all of them were able to escape the heat.
The school district had a backlog of 1,709 complaints about heating, ventilation and air conditioning systems, according to a spokeswoman. Of those, 309 were reported between Monday and Tuesday morning as staff returned to their classrooms in preparation for the first day of school, said L.A. Unified maintenance and operations director Robert Laughton.
This summer has brought record-breaking heat to California, though the first week of school isn't expected to be much hotter than usual. Tuesday's forecasted high in downtown L.A. was 84 degrees, compared with the average 82 degrees, said National Weather Service meteorologist Keily Delerme.
But closed classrooms filled with dozens of students get hot — even hotter than outside.
"The more bodies you put into a classroom, the more heat you're introducing into that space, which means the air conditioning has to work a little longer … to keep that space at the temperature you want it," Laughton said.
There's no one pattern to the AC problems, Laughton said: L.A.'s schools were built anywhere from 1890 to 2017, and problems range from broken thermostats to entire systems in need of overhaul.
Repairs to air conditioning units usually take a few days at most, and the goal is for one of the 120 HVAC technicians to address problems the same day, Laughton said. But that doesn't always happen — the oldest complaint dates back to November, according to the district's log.
"We tend to prioritize little kids over big kids, and big kids over adults," he said.
Even with the backlog, a tiny fraction of the district's 30,000 classrooms had air conditioning problems as of Tuesday, Laughton said. And not all the complaints are about hot classrooms. In some cases, according to the district's log, rooms are too cold, or a part might be sticking or dust is coming out of a vent.
Excessive heat can cause headaches and affect children's ability to learn, said Dr. Marina Armendariz, an emergency department attending physician at Children's Hospital Los Angeles.
"All of the heat will decrease their alertness. Their body temperature increases," Armendariz said. "Many of those things can ... decrease their ability to be successful in the classroom."
Until the AC gets fixed, parents can help their children, she said, by making sure they are wearing comfortable, weather-appropriate clothing, eating breakfast and getting a good night's sleep. Kids should also stay hydrated with water instead of drinking sodas, which are diuretics, she said.
While forecasters don't expect record-breaking heat in the next week, temperatures could approach 100 in the hottest parts of the district, like Woodland Hills, Delerme said.
It's L.A. Unified policy that every classroom have air conditioning — but that's not true of all local school districts. In Long Beach Unified, where students return to class Aug. 29, 41 of the district's 84 schools are fully air conditioned, according to district spokesman Chris Eftychiou. A 2016 bond measure set aside hundreds of millions of dollars to update the rest of the schools with air conditioning by 2026.
Mitigation measures for the schools without full AC include "planning strenuous activities for cooler parts of the day, limiting time outside during peak heat and encouraging students to remain hydrated," Eftychiou said in an email. If Long Beach parents worry about the heat, their kids can stay home from school and make up the work without penalty, he said.
Reach Sonali Kohli at Sonali.Kohli@latimes.com or on Twitter @Sonali_Kohli.
The stories shaping California
Get up to speed with our Essential California newsletter, sent six days a week.
You may occasionally receive promotional content from the Los Angeles Times.