L.A. Unified gets a chance to clone good schools, but what are the necessary ingredients?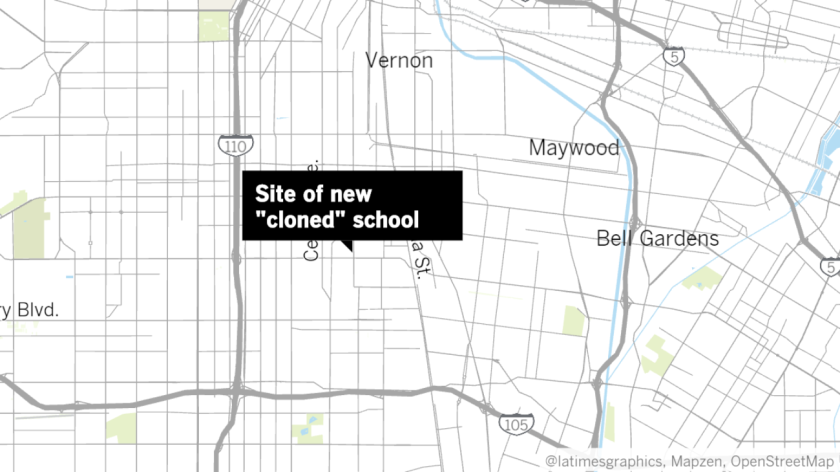 The concept sounds simple: take a good school, figure out what's happening to make students successful, and re-create those elements to spread the success somewhere else.
Replication, as this process is called, has become a buzzword with charter schools nationwide as they expand their networks on the promise of bringing high achievement at existing schools to new ones.
Could the idea work for public schools? The Los Angeles Unified School District has a chance to find out.
In April, the district received two $750,000 grants to give such school cloning a try. The school board voted last week to approve the projects.
The grants are controversial because they come from Great Public Schools Now, a relatively new nonprofit that's closely associated with a push to rapidly expand the number of L.A. charter schools. The group has made a point so far of pledging money to expand good L.A. Unified programs, though some critics contend that these are token gestures to public schools while charter growth remains the group's real aim.
The district will use the grant money to help open a new magnet school that's based on King/Drew Medical Magnet High School of Medicine and Science in Willowbrook, and a themed traditional school modeled after Public Service Community High School in Florence-Firestone.
So what are the crucial elements of a school that need to be replicated? At the board meeting, the key features of one of the projects prompted some debate.
Is it the freedom?
Public Service Community High is a pilot school, which means that teachers have a greater say in school governance than they would at a traditional school — and though teachers are unionized, pilot schools have greater flexibility in budgeting, scheduling and hiring.

But the school to be created in its image with help from the grant money — on the site of Charles Drew Middle School in Florence-Firestone — will be a traditional school with a public service theme.

At last week's school board meeting, new board member Kelly Gonez said it was worth examining whether the features particular to pilot schools are important to Public Service Community High's success.

"If we're replicating what has worked … but we're not doing that in the form of a pilot school, well, how does that work in practice?" Gonez said in an interview. "How do we make sure we still have that culture of … buy-in among teachers?"

Nick Melvoin, her fellow new board member, expressed similar concerns at the meeting.

He said he hoped "we're really being thoughtful about what it is in each school that works."

Both Gonez and Melvoin ended up voting in favor of the projects. The two are part of the board's new charter-backed majority and won their seats with the help of major campaign funding from supporters of charter schools.

Most L.A. charter schools are not unionized, which makes firing teachers easier.

"Antiquated rules" about teacher hiring and firing "can limit the ability of a school to innovate," Melvoin said in an interview.

"The pilot model … is teacher-driven but has some more flexibilities about how teachers and principals can work together. .. I would be interested in seeing more of that in the district," he said.

Is it the theme?

District officials, meanwhile, have identified qualities to replicate outside a pilot school's freedoms. The district's report to the board mentioned Public Service Community High's emphasis on writing and positive behavior as well as frequent evaluations to better attune teaching to students' needs.

The school, which served around 540 students last year and is 96% Latino, performed much better than the district average in state English standardized testing, but worse in math, in which only 13% of students in 2016 met state standards. The class of 2016 achieved an 86.7% graduation rate, higher than the district's 77% rate.

The new campus, which will open in the 2018-19 school year, will keep students on track with its public service theme, internship opportunities and community college partnerships, said Christopher Downing, superintendent of L.A. Unified's Local District South. Students will be able to intern at the Los Angeles Department of Water and Power and other workplaces, learn about advocacy through community service and attend classes with a public service focus.

"Part of their success is aligned to their theme," Downing said. It leads "to stronger engagement of students, it's led to a stronger instructional program, and they've had academic success."

-->