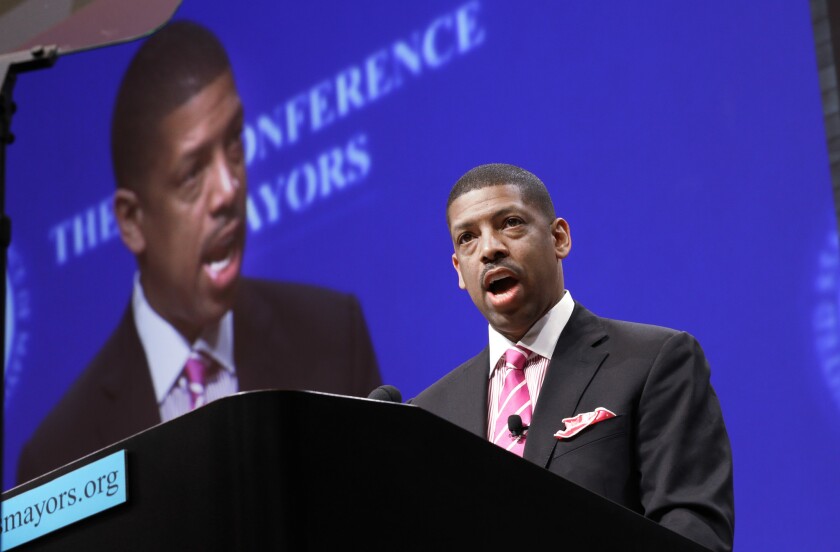 Teachers at a network of Sacramento charter schools founded by former Mayor Kevin Johnson are trying to unionize, citing growing discontent over the schools' management and high staff turnover.
The four schools, which are operated by St. Hope Public Schools, are a desirable target for a union for political and strategic reasons. Although Johnson no longer oversees them, his wife, Michelle Rhee, is the chairwoman of the organization's governing board. As the former schools chancellor in Washington, D.C., Rhee was one of the most public faces of a campaign to change how public schools are run and a favorite target of teachers unions.
On Tuesday, the Sacramento City Teachers Assn. announced that more than half of the teachers, psychologists and school counselors at St. Hope Public Schools had signed a petition asking to be represented by the union, an arm of the California Teachers Assn.
If their effort is successful, it could pose a challenge to the charter organization's leadership. Charter schools, which are publicly funded but operate without many of the restrictions placed on traditional public schools, typically are nonunion.
It would also mean that a majority of the 15 charter schools operating within the Sacramento City Unified School District would be unionized, said John Borsos, executive director of the Sacramento City Teachers Assn.
Borsos said St. Hope teachers had periodically expressed interested in unionizing over the years, but a majority tilted in favor only in the last several months. He declined to say how many signatures the union had gathered.
"We expect we'll inspire others to follow their lead," he said, suggesting that staff at other charter schools might make similar attempts. "The more success we've had in being able to make improvements in other schools, the more likely educators who are similarly situated are going to see the benefits."
Kingsley Melton, a teacher at Sacramento High School, which is part of the St. Hope network, said some teachers had decided to unionize after attempts to resolve disputes with the organization's leadership failed. He said frequent turnover of teachers and administrators and a general "lack of transparency" had fueled the push.
"Our desks are old, we have to fight for resources for kids — and when we asked where the money's going, we never get a full answer," he said.
St. Hope officials did not respond to requests for comment. Chief of Schools Shannon Wheatley emailed staff this week to express his disappointment in what he called a "small group of employees who want to form a union."
Wheatley told them he had worked for a traditional public school "that prioritized the needs of adults before those of children."
"I came to St. Hope so that I didn't have to deal with union politics and adult issues dominating the day," he wrote.
Twitter: @annamphillips
---