State settles with online charter accused of financial violations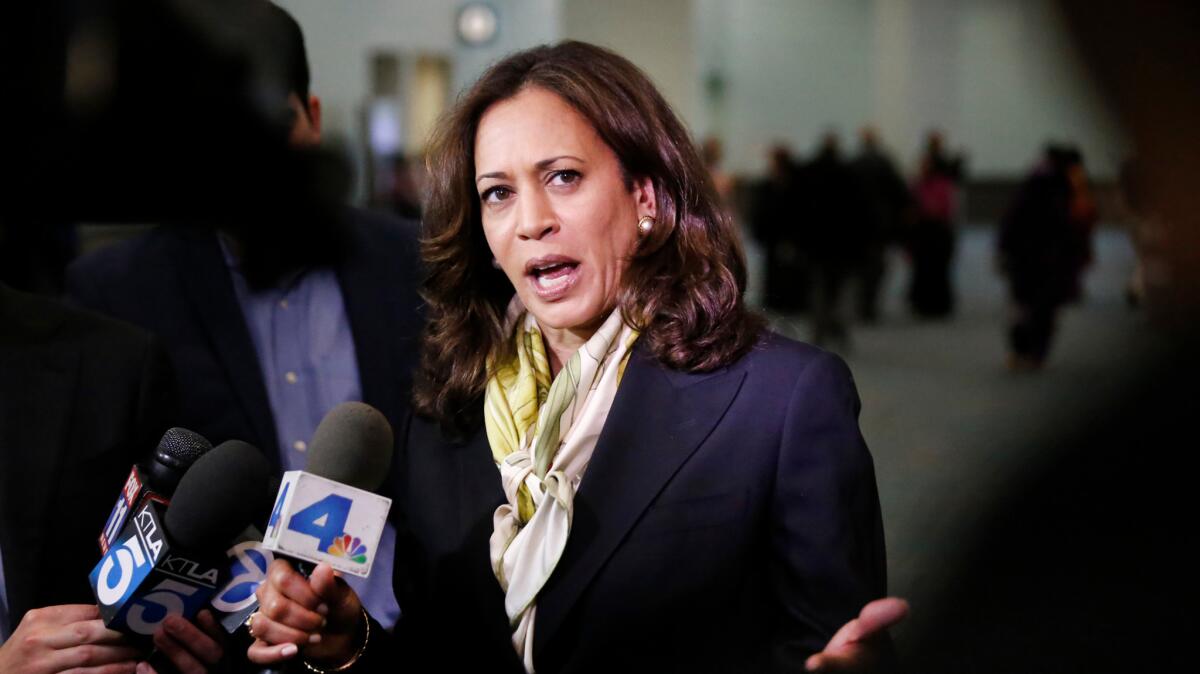 The state attorney general's office has reached an $8.5-million settlement with an online charter school it had accused of false advertising, misleading parents and inadequate instruction.
The settlement, announced late Friday, closes the state's civil investigation of the 13 branches of California Virtual Academy, but it does not end the challenges for the schools and Virginia-based K12 Inc., which the state had accused of controlling the charters for the company's benefit.
The California-based schools still could face action from the state Department of Education, which has brought in the state controller to conduct an audit. And the schools' teachers have launched a union organizing drive.
"All children deserve, and are entitled under the law, to an equal education," state Atty. Gen. Kamala D. Harris said in a statement. "K12 and its schools misled parents and the state of California by claiming taxpayer dollars for questionable student attendance, misstating student success and parent satisfaction, and loading nonprofit charities with debt."
Under terms of the settlement, K12 and California Virtual Academy, or CAVA, admitted no wrongdoing. They also agreed to abide by state law going forward and pledged to establish new training and oversight, that, in the company's words, "go well above and beyond current independent study and charter school laws and regulations."
In an interview Sunday, company Chief Executive Stuart Udell denied wrongdoing and emphasized that there was no finding of fact that the company has done anything inappropriate.
"We have always completely followed the law," Udell said.
Udell also challenged that state's assertion that the charters were under the control of K12.
The $8.5 million will settle outstanding claims, refund state education dollars and cover the cost of the investigation. In addition, the company also will provide "debt relief" to the charters it manages, a provision designed to remove these operations from under the control of K12.
Charter schools are operated outside the direct authority of local school districts and are exempt from some state education laws.
Online charter schools always have had potential for profit because education funds are based primarily on enrollment and attendance — and online charters lack the considerable expense of brick-and-mortar campuses.
In California, however, profit-minded companies have run up against laws requiring charters to be run by nonprofits, as a safeguard for state education funds. A few entrepreneurs have sidestepped these boundaries — by paying themselves high salaries, for example, or by making money through contracts for additional services to a school.
K12's strategy allegedly involved driving the opening of nonprofit charters up and down the state. These schools then contracted with K12 for "substantially all of the management, technology and academic support services in addition to curriculum, learning systems and instructional services," according to a state complaint filed last week.
The CAVA nonprofits became shells for the activities of the for-profit corporation, according to allegations in a second, separate complaint, which was filed under the authority of the state in conjunction with whistleblower Susie Kaplar, a former CAVA teacher.
K12 helped find willing school districts, typically small ones, to authorize the charters in exchange for providing the district a 1% to 2% share of the revenue, which is permitted under state law. Such an influx could have a significant impact on a small school system.
Meanwhile, once a local school system authorized a virtual academy, it could accept students from the county in which the district is located and all adjacent counties. K12 soon had access to the state's major population centers, from which it currently enrolls nearly 14,000 students, more than any other online operation in California.
The authorizing district in Los Angeles County is the West Covina Unified School District, about 20 miles east of downtown L.A.
The state accused CAVA and K12 of making inflated statements about academic achievement and parent satisfaction. The state also alleged that the K12-managed schools falsely asserted that they offered the full range of courses needed for admission to California public universities, and that all students would have access to a flexible, individualized learning plan.
In addition, the state alleged that the school promised a free education but that families incurred costs for Internet access and supplies, and they failed to receive high-quality loaner computers that were promised.
The company takes issue with all the allegations, asserting, for example, that it goes to great lengths to provide students with appropriate technology for their schoolwork.
The complaint filed in conjunction with Kaplar goes further, accusing the schools of submitting fraudulent student attendance records to obtain more state education funds than they were entitled to.
"CAVA students are frequently credited with attendance despite providing no evidence that they spent any time … on schoolwork on particular days," according to the complaint.
The complaint alleged that teachers were pressured to record a full day of attendance for 30 minutes of work or to sign fabricated attendance registers. Kaplar alleged that her teaching contract was not renewed after she refused to sign doctored records.
Recent articles in the San Jose Mercury News cite former employees who made similar allegations. At the time, the state's investigation was confidential.
Udell also denied these allegations, both in the interview and in a statement.
"Opponents of K12 and skeptics of public online education have spent years making wild, attention-grabbing charges about us and our business," Udell said. "The state of California used the full authority and investigative resources of the office of the attorney general to investigate these charges for over eight months. In the end, we demonstrated industry-leading levels of service and compliance with regulations and benefits to families."
The company reported revenue of $651.4 million for the nine months ending in March from operations in 37 states.
One of the strongest reactions to the settlement was from the California Charter Schools Assn., which typically defends charters.
"CCSA condemns the predatory and dishonest practices employed by K12 Inc. to dupe parents [by] using misleading marketing schemes, siphon taxpayer dollars with inflated student attendance data, and coerce CAVA School nonprofit employees into dubious contracting arrangements," the charter association said in a statement.
A proposed state law would prohibit for-profit corporations from running online charters. The charter association said it supported the effort but would like to see revisions to the current version of the bill.
The California Teachers Assn. is among the sponsors of the legislation. The union said it would continue its push to represent the schools' teachers and also called on more resources to be provided to students.
Twitter: @howardblume
---
UPDATES:
5:40 p.m. June 10: This post has been updated with a statement from K12 Chief Executive Stuart Udell and additional details from state documents.
This post was originally published July 9 at 8. a.m.
Sign up for Essential California for news, features and recommendations from the L.A. Times and beyond in your inbox six days a week.
You may occasionally receive promotional content from the Los Angeles Times.