UCLA professor wants to see data on whether UC illegally uses race in admissions decisions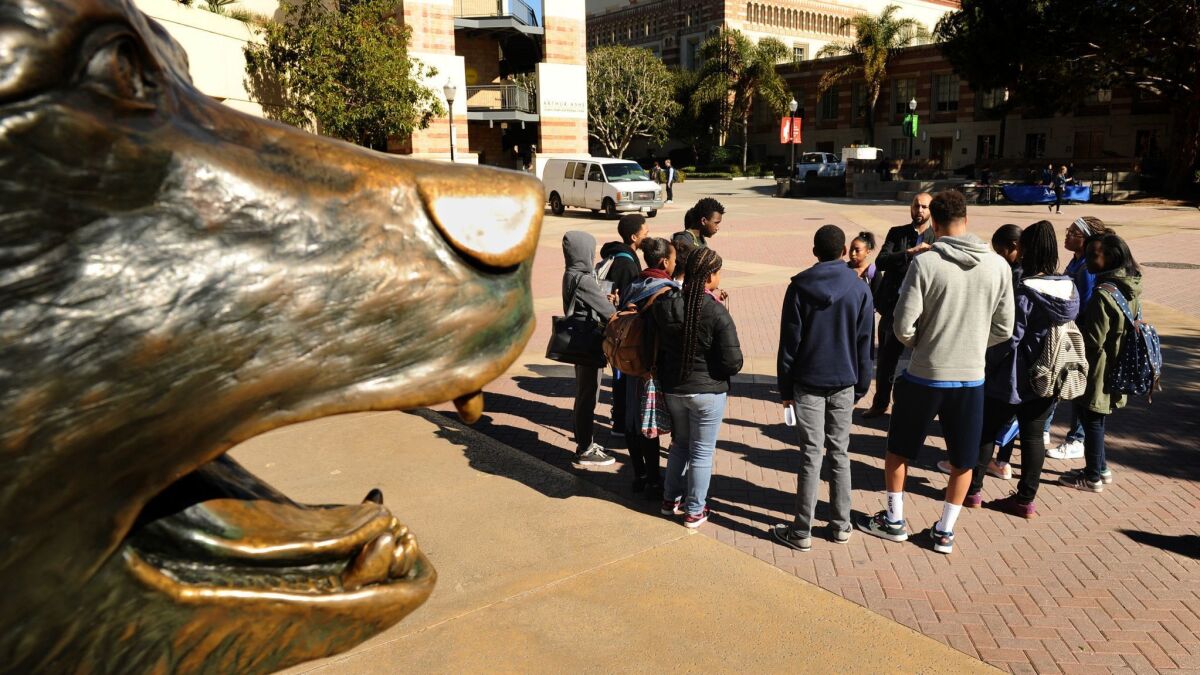 A UCLA law professor is seeking a court order to force the University of California to provide data that would show whether the system illegally considers race in admissions decisions.
Richard Sander and a newly formed Asian American organization planned to file a petition Thursday seeking data they say UC has refused to provide on the academic and socioeconomic characteristics of individual students who applied and enrolled at the university in the last 12 years.
They said they are concerned that UC is discriminating against Asian Americans in violation of Prop. 209, the state initiative passed in 1996 that bans the consideration of race, sex, color, ethnicity or national origin in public education.
"We just want to be treated fairly," said George Shen, a City of Industry resident who started the Asian American Community Services Center two weeks ago. "There is an explicit American promise that if you work hard and play by the rules, you'll be rewarded. It seems to us right now that Asians in general not only are not being rewarded but are being penalized for playing this game too well."
Shen, who unsuccessfully ran for the state Senate in a June recall election, said college admissions was the top concern among many Asian Americans he encountered during his campaign. That concern has grown, he said, amid national publicity over a lawsuit by Asian Americans challenging Harvard University's use of affirmative action in its admissions process.
UC spokeswoman Dianne Klein said UC does not use race, ethnicity or gender in admissions decisions. The system's nine undergraduate campuses, which received a record 222,000 freshmen and transfer applications for fall 2018, uses 14 factors in evaluating them under its "holistic review" process, she said.
"UC strongly believes in the value of diversity and for the past 20-plus years since Prop. 209 was implemented, we have worked tirelessly using race-neutral methods to ensure that a UC education is accessible to all segments of our state population, the most diverse in the country," Klein said in a statement.
UCLA, for instance, has worked with 20 Los Angeles Unified high schools and churches in the Inland Empire to aggressively scout promising African American students and kept them on track with academic support and coaching. UC estimates it has spent half a billion dollars over the last two decades to diversify its student body with race-blind practices — focused mainly on college prep for low-income students, who are disproportionately Latino and African American.
The data Sanders and Shen want is public, but UC doesn't have it in the form that they want. They have offered to pay for staff time to assemble their requested customized data set but UC has said such payment would not fully alleviate the burden imposed on staff. Klein said public entities are not legally required to create special data sets and noted that state courts have denied Sander's appeals to force the State Bar of California to do so.
Sander and Shen contend that UC may be stonewalling in order to hide evidence of improper admissions practices. Sander said UC "took good faith efforts" to comply with Prop 209 until 2006, with aggressive outreach efforts, but it is his belief that the university quietly reverted to affirmative action after that.
A 2014 study of UCLA's admission practices by another campus professor, using applicant data between 2007 and 2011, found that students of Chinese, Japanese, Korean, Indian and Pakistani descent received less favorable evaluative scores than those of other ethnicities who were otherwise similar in academic qualifications, personal characteristics, challenges and hardships. Sander said the study "strongly suggests" that nearly 1,400 Asian Americans were denied entry to UCLA during that time because of race.
Other scholars have critiqued Sander's work on affirmative action, questioning the conclusions he draws from data. Sander developed what he calls the "mismatch theory," which asserts that admission preferences hurt some students by putting them in schools where they cannot succeed.
Sander says data could settle questions. His petition accuses the UC Regents of "stonewalling, misdirection, filibustering" and a"deep and pervasive lack of transparency."
Asian Americans have remained the largest ethnic group of freshmen admitted to UC overall since 2010. They also have the highest freshman admission rate — 69% last fall compared to 59% for whites, 53% for Latinos and 45% for African Americans.
In UC admissions last year, Asian Americans made up 29.1%, Latinos 23.2%, whites 22.8% and African Americans 4.15%.
The numbers were even higher on the most competitive campuses, where Asian Americans last year constituted 40% of admitted freshmen at Berkeley, 35.5% at UCLA, 36.5% at Irvine and 35.7% at San Diego.
Those proportions are lower than they were in 2006, but Latinos have claimed more spots as they grew in number, increasingly met UC admission qualifications and tripled their applications to UC.
Twitter: @TeresaWatanabe
---
The stories shaping California
Get up to speed with our Essential California newsletter, sent six days a week.
You may occasionally receive promotional content from the Los Angeles Times.