UC Berkeley Law will move to strip the name of Boalt Hall because of its racist taint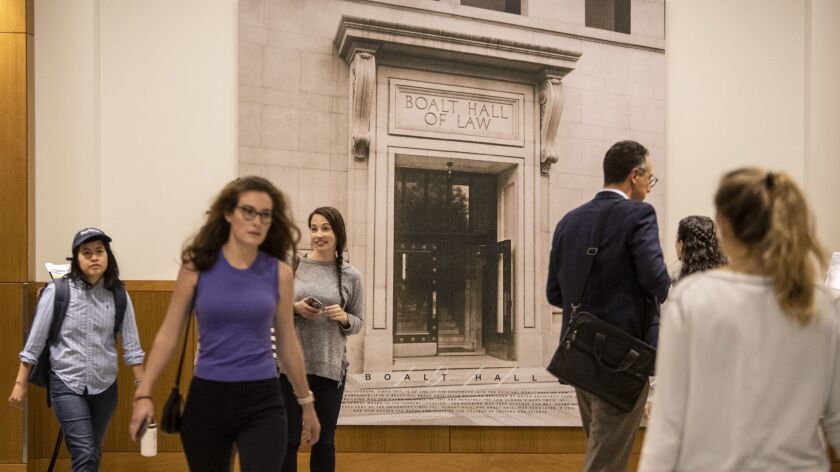 UC Berkeley's elite law school will move to drop the name of its famed Boalt Hall after a century because it honors a man now known to have been an anti-Chinese racist, the dean announced Tuesday.
Dean Erwin Chemerinsky said he struggled for months over the school's close ties to the name of John Henry Boalt, a 19th century San Francisco attorney who described the Chinese laborers coming into California as unassimilable murderers and thieves and successfully pressed for an 1882 federal ban on Chinese immigration.
Details of Boalt's unsavory past were widely disseminated for the first time after Charles Reichmann, a Berkeley law lecturer, last year published an op-ed and, later, a law review article.
In a letter to the law school community Tuesday, Chemerinsky said he changed his mind several times as he sorted through hundreds of "passionate, persuasive messages on both sides." About 40% wanted to keep the name and the rest wanted to drop it.
Some argued that many historical figures, including Thomas Jefferson, had mixed legacies. Others feared that dropping the Boalt brand would hurt the law school or that it would dishonor Elizabeth Josselyn Boalt, who donated $100,000 for the original law school building in her late husband's name. (The law school moved to another building in 1950.)
In the end, Chemerinsky said he was most persuaded by those — including many students and alumni of color — who were pained by the continued use of the Boalt name.
"I was moved by the many who wrote me expressing their discomfort with honoring someone who expressed vile racism, especially without anything to point to that would justify honoring him as an individual," Chemerinsky wrote.
He said he would ask the campus building committee to drop the Boalt name from the law school's classroom wing. The committee will launch its own review, which will include a public hearing, with a decision by UC Chancellor Carol Christ expected next spring. UC President Janet Napolitano then would have the final say.
Chemerinsky said the law school will cease using the name in most other cases — on school directories, its Facebook page, the title of lecturer positions — and will encourage student and alumni organizations to do likewise. He added that the school will find ways to make sure that Boalt's racism is remembered.
The dean made no recommendation on removing the Boalt name from two professorships endowed by Boalt's widow, who is not known to have shared her husband's bigotry. (Changes in the terms of philanthropic gifts require approval of the state attorney general.) Chemerinsky said the school would continue to honor her generosity and her portrait would remain on a wall in the classroom wing.
Alumni — many of whom proudly call themselves "Boalties" — are free to continue using the name as they wish, the dean wrote.
Chemerinsky's decision gratified Tar Rakhra, co-chair of Berkeley Law's Asian Pacific American Law Students Assn. He said he was impressed by a law school committee's deliberative work in examining the issue over more than a year, with the help of a town hall and survey to students, alumni, faculty and staff. The committee made the recommendations that Chemerinsky ultimately accepted.
Rakhra, a second-year law student from Yorba Linda, said he empathized with alumni who feel a close link with the Boalt name and acknowledged that their donations to the school could drop.
"It's a tough, painful thing for them," he said, "but we have to do the right thing and the right thing is to acknowledge John Boalt's racist past."
Reichmann, who wrote the op-ed, said he is thrilled to have made a difference. "It's part of society's ongoing obligation to consider its history," he said.
Twitter: @TeresaWatanabe
---
The stories shaping California
Get up to speed with our Essential California newsletter, sent six days a week.
You may occasionally receive promotional content from the Los Angeles Times.