UC Berkeley law school confronts the racist legacy behind its famed Boalt Hall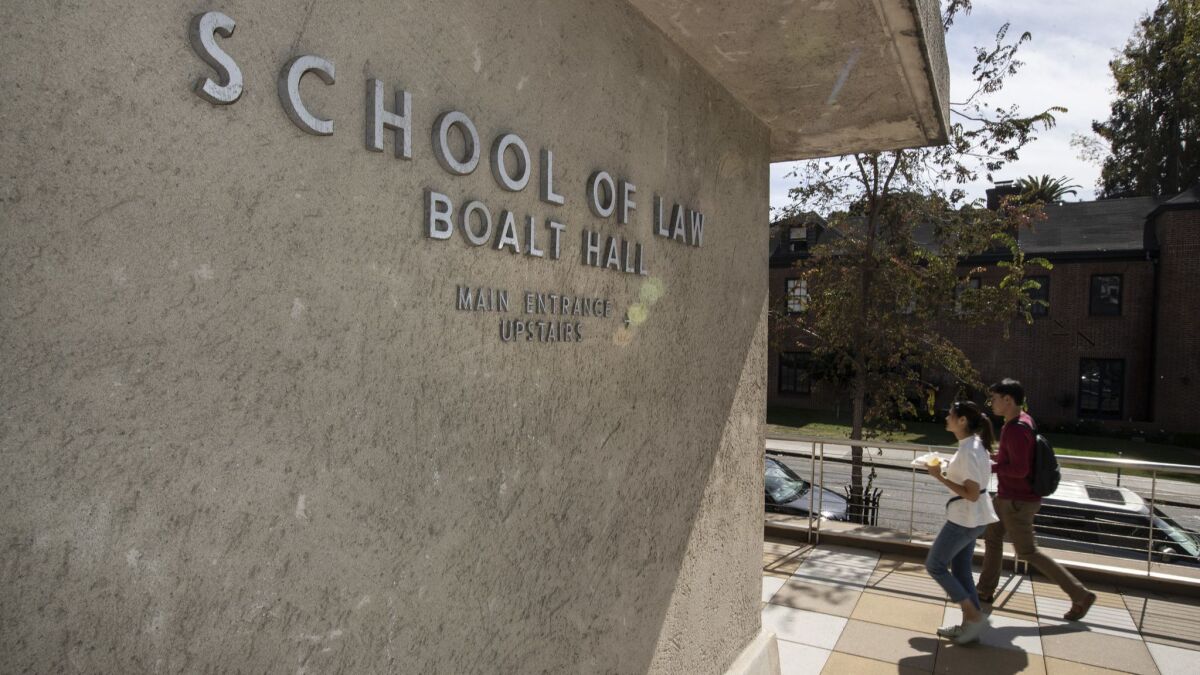 Reporting from Berkeley —
For more than a century, UC Berkeley's elite law school has been closely tied to the name of the building that houses it, Boalt Hall.
Law school alumni have affectionately referred to themselves as "Boalties." The Boalt name has been attached to more than 120 organizations, public forums and positions related to the law school — including its alumni and student groups, endowed chairs, school directory and Facebook page. Over time, in the California legal community, many people simply came to call the law school Boalt Hall.
But the revelation that John Henry Boalt, a 19th-century San Francisco attorney, was virulently anti-Chinese has rocked the school and plunged it into the national debate over what to do when honored historical figures turn out to have unsavory pasts. The Berkeley controversy comes as other schools, such as Stanford, the University of San Francisco and Cal State Long Beach, are reexamining California's past and changing building names or dropping mascots associated with those who kept slaves or mistreated Native Americans and Asian Americans.
Boalt, the public now knows, was instrumental in pushing the Chinese Exclusion Act of 1882 — the nation's first immigration ban on a specific group of people. In one influential treatise, he wrote that the Chinese were unassimilable liars, murderers and misogynists who provoked "unconquerable repulsion." Public sentiment against Chinese immigrants had grown in the 19th century as more than 300,000 came to California as laborers.
A few scholars were aware of Boalt's racism, but it became widely known only last year when Charles Reichmann, a Berkeley law lecturer, published an op-ed and law review article. This month, law school Dean Erwin Chemerinsky plans to announce whether he will move to strip the Boalt name from the school's main classroom building and elsewhere.
The dean also must decide what to do about two endowed chairs established by Elizabeth Josselyn Boalt, who specified the professorships carry the family name. She also donated $100,000 in memory of her husband in 1906 to help build Boalt Hall.
Chemerinsky's decision will follow months of deliberation by a review committee, with the help of a town hall meeting and a survey sent to all alumni, students, staff and faculty. All told, the law school has received more than 2,500 comments divided between Boalt loyalists and critics. In the survey, nearly half wanted to strike the Boalt name, while a third favored keeping it.
Brad Barber, a 1971 law school graduate, said he proudly calls himself a Boaltie and would lose part of his identity if Berkeley erased the name. He said the university owes it to Boalt's wife to honor her gift and he sees problems in holding historical figures to today's standards — especially when they are not alive to defend themselves.
Although he condemns Boalt's bigotry, he said, "We begin to tie ourselves in knots if we look for virtue in contemporary terms of everyone who went before us."
Jeffrey Lin, a current law student of Chinese and Korean descent, said keeping the Boalt name is unthinkable for him and many other Asian Americans — who make up about one-fifth of students in Berkeley's juris doctor degree program.
"The overwhelming sense is that we don't feel comfortable in a place where the name Boalt is used," Lin said, "because he was a person who stood for racist and xenophobic ideals and who vehemently didn't want Chinese here."
Chemerinsky said the intensity of feelings on both sides has moved him deeply as he searches for a Solomon-like solution.
"It can't be that we never change a name and it can't be that we would change any name for anybody who's done something that in hindsight we regard as undesirable," he said. "The question is, what does use of the Boalt name convey? I've changed my mind in many directions over the course of the last 15 months."
Similar issues are haunting the University of California's first law school, Hastings College of Law in San Francisco. The college founder, Serranus Clinton Hastings, served as the first chief justice of California's Supreme Court and donated $100,000 to establish the law school.
But Hastings promoted and financed expeditions to hunt American Indians for profit and sport. That little-known history was widely circulated last year after an op-ed piece by John Briscoe, a San Francisco attorney who teaches law at Berkeley and Hastings. Now the college has commissioned a scholar to investigate Hastings' treatment of California's Indians and formed a review committee to decide how to move forward.
The two law schools face issues more complex than dropping a mascot, which Cal State Long Beach recently did with "Prospector Pete" after protests that Gold Rush settlers promoted the mass killing of Native Americans. Proposals to drop names specified as terms of philanthropy must be approved by the state attorney general, said Charles Cannon, Berkeley law school's senior assistant dean.
Berkeley could change the name of Boalt Hall without such approval because the original building funded by the gift no longer houses the law school, the review committee concluded. UC regents in 1950 chose to transfer the name to a wing in the new quarters.
Ultimately, the committee recommended dropping the Boalt name from the building and phasing out most of its other uses — though it made no recommendation about the thornier question of the endowed professorships. If Chemerinsky agrees, UC Berkeley Chancellor Carol Christ and the regents would need to approve his decision.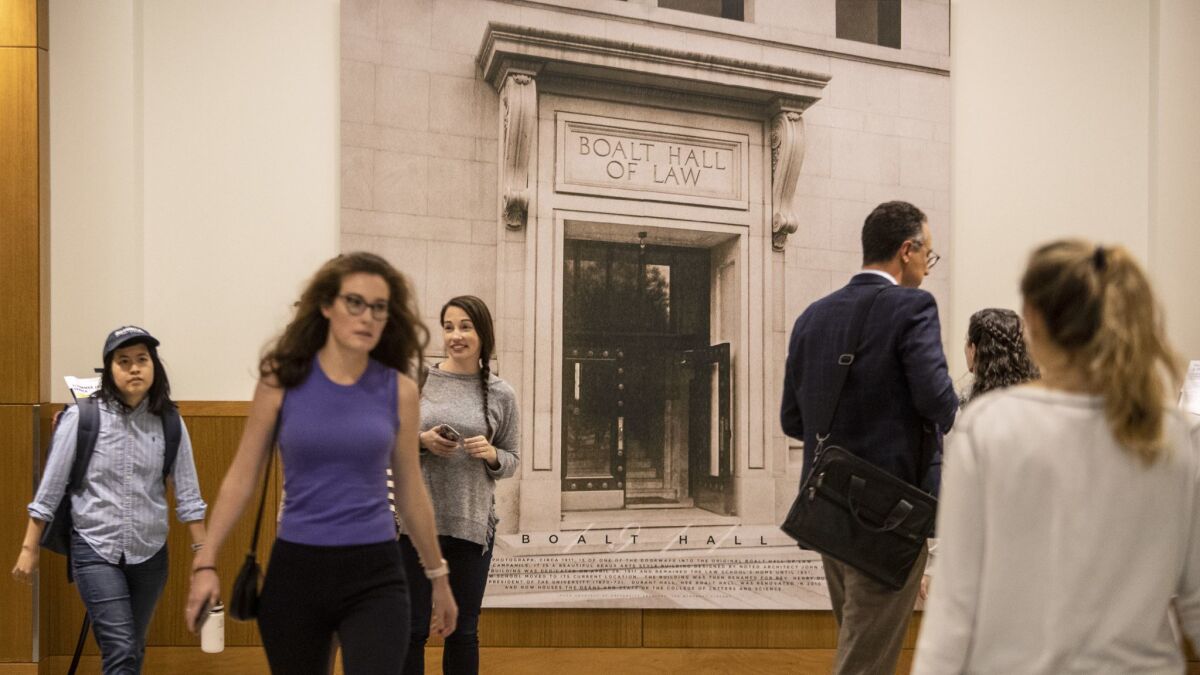 A key consideration in thinking about Boalt, Cannon said, was judging whether his civic contributions outweighed his racist campaign. The Ohio native ran a mining business, studied law and briefly served as a judge in Nevada before he became a successful attorney in San Francisco. But he left no distinguished legal legacy and had no strong connection to Berkeley, according to Cannon and Reichmann, who wrote the op-ed about Boalt.
The committee concluded that his principal legacy was the bigotry promoted by his 1877 treatise, "The Chinese Question," which was cited in both the state Legislature and the U.S. Senate in arguments to ban Chinese immigration.
That record, Chemerinsky said, distinguishes Boalt from other historical figures with mixed legacies. Thomas Jefferson kept slaves but helped found the nation. Former U.S. Supreme Court Chief Justice Earl Warren supported the World War II incarceration of Japanese Americans — but he later expanded civil rights and wrote the landmark Supreme Court decision striking down state-sanctioned segregation of public schools.
A portrait of Warren hangs in the law school, which he attended, as did former U.S. Secretary of State Dean Rusk and former California Gov. Pete Wilson.
"I don't want to excuse what he did — it was wrong — but if you put it in the context of all of what he did, I think this law school should still be honoring him," Chemerinsky said of Warren.
A potential compromise for the law school would be to rename everything for Elizabeth Josselyn Boalt. William Benemann, the law school's archivist emeritus, said he favors that solution because she donated generously and became the school's beloved matriarch. There also is no evidence she shared her husband's anti-Chinese beliefs.
Whatever is decided, Berkeley plans to retain — possibly with an exhibit or plaque — a public record of Boalt's actions so they are not erased from history. An account of his views already appears on the law school website.
Reichmann, who kicked off the furor about Boalt last year, wants the name dropped. He said he could not keep quiet once he stumbled upon the racist writings while researching Asian American history and racially restrictive real-estate covenants. He found it difficult to walk into a building bearing Boalt's name and then into his classroom, full of Chinese Americans.
"I really couldn't bear it," he said. "I had to say something."
Twitter: @TeresaWatanabe
---
The stories shaping California
Get up to speed with our Essential California newsletter, sent six days a week.
You may occasionally receive promotional content from the Los Angeles Times.