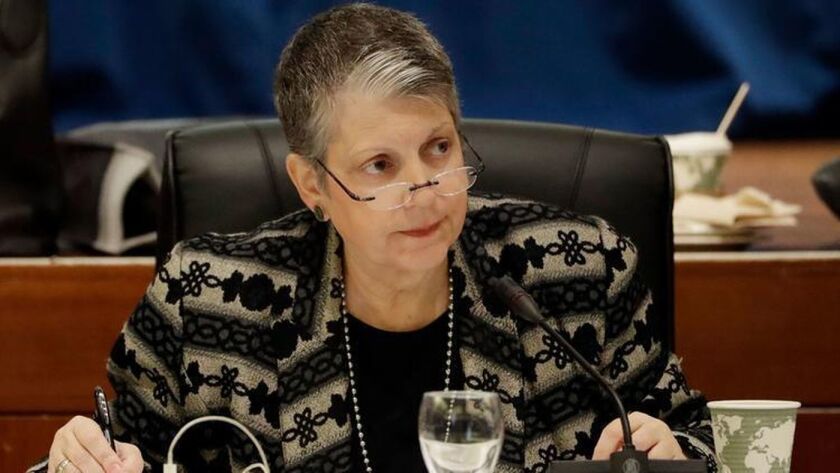 University of California President Janet Napolitano has ordered an internal investigation into any UC involvement in the nationwide college admissions scandal.
Federal authorities are alleging that dozens of wealthy parents, including celebrities and corporate executives, paid huge sums to get their children into elite colleges through bribes and lies. UCLA placed soccer coach Jorge Salcedo on leave Tuesday after he was indicted for allegedly accepting $200,000 in bribes for helping two students win admission as soccer athletes even though they did not play the sport competitively.
In a statement released late Wednesday, Napolitano pledged to take "swift and appropriate disciplinary actions to address misconduct once we have all the facts."
"Illegal, inappropriate and unethical means to gain admission, at the expense of deserving applicants, is antithetical to every aspect of our mission and values," she said. "As a public institution — one of the most highly regarded in the world — we are dedicated to ensuring a level playing field for every applicant."
A UC spokeswoman said it was not clear whether other UC campuses were implicated in the scandal.
Earlier Wednesday, Assemblyman Kevin McCarty (D-Sacramento) asked Napolitano to launch a "thorough investigation" to see whether other schools were involved and how many honest students were displaced by those who illegally gamed the system.
"For every student admitted through bribery, there was an honest and talented student that was rejected, further perpetuating the income education gap that exists at our college education system," he wrote in a letter to Napolitano.
Napolitano said UC also has initiated a review of admission policies to look for "weaknesses and vulnerabilities," and sought information from the College Board about potential changes to ensure the integrity of student scores on the SAT and ACT tests.
UC officials have reached out to U.S. attorney offices in California for guidance on future action and are collaborating with state and federal authorities to "unearth the full breadth and scope of this problem," Napolitano said.
"It is unfortunate that the unethical behavior of a few individuals colors UC's unwavering commitment to fairness and equity," she said. "We will uncover the full truth and make things right."
Twitter: @TeresaWatanabe
---