Banishment of an acclaimed UC Irvine professor sparks debate over whether #MeToo can go too far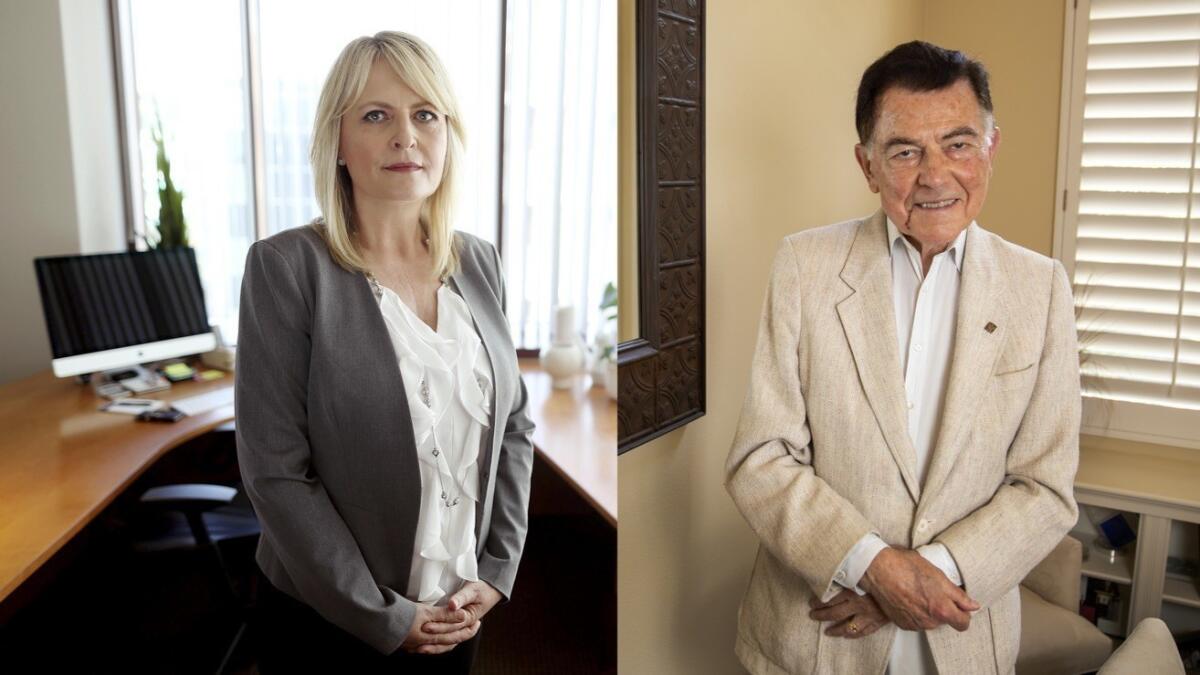 For years, the professor told the assistant dean that she was beautiful and greeted her with hugs and a kiss on each cheek.
During their time together at UC Irvine, Francisco J. Ayala, 84, and Benedicte Shipley, 50, perceived their encounters in dramatically different ways.
He said he believed he was showing her admiration, respect and the courtly manners of his native Spain. She said she felt objectified and humiliated. Her version won out this year, when officials concluded that Ayala had sexually harassed Shipley and two other women.
The university swiftly moved to erase his presence. The world-renowned geneticist resigned, was banned from campus and stripped of prestigious University of California titles. And though he had given Irvine $11.5 million in donations, his name was taken off the university buildings he helped support.
The sanctions have bitterly divided the campus, drawn international attention and underscored the growing complexity of the nation's pitched battles over sexual harassment.
A year has passed since the start of the #MeToo movement. How has it affected your life? »
As the #MeToo movement empowers more women to share their stories and hold powerful institutions accountable, the UC Irvine case highlights conflicting views about how to define sexual harassment — and whether all offensive acts deserve equal punishment.
That debate is likely to deepen if, as expected, the Trump administration changes federal sexual harassment standards for campuses. Under Title IX standards followed by UC, one marker of sexual harassment is unwanted conduct "sufficiently severe or pervasive" to unreasonably interfere with a person's education or employment. The administration is considering moving to a definition used by the U.S. Supreme Court that states the conduct also must be "objectively offensive."
Unwanted fondling or forcible kissing clearly crosses that line — but people sharply disagree about Ayala's conduct, which included a 2015 incident in which he jokingly offered one of the women his lap as a seat at a faculty meeting (and then apologized after he learned she was offended).
Elizabeth Loftus, a UCI professor of social ecology, law and cognitive science, said she found Ayala's hugs and cheek kisses "adorable." Shipley, who said Ayala also on occasion rubbed his hands up and down her sides when hugging, viewed his behavior as "more than creepy."
Of the 10 women besides the complainants who said Ayala gave them compliments or greeted him with kisses, two said it made them feel uncomfortable, according to UCI's findings. The Times obtained an unredacted copy of the report. Others who witnessed Ayala's actions called them inappropriate. One called him a "dirty old man."
Rose McDermott, a Brown University professor who specializes in gender issues, believes younger women are more sensitive to perceived harassment than older ones.
"How we draw the line between inappropriate or patronizing behavior and genuine harassment is really challenging because women themselves don't agree," she said. "Those in-between spaces are getting harder to negotiate."
More than 100 scholars at UCI and around the world have signed a statement expressing concern that the sanctions were "a massive overreaction."
Kristen Monroe, a political science professor who signed the letter, described herself as a feminist whose "natural proclivity is to be sympathetic to women." But she called the severity of the university sanctions against Ayala "excessive" and said close supervision and training might have been enough.
A UCI spokeswoman said Ayala received multiple training sessions, both online and in person. He says they didn't address his routine greetings and compliments.
"The #MeToo movement has gone too far," Monroe said.
On the other hand, 38 tenured professors who were Ayala's colleagues at the School of Biological Sciences have written an article supporting the women who took on the influential scholar despite potential risks to their careers. They said that excusing his unwelcome behavior as Old World manners was offensive, and that Ayala knew the rules but chose to break them.
"A powerful man sexualized junior colleagues in the workplace in a way that eroded rather than improved their self-confidence and morale," they wrote. "Prolonged exposure to this kind of harassment can be as damaging to careers and mental health as demands for sexual favors in return for advancement."
Last fall, UCI launched what turned into a six-month investigation after Shipley, assistant dean of the School of Biological Sciences, filed a complaint of sexual harassment, as did three members of the UCI Ecology & Evolutionary Biology department: Michelle Herrera, a graduate student; Kathleen Treseder, professor and department chairwoman; and Jessica Pratt, an assistant teaching professor.
All four asked UCI to release their names.
The investigation concluded that Ayala had sexually harassed Treseder, Pratt and Shipley. Investigators sided with the women on some claims that Ayala denies and that they could not corroborate — including Treseder's allegation that he told her he wanted to "grab [her] ass" and that he talked about her having an orgasm.
Investigators noted that Treseder was so unnerved by Ayala that she stopped assigning him female teaching assistants and asked a male colleague to attend events with her.
UC Irvine Chancellor Howard Gillman accepted the investigation findings, praised the women's courage in stepping forward and justified the sanctions by noting the multiple substantiated allegations and the "power differentials at play." UC President Janet Napolitano approved Gillman's actions.
During a recent interview at a friend's home, Ayala — a former Dominican priest whose family vineyard made him a millionaire — said he is continuing his academic research and does not plan to sue UCI, his academic home for three decades, or demand the return of his donations.
Still, he said he felt "dreadful," and that the university had "done me as much damage as possible."
He said he was troubled that, among the women who complained, only Pratt told him his behavior bothered her. If others had, he said, he would have stopped immediately.
"Unfortunately, these things I see as courtesies are interpreted by three or four women as sexual harassment," he said. "Most people who know me will acknowledge my manners are very gentlemanly, very proper and I treat women and men with utmost respect."
Shipley, who spoke to The Times in a campus conference room, acknowledged that she had not told Ayala how she felt but said she feared doing so would jeopardize her career. Over 28 years at UCI, she said, she worked her way up from an administrative assistant.
"You're afraid of what's going to happen to you," Shipley said. "You're afraid for your future promotion."
Even though her claims were vindicated, she said that speaking out "cost me dearly" in backlash from colleagues.
Ayala's greater status is evident in photos of his office taken before he was expelled from campus: the framed images of him posing with U.S. presidents and the queen of Spain, the international awards, the more than two dozen honorary degrees.
Shipley's office is stark. She explained she removed all personal photos and items because she felt threatened after some faculty members confronted her.
In a letter to faculty last month, UCI Provost Enrique Lavernia said the administration welcomed "ongoing conversation" about the case but not "insensitive or confrontational actions" against the women who came forward.
Fear of retaliation in the male-dominated world of science is a genuine barrier to reporting sexual harassment, according to a recent report by the National Academies of Sciences, Engineering and Medicine. A 2003 national study cited in the report found that 58% of those surveyed in academia had experienced sexual harassment.
Fatima Goss Graves, president of the National Women's Law Center, said academic institutions too often fail to mete out meaningful consequences to sexual harassers.
"I'm not deeply worried that institutions are going overboard in strong accountability for harassment," she said. "I do not think we are anywhere near that."
But Candace Hetzner, Boston College's associate dean for academic affairs who has spoken out about academic sexual harassment, said she worries that cases like Ayala's could jeopardize the progress that has been made.
"I am hearing from lots and lots of feminists who say it's all gotten too complicated and heavy-handed," Hetzner said. "We've lost perspective on what truly matters. Rape and forced sex is heinous. Saying 'why don't you sit on my lap?' is not. To the extent you don't make distinctions … you risk getting a backlash that destroys much of what many of us have fought for for many, many years."
Twitter: @TeresaWatanabe
Sign up for Essential California for news, features and recommendations from the L.A. Times and beyond in your inbox six days a week.
You may occasionally receive promotional content from the Los Angeles Times.