Acclaimed UC Irvine geneticist who gave millions to the campus resigns due to sexual harassment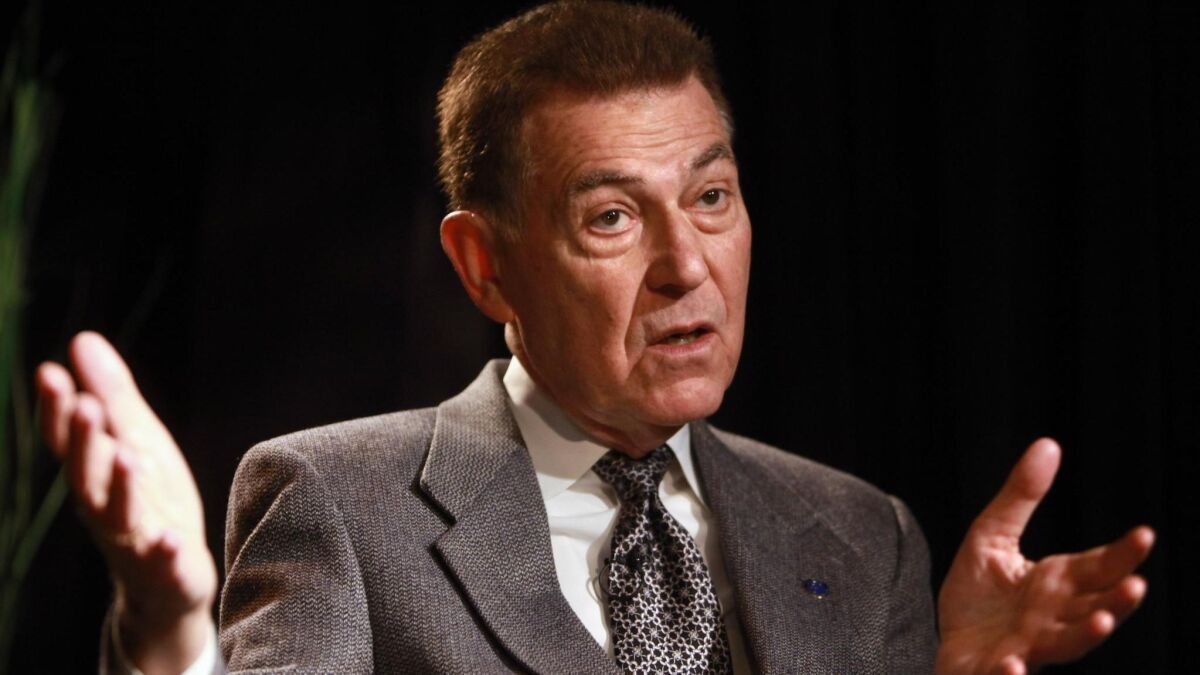 Acclaimed UC Irvine geneticist Francisco J. Ayala has resigned after a university investigation found he sexually harassed four faculty members and graduate students, the university has announced.
Ayala, a former Dominican priest who won the prestigious Templeton Prize for championing both science and faith, resigned effective July 1 and will abstain from future university activities, UCI officials said.
"I deeply regret that what I have always thought of as the good manners of a European gentleman — to greet women colleagues warmly, with a kiss to both cheeks, to compliment them on their beauty — made colleagues I respect uncomfortable," Ayala, who grew up in Madrid, said Friday in a statement. "It was never my intent to do so."
He said he had "too much respect" for the women, his family and UC Irvine to continue defending himself with hearings, appeals or lawsuits and would continue his research "with renewed vigor" elsewhere.
In 2011, Ayala donated $10 million to the School of Biological Sciences, which then bore his name. It was the largest gift from a faculty member at the time.
The university said Ayala's name has been removed from that school, and also is being removed from its central science library, graduate fellowships, scholar programs and endowed chairs. The biology school will now be known as the UCI School of Biological Sciences.
"I thank and commend our colleagues who reported this misconduct," Chancellor Howard Gillman said in a statement Thursday. "Coming forward with this information was extremely courageous. Professor Ayala's behavior defied our core beliefs and was inconsistent with our policies, guidelines and required training."
Micha Liberty, an attorney who represents three of the women, said UCI ignored years of complaints from professors and graduate students that Ayala touched them and made sexual and sexist comments. She said one of the professors she's representing reported Ayala's conduct three years ago, but university officials failed to investigate or sanction him.
"They just told him, 'Stay away from her,' " Liberty said. "Dr. Ayala has had a long and successful career and was clearly an asset to the UCI campus … and that in turn motivated UCI to look the other way when it came to complaints of sexual harassment."
The university started the investigation last November. The women, who asked to be identified, are Kathleen Treseder, professor and chair of ecology and evolutionary biology; Jessica Pratt, an assistant teaching professor; Benedicte Shipley, an assistant dean; and Michelle Herrera, a graduate student.
After interviews with the women and more than 60 witnesses, the university substantiated the complaints last month.
UCI advisors are reaching out to the school's faculty, students, staff and administration to provide counseling services and harassment-related education, officials said.
Liberty said her clients are dissatisfied that UCI has not acknowledged its failure to act on previous complaints and protect women from Ayala. She said there are many more victims but most are scared to come forward because his stature in the field gives him the power to make or break careers.
"In the face of overwhelming evidence, UCI came up with an anemic response to a systemic failure," she said.
UCI officials said they had no comment beyond the statement issued Thursday.
UC Berkeley also was criticized in recent years for failing to adequately sanction prominent faculty members who committed sexual misconduct, including famed astronomer Geoffrey Marcy. Ultimately, Marcy was forced to resign.
A recent state audit of the University of California's handling of sexual misconduct complaints did not find a pattern of UCLA, UC Berkeley and UC Davis giving more leeway to prestigious faculty. The audit did not examine that question at UC Irvine.
Ayala joined the faculty at UC Irvine in 1989. He put his research skills to use not only in seeking cures for malaria and other diseases but also in establishing vineyards. He launched a family business growing crops of chardonnay, pinot noir and other grape varietals on more than 2,000 acres in northern San Joaquin and Sacramento counties.
The bounty of those fields made Ayala a multimillionaire.
Twitter: @teresawatanabe
---
UPDATES:
June 29, 9:15 a.m.: This article was updated with a statement from Ayala.
8:05 p.m.: This article was updated with comments from the attorney for three of the complainants and details of a state audit about the University of California's handling of sexual misconduct cases.
This article was originally published at 5:25 p.m. on June 28.
The stories shaping California
Get up to speed with our Essential California newsletter, sent six days a week.
You may occasionally receive promotional content from the Los Angeles Times.