UC will not raise tuition for California students this fall, Napolitano says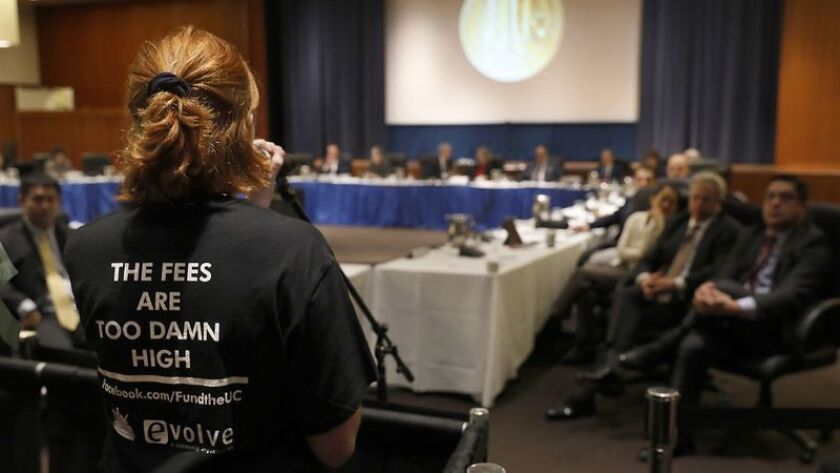 The University of California has announced that it will not raise tuition for California students this fall — but expects increases for students from other states and countries.
UC President Janet Napolitano, speaking at a Sacramento hearing on Wednesday, said she was optimistic that a "strong partnership" with Gov. Gavin Newsom and the Legislature would help the university find "additional resources, in lieu of tuition revenues, to ensure that UC students can succeed."
Some UC student leaders criticized Napolitano's announcement, saying it was aimed at deflecting attention from a move to increase tuition this fall for nonresident students.
Napolitano is recommending that regents vote next week to raise nonresident tuition by 2.6%, from $28,992 this year to $29,754 this fall. The supplemental tuition would be paid on top of the base UC tuition of $12,570.
Members of the UC Student Assn. have become increasingly concerned that out-of-state and international students are being scapegoated in the fierce debate over who gains admission to the prestigious public research university system — and who pays the price.
"This isn't a win for students," student association President Caroline Siegel Singh said Wednesday in a text. "Nonresident students are being used as a political pawn. ... They are being blamed for displacing California residents when in reality it is because the state has not provided necessary funding for those additional students."
In recent years, some UC campuses have rapidly increased their enrollment of nonresident students, whose higher tuition has helped offset significant state funding cuts after the 2008 recession. But the rising number of such students led to a political backlash — and a scathing state audit — blaming UC for giving them spots at Californians' expense.
Under pressure, regents in 2017 approved a first-ever limit on nonresidents of 18% at UC campuses at Davis, Santa Barbara, Santa Cruz, Riverside and Merced. Four campuses that exceed that level — UCLA, UC Berkeley, UC San Diego and UC Irvine — were allowed to keep but not increase their higher percentages of nonresidents. Now some legislative voices are calling for new caps as low as 10%.
UC regents signaled their intentions on tuition in November, when they approved a $9.3-billion budget with no tuition increases for California students and higher fees for nonresidents. Under that budget, UC plans to add 2,500 more California undergraduates this fall and increase support for students in need of food, shelter, mental health services and tutoring.
But Newsom's budget blueprint, unveiled in January, did not provide funding to enroll those additional students. Overall, he proposed an increase of $240 million in permanent, ongoing funding for 2019-20 — far short of the $477.6 million that the regents had requested.
UC officials say they still intend to increase California student enrollment, but are scrambling for funds to do so.
The nonresident tuition increase would raise $28.9 million in 2019-20. UC Berkeley says it uses nonresident tuition money to help pay for academic advising and support for 12,000 undergraduates, while UC Davis uses it for debt service on upgrades to classrooms and infrastructure.
Siegel Singh said she and other UC students had hoped to lobby Newsom and the Legislature for more funding to avoid tuition increases for any students this fall.
"As a local San Diegan attending UC San Diego, my education has been enriched by having nonresident students in my classroom," she said.
Twitter: @TeresaWatanabe
---
The stories shaping California
Get up to speed with our Essential California newsletter, sent six days a week.
You may occasionally receive promotional content from the Los Angeles Times.