UCLA surpasses $4.2 billion fundraising goal, a boon for a public campus faced with diminished state aid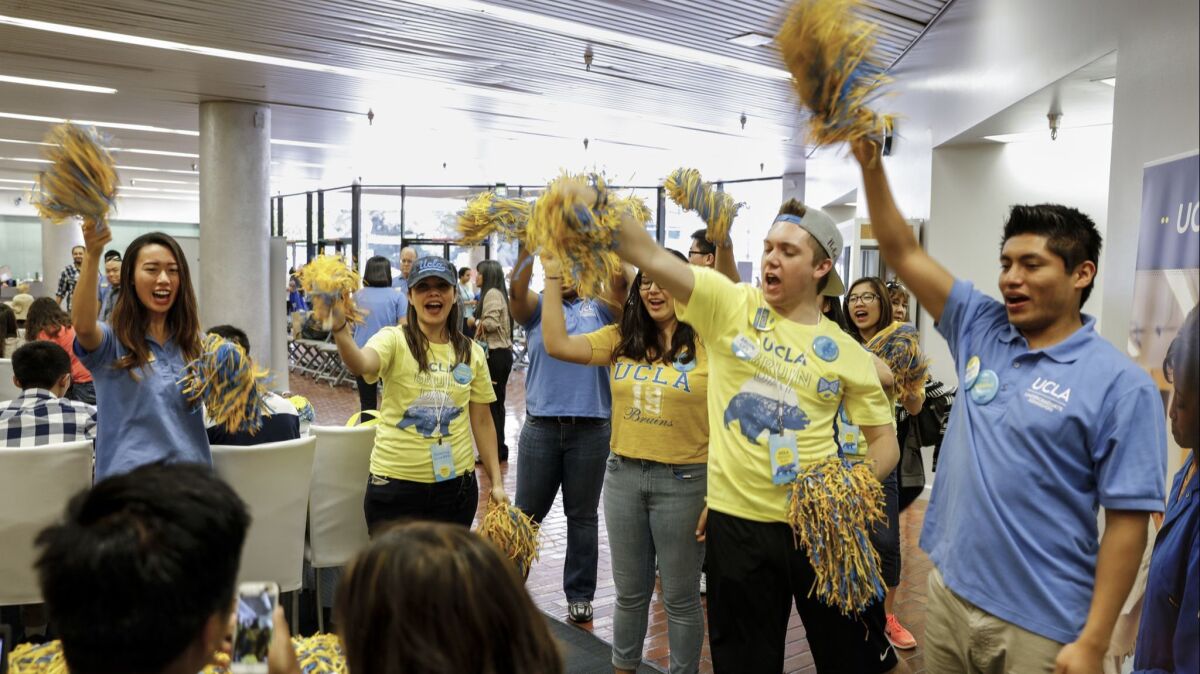 UCLA has surpassed its $4.2 billion fundraising goal 18 months ahead of schedule, marking one of the nation's most successful efforts by a public university to woo philanthropic dollars, campus officials announced Wednesday.
The Westwood campus will continue to raise money, potentially breaking $5 billion by the time it completes the campaign it launched in 2012 to commemorate UCLA's 100th anniversary next year.
The sum is smaller than the $6-billion haul reached last year by crosstown rival USC, whose fundraising juggernaut has helped the Trojans poach top faculty talent from the Bruins in recent years. But UCLA's campaign is part of an aggressive push by public universities to up their game amid diminished state support for higher education.
Among 54 active billion-dollar-plus fundraising campaigns, 20 are by public universities — including UC San Francisco, University of Washington, University of Virginia and University of North Carolina, according to the Council for Advancement and Support of Education. The fundraising boom is fueled in part by the robust economy and aging of baby boomers looking for ways to share their wealth, said Robert Moore, vice president of marketing and communications at the council, a Washington-based educational nonprofit.
"The stakeholder base is more wealthy and ready to give," Moore said. "It's a transfer of wealth first from the Greatest Generation to the baby boomers, who are now approaching retirement age."
UCLA Chancellor Gene Block said the philanthropic largess will help the campus further its standing as an international leader in groundbreaking teaching, research and public service. Founded in 1919, UCLA is the youngest of the top 25 national universities ranked by U.S. News & World Report — and one of only a few public campuses on the list, alongside UC Berkeley and University of Virginia.
"The extraordinary resources that this campaign has brought in for us is going to help us in manifold ways — student scholarships, new research programs, support for faculty," Block said in an interview. "It will help launch us into the next 100 years moving smoothly."
He added that he was nervous about launching such an ambitious campaign in the aftermath of the 2008 recession, but an effort a few years earlier that raised $3 billion encouraged him to try.
"We have felt there's a lot of affection for the institution, a lot of belief in its value as ... a university elite in its academic mission but public in its DNA," Block said.
UCLA and many other public campuses are increasingly shifting to philanthropy as reduced state support has forced them to raise tuition, increase faculty-student ratios and defer needed building maintenance as they struggle to keep up with wealthier private-sector peers.
More than 460,000 supporters have donated to the UCLA campaign so far, with contributions ranging from $1 to more than $100 million. They include not only alumni, but also those drawn to UCLA for its medical care, athletics, arts, research and adult educational programs, said Rhea Turteltaub, vice chancellor for external affairs.
Key to the campaign's success, Turteltaub said, was UCLA's ability to attract a small cadre of wealthy donors and a very broad base of smaller ones. The campus received 117 gifts of more than $5 million, accounting for 44% of the total raised, but 95% of gifts were under $10,000.
Four donors gave more than $100 million, including entertainment industry mogul David Geffen, business magnates Meyer and Renee Luskin, and the late Marion Anderson, who headed an equities firm founded by her late husband John. But Block said he was particularly thrilled at the plethora of new and smaller donors.
Arielle Moyal, 31, graduated from UCLA in 2009 but said she only began giving her alma mater a $50 monthly recurring donation last year after becoming more financially stable. Her connection to the Bruins runs long and deep: visiting the medical center for a childhood injury at the beach, attending summer sports camps on campus, studying political science and premed as an undergraduate, and working as an administrator for the men's basketball team.
She chose the Bruins Resource Center, which provides such aid as laptops, food and clothing to needy students.
"Even though my donation may not be as large as others, I know I'm directly helping a student in need," said Moyal, who heads marketing for BDA Sports Management in Santa Monica.
The contributions will support a wide range of areas, including student scholarships and endowed faculty chairs in children's health, developmental disability studies, transplant surgery, mathematics and engineering. Donors have helped UCLA launch a new center to study Hellenic culture and a minor in Iranian music. Their dollars have helped construct a new conference center and enhance programs in the arts, technology and the environment.
Shane White, a UCLA dentistry professor and chairman of the University of California Academic Senate, said the philanthropy could help keep faculty from jumping to rivals with deeper pockets.
In 2013, USC wooed away a leading UCLA neuroscientist and his 100-person lab. White said five of his most respected colleagues in the UCLA dentistry department have left in recent years — some to other universities, others to start private practices or take jobs with the government or nonprofits.
"The University of California has found it harder and harder to recruit and retain top faculty, and this is a result of diminished state support," White said. "So to be able to show the upward trajectory of the university is incredibly important to faculty — they can believe in investing their careers" at UC campuses.
The state has slowly increased funding for UC since cutting its support by one-third after the 2008 recession. But state per-student spending remains half of what it was in 2000.
Block said state funding and philanthropy are complementary, with taxpayer dollars funding essential services to run the campus and donors tending to back their own passion projects.
About 95% of donations received so far are earmarked for specific causes. Block said providing scholarships for students was one area that remains challenging, with only 44% of its $1-billion target reached. One priority for the remainder of the campaign is boosting scholarships for low and middle-income students, which the chancellor said was critical to maintaining economic diversity at UCLA, where more than one-third of undergraduates receive federal Pell Grants.
"Philanthropy provides a lot of the dazzling programs and resources that let you do amazing things on campus," Block said, "but it's not a replacement for state support."
teresa.watanabe@latimes.com
Twitter: @teresawatanabe
---
The stories shaping California
Get up to speed with our Essential California newsletter, sent six days a week.
You may occasionally receive promotional content from the Los Angeles Times.