L.A. Unified retreats on higher graduation standards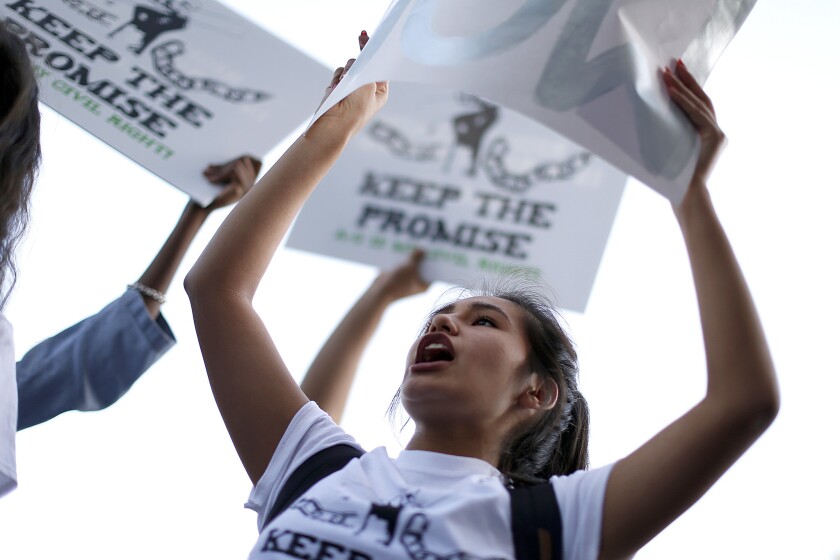 The Los Angeles Board of Education on Tuesday retreated from new, more rigorous graduation standards out of concern that huge numbers of students would fail to earn diplomas.
The board previously had required students, starting in 2017, to receive a C or better in a set of college preparatory courses required for admission to four-year state universities. The goal was to ensure that all L.A. Unified students were eligible to apply for the University of California and Cal State systems.
On Tuesday, however, the board backed down from that policy. Now, students will be allowed to pass these courses — and graduate — with a D. But they will be ineligible for admission to UC or Cal State campuses with a D in any of these classes.
The board acted in response to the disclosure in March that as many as three-quarters of 10th-graders — the first class affected — were not on track to meet the tougher requirements. A more recent analysis showed that 53% of students were unlikely to meet the criteria.
Students who got Ds should not be denied diplomas because the school system has not provided enough help for them to meet the higher standard, board members said.
"I want to apologize to all the young people that did not make it," board member Monica Garcia said. "We care and we are responsible to you too."
"This has been a hard road because this organization struggles" to meet the needs of all students, she said.
Garcia insisted, however, that the district still intends to continue a push toward high academic goals.
The board was faced with a dilemma, said Ama Nyamekye, executive director of the local chapter of Educators 4 Excellence, an advocacy group. On one hand, she said, the district did not want to put students and schools in an impossible situation. But on the other, the district was reluctant to lower standards.
The college prep journey has been ongoing for more than a decade. Community activists based L.A. Unified's effort on a similar model in San Jose Unified, which had claimed that students were meeting the higher standard in that school system.
It turned out that the San Jose data were in error and also that the district was allowing many students to graduate without meeting the higher targets.
But L.A. Unified persisted in its plan, only to find that its students are also falling short.
Board member Tamar Galatzan said that although she has faith in students to meet the higher goals, the district has never had a full plan in place for ensuring that all students would successfully complete the sequence of classes.
"I'm worried that we are still setting students up for failure," Galatzan said. "We can't just say here's the new requirement and we hope everyone gets there."
The proposal was sponsored by three board members — Garcia, Steve Zimmer and George McKenna. Garcia and Zimmer had been supporters of the earlier policy.
McKenna, on the other hand, expressed reservations about the requirements after joining the board in August. He said a student should not be denied a diploma, for example, for failing to earn a C in Algebra 2.
"A 'D' is a passing grade," he said Tuesday, adding, "I got a D in French."
McKenna said that it was unfair to force all students to meet the state university requirement. Many universities, he said, have lower or different admissions criteria.
All board members supported the revised policy, which also seeks an explanation of why students are falling behind. It also calls for district staff to develop a plan to help students complete the courses needed to apply to four-year state colleges.
A coalition of community groups has repeatedly pressed the board to maintain the rigorous college prep requirements. They argued that students have been well served by the higher standards: More students are meeting the requirements as overall graduation rates continue to rise.
The coalition has, in the past, opposed any rolling back of the college prep mandate. Outside the meeting, about 200 students and other community members rallied in support of requiring the classes, which are referred to as the A through G sequence. The courses include four years of English, math instruction through intermediate Algebra, two years of the same foreign language and at least two years of high school science.
"What do we want?" called out students and parents marching outside.
"A to G," came the response.
"When do we want it?"
"Now."
"The A to G coalition is here because we support access and opportunity for all students … youth and parents who have dreams for college and career," said Maria Brenes, executive director of InnerCity Struggle, a local group that had fought hard for winning and keeping the policy in place.
Allowing students to graduate with Ds in these classes "addresses an immediate need for the Class [of] 2017," said Elmer Roldan, director of education programs and policy for United Way of Greater Los Angeles.
UCLA education professor John Rogers said the effort to have college expectations for all students had paid dividends. For one thing, thousands more students now have access to the needed classes.
The goal now, he added, is to see that students perform well in them.
"This will not be easy or cheap," he said, "but it is what our students deserve."
Twitter: @howardblume
---
The stories shaping California
Get up to speed with our Essential California newsletter, sent six days a week.
You may occasionally receive promotional content from the Los Angeles Times.