UC campuses scramble to make room for thousands more new California students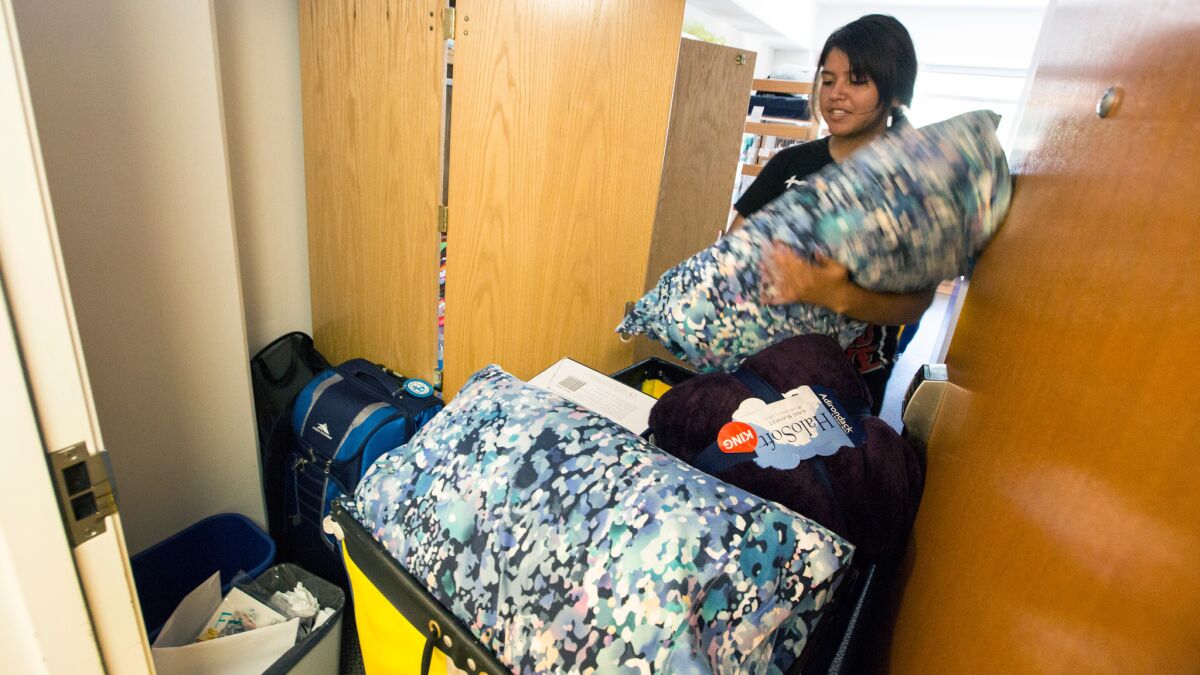 On move-in day at UCLA, freshman Ashley Sanchez pulled two bins filled with blankets, toiletries, cleaning supplies, snacks, notebooks and her favorite stuffed whale to her new dorm and opened the door.
Three beds, three desks and three wardrobes were squeezed into a room that used to house two students. As the last roommate to move in, Sanchez was left with the top bunk in a tight corner with a low ceiling over the right half of the bed.

For the record:
2:00 p.m. Sept. 26, 2016
An earlier version of this story said that UC Berkeley's Wheeler Hall had been shut down this year for seismic retrofitting. It was shut down for building improvements.
Her mother, Silvia Valladares, surveyed the space with a protective parent's eye.
"This is a small, little room for three girls," she fretted.
Doubles turned into triples are now the norm at UCLA, which began classes Thursday with 1,000 more registered California students like Sanchez piling onto a campus already packed from years of enrollment growth.
And it's not the only University of California campus scrambling to make room for the largest influx of new students in decades. Overall, nearly 8,000 more California students committed to a UC campus over last year, although final enrollment numbers are not yet known. The larger class is part of a deal UC President Janet Napolitano made with Gov. Jerry Brown and the Legislature to enroll 5,000 more California students this year — and 5,000 more the next two years — in exchange for more state money.
Finding room has strained UC campuses across the state. Some are squishing four students into double rooms, moving students off campus, even leasing beds from other colleges. They are hiring hundreds of new instructors and expanding services, including tutoring and mental health counseling.
"It's a big pill to swallow," said Scott Waugh, UCLA's executive vice chancellor and provost. "We realized we are kind of bursting at the seams."
UCLA and UC Berkeley face some of the biggest challenges as the most densely populated of UC's nine undergraduate campuses. The Westwood campus educates the largest number of students — 43,000 — on the smallest physical footprint: 419 acres, one-third the size of most other UC campuses.
When UC officials gave UCLA its enrollment target earlier this year, Waugh's reaction was, "Gulp."
The campus population has been rising, he said, since 2010, when the recession and subsequent budget cuts pushed the school to begin aggressively recruiting more out-of-state and international students, who pay higher tuition. UCLA increased its undergraduates by 3,423 — or 13% — from 2010 to 2015. Incoming registered freshmen and transfer students swelled to nearly 9,900 this year.
Administrators launched an "undergraduate academic initiative" in 2010 to accommodate the growing population without diminishing educational quality. In the last five years, the campus has added 474 lecturers and teaching assistants and more than 2,000 beds in new and redeveloped housing projects. The campus also built a new dining hall, Bruin Plate, that offers healthful gourmet meals.
This is a small, little room for three girls.
— Silvia Valladares, mother of a UCLA freshman
Thanks to more conversions this fall, triple rooms now account for 73% of all student housing. Staff received extra training to help resolve the conflicts tighter quarters may bring, said Javan Cross, resident director for Hedrick Hall, which houses 1,100 freshmen.
Waugh said the improvements aren't adequate, especially given the great numbers to come. He said UCLA will need at least 2,500 more beds as well as more classrooms, study areas and recreational facilities.
"I'm just past the point of feeling comfortable. I don't see how we can put more students on this small acreage," Waugh said. "We'll just have to have 60-story dorms overlooking Bel-Air."
UC Berkeley needs to make room this year for about 1,200 more California students — the number that has registered. It doesn't help that the largest lecture space, Wheeler Hall — with a 732-seat auditorium and 29 classrooms — was shut down this year for building improvements.
"It's the perfect storm," said Bob Jacobsen, Berkeley's dean of undergraduate studies in the College of Letters and Science.
To house the newcomers, about 850 sophomore beds have been turned over to freshmen, sending the older students scurrying to find off-campus housing. An additional 100 students have been placed in leased rooms a 25-minute shuttle ride away, at Mills College and Holy Names University in Oakland.
The university also has offered freshmen the chance to take classes off campus in the city of Berkeley and San Francisco this fall through a program previously reserved for those admitted in the spring. More than 1,000 students have signed up, including Dani Yang.
Yang, 18, said the off-campus program offered smaller, more intimate classes — a setting that has helped her ease into a campus with a freshman enrollment more than 10 times her 350-member graduating class at La Cañada High School.
"It's definitely intimidating when you see the amount of students here," Yang said. "And everyone here is really, really smart."
Overall, Berkeley expects to hire more than 130 new instructors and teaching assistants. The nearly $3.8 million in state funds the campus received for the new students wasn't enough to cover the extra classes, instruction, housing, tutoring, mental health services, technology, classrooms and housing. Berkeley had to redirect $2.2 million more to pay for them, even though it faces a critical budget deficit.
Bigger problems loom, said Catherine Koshland, vice chancellor for undergraduate education. When today's freshmen become juniors, they'll require smaller upper-division courses taught by tenure-track faculty even as the campus will still be absorbing hundreds more students.
"This is not going to go away," she said.
UC Irvine is breathing a bit easier, even with about 1,000 extra registered California students this fall. The campus just opened a new housing complex, Mesa Court Towers, with more than 900 beds, a dining hall, community space and recreational facilities.
Irvine also increased online offerings, hired more faculty and offered students financial incentives if they took summer classes — a push that began earlier as part of a plan to expand over the next decade to 40,000 students from 30,000.
UC Riverside is set to enroll the largest number of new California freshmen — more than 1,300 — but last year it opened a new residential hall with 800 beds. The campus had already launched an expansion plan and a $300-million fundraising campaign to help it grow.
Back at UCLA, Sanchez unpacked her new socks and bunny slippers, stored away her laundry detergent and put new sheets on her bed. The Santee Education Complex graduate said her dorm may seem small to her mother, but it's larger than the bedroom in their Los Angeles apartment that she shared with three siblings.
It's also the first room she's ever had away from home, which gives it a certain luster.
"I'm nervous," Sanchez said. "But excited."
To read the article in Spanish, click here
ALSO
UC Berkeley reinstates controversial course on history of Palestine
Josh Kun, author who uncovered L.A.'s musical counter-history, named MacArthur fellow
College students take to Wikipedia to rewrite the wrongs of Internet science
The stories shaping California
Get up to speed with our Essential California newsletter, sent six days a week.
You may occasionally receive promotional content from the Los Angeles Times.