UC students disrupt regents' meeting with protests against possible tuition hike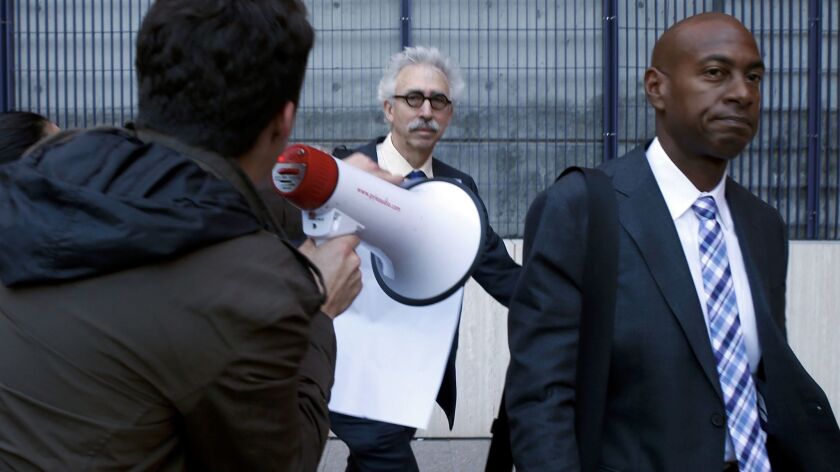 Reporting from San Francisco —
In a brief but rowdy standoff, University of California students furious about a possible tuition hike momentarily shut down the regents' meeting Thursday and were ordered by police to leave or face arrest.
More than 80 students waved signs, stood up and chanted, interrupting regents as they tried to discuss UC's financial-aid and tuition levels. UC officials are considering the first tuition increase in six years — 2.5%, or about $280 next year — to help enroll more students, graduate them more quickly, expand classrooms and campus housing, and retrofit aged buildings.
Nathan Brostrom, UC chief financial officer, said financial aid would cover any increase for three-fourths of the 10-campus system's 252,000 students. He also said a small increase for those with family incomes of more than $150,000 a year would help low-income students, because one-third of tuition revenue is funneled directly into financial aid.
"I think that's a fair and reasonable deal," he said.
But students became increasingly agitated during the discussion, loudly denouncing executive pay levels and spending on security fences. Board Vice Chairwoman Bonnie Reiss repeatedly pleaded for order and respect, but the students would not settle down.
When Reiss cited the packed agenda to deflect a suggestion from Regent John A. Pérez to let the students speak, the students chanted: "We are the agenda!"
Reiss then recessed the meeting and asked police to clear the room. UC San Francisco Police Captain Jim Brock told students they would face arrest if they did not leave in five minutes. "I don't want to arrest you," he said.
Student Regent Marcela Ramirez asked police for more time and the protesters left about five minutes later, avoiding arrest. The regents then resumed their meeting.
The tone of the encounter embittered Juniper Cordova-Goff, a third-year transfer student in political science at UC Berkeley. "The fact that they cleared the room and called police, especially on black and brown students — I feel betrayed once again by my representatives," she said.
Cordova-Goff said her financial aid covers tuition but is not enough to pay the full costs of student life. She needs to work 30 hours a week and take out loans, she said, to make ends meet — and help out her parents, who are homeless.
Other UC Berkeley students spoke of similar financial strain. Andre Luu , a junior, said he is often hungry and able to afford only one or two meals a day — often ramen or pasta without fresh produce and protein. Erika Perez, a senior, said she works 19 hours a week and constantly weighs whether to spend more time studying for good grades or working longer hours to earn money for food.
"We're supposed to focus on our education, but how can we when we don't have enough to eat or proper accommodations?" Luu said. "It's easy for regents to sit behind their desks and not realize we are hurting and can't afford such an expensive education."
Some regents voiced skepticism about any tuition increase. Regent Eddie Island said UC should consider providing more aid to students to cover the full cost of attendance. Regent Norman J. Pattiz said he had presided over many tuition hikes during his long years on the board but that using financial aid to justify another one "doesn't fly anymore."
"There's a breaking point beyond which you cannot go," he said. "My sense is that this isn't a board that will look at this as we have in the past."
Students say they are strapped with the highest tuition in history, which has more than doubled since 2006 to $12,294. Several cited a UC study that concluded that four in 10 students did not have consistent access to high-quality, nutritious meals.
Brostrom said modest and predictable tuition increases could help families better plan their college expenses rather than face the sort of double-digit hikes imposed after the recession.They also could help UC gain more financial stability at a time of limited state funding, he said.
UC has enrolled 83,000 more students since 2000, but the share of state support for each one has plunged from 72% that year to 41% last year. The Public Policy Institute of California, using the latest numbers available, estimates those state-funding levels per student at $24,644 in 2000 and $12,709 in 2014.
UC and Cal State University, which also is considering a tuition increase, do not have constitutional funding guarantees that protect community colleges and primary and secondary public schools. Nor do they expect to benefit as much as those school systems from Proposition 55, which extended income tax hikes on the rich to raise money for education and healthcare.
Meanwhile, costs are rising. One big reason is that UC has agreed to add another 10,000 California students between 2016 and 2018, partly in response to criticism of the rising number of out-of-state and international students.
UC's growing share of students who are low-income and the first in their families to attend college also is boosting demand for tutoring, counseling and other academic services. The university's spending on such support services increased by 24% between 2006 and 2012, according to a PPIC study.
Costs for pensions and employee and retiree health benefits also continue to rise.
The state slashed nearly one-third of its support to UC and CSU after the 2008 recession but has steadily restored funding in the last six years. Gov. Jerry Brown pledged annual increases in exchange for reforms to improve student performance and a freeze on tuition increases until next year.
In his May budget statement last year, Brown said it would be "reasonable" for UC to begin modest and predictable tuition hikes for the 2017-18 school year.
UC administrators also are considering a 5% increase in tuition for out-of-state students. The student-services fee, currently $1,074, could rise by $54.
Brostrom said UC is working to develop other sources of financial support.They include private donations, which reached a record $2.1 billion in 2015-16.
Fundraising has helped expand food pantries for hungry students, and the number of scholarships and endowed chairs, administrators said.
The regents will discuss the tuition issue at their next meeting in January, when UC officials plan to present a proposed 2017-18 budget.
"We'll be back," Cordova-Goff said.
---
The perils of parenting through a pandemic
What's going on with school? What do kids need? Get 8 to 3, a newsletter dedicated to the questions that keep California families up at night.
You may occasionally receive promotional content from the Los Angeles Times.