American teens' math scores fall on an international test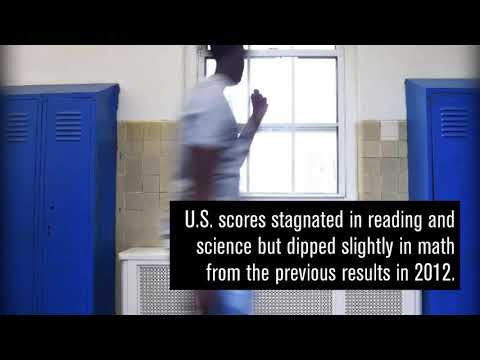 The PISA test was taken by more than half a million 15-year-olds in 72 countries, including 5,700 in the U.S.
Does America have a high school math problem?
U.S. teens still are performing mid-pack relative to their peers around the world on a set of international tests, according to a new report.
On the latest Programme for International Student Assessment, or PISA, tests, administered in 2015, U.S. scores stagnated in reading and science but dipped slightly in math from the previous 2012 results.
PISA tests 15-year-old students in 72 countries and school systems.
The Organization for Economic Cooperation and Development, or OECD, gives the two-hour test to try to measure whether students can apply what they've learned in school to real-world problems. About 540,000 students were tested worldwide, 5,700 in the U.S. Students mostly took the tests on computers.
East Asian countries performed the best — Singapore had the highest scores in all three subjects — with Canada, Estonia and Finland garnering high scores on certain tests as well. Massachusetts, North Carolina and Puerto Rico also participated and received their own scores.
Out of a total of 1,000 points, Singapore scored 556 in science, compared with the U.S. score of 496, which was close to the OECD average of 493.
In reading, Singapore scored 535 while the U.S. scored 497. Massachusetts scored 527, close to Singapore's top marks.
But it was in math where the real gaps appeared. The U.S. average score was 470, below the overall OECD test average of 490. It was 12 points lower than it was in 2012 and 18 points lower than in 2009. Singapore scored 564.
As Peggy Carr, the acting commissioner of the National Center for Education Statistics, noted, a higher percentage of America's students scored at the lowest levels and a lower percentage reached top levels compared with students in other industrialized OECD countries.
The math scores seemed to contradict another recent set of scores, called the Trends in International Mathematics and Science Study, or TIMSS. That test, given every four years, found that fourth- and eighth-graders had made progress both since the 1990s and since 2007, according to results released in late November.
But, Carr said, TIMSS is a different test that examines younger students.
The U.S. PISA results were similar to those on the National Assessment of Educational Progress, which last year reported a slight decline in math results after years of progress.
"We're beginning to see a downward trend," Carr said.
U.S. Secretary of Education John King Jr. expressed disappointment. "U.S. students are running in place" in science and reading, he said in a statement. "We're losing ground."
The latest scores come after years of major educational reforms, from the No Child Left Behind Act to the Common Core to changes in the way teachers are hired and fired. Potential benefits of those changes seem not to have penetrated high school math classrooms, said Jon Star, a Harvard Graduate School of Education professor who researches math instruction.
"We've had trouble implementing these huge, radical, grand changes," he said.
Star is researching small teaching tweaks based on the psychology of learning. An example is having students compare and contrast multiple methods for solving problems.
Not all U.S. PISA performance is bad or average, by the way. The U.S. did receive high marks for decreasing the connection between socioeconomic status and school performance.
You can reach Joy Resmovits on Twitter @Joy_Resmovits and by email at Joy.Resmovits@LATimes.com.
ALSO
Why it's important to talk about successful black and Latino boys
How a mind-controlled robotic arm paved the way for Caltech's new neuroscience institute
Slain USC professor Bosco Tjan recalled for his generosity, empathy, humor and love
Sign up for Essential California for news, features and recommendations from the L.A. Times and beyond in your inbox six days a week.
You may occasionally receive promotional content from the Los Angeles Times.