San Diego Republican wages long-shot run for Congress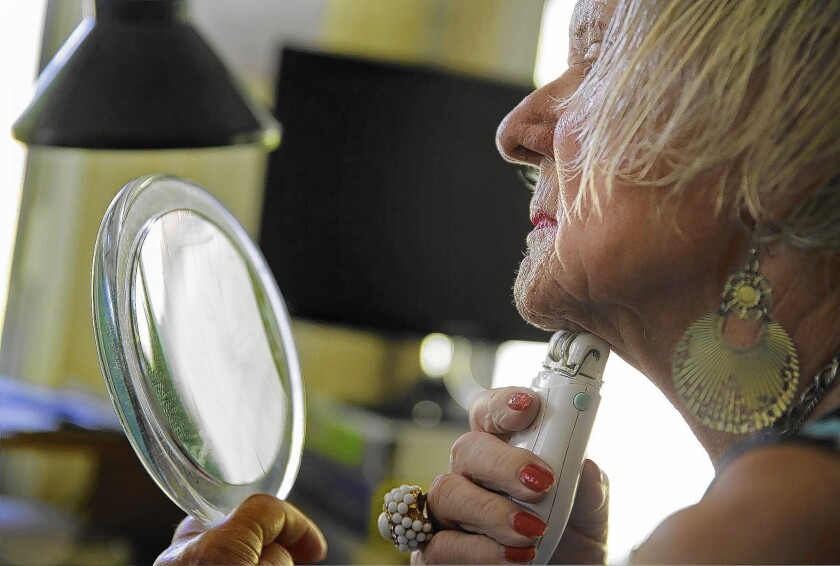 Reporting from San Diego —
As a candidate in the 51st Congressional District, Stephen Meade's politics are a problem.
He's a conservative Republican in a district where voter registration is more than 2-to-1 Democratic. The district is 70% Latino, but Meade does not speak Spanish.
He has no money to campaign. And his opponent, Democratic Rep. Juan Vargas, has the power of incumbency.
There's another thing that may make things difficult for the 88-year-old political novice: He wears women's clothing.
"I'm straight, but I just have this thing about loving ladies' clothes," Meade said.
Marilyn, 82, his wife of 40-plus years, is fine with his preference for dresses, shoes (he has 30 pairs) and showy jewelry.
"That's how he is — it's part of his makeup," she said.
All his life, Meade said, he was "tormented" by his desire to dress like a woman.
In the Army during World War II, in college, as a reporter for the Los Angeles Examiner, and then during a career as a salesman in electronics and real estate, he wore men's clothing, slipping into women's wear in private.
When he married Marilyn, he threw away a closet of women's clothes. "Among us guys who do this it's called splurge and purge," he said.
Only in recent years did he tell Marilyn the truth. He started wearing dresses in public and telling people that he would prefer to be called Stephanie.
Meade's upstart candidacy has not been embraced by the local Republican Party. No endorsement, no offer to include him in candidates' forums or slate mailers, no promise of fundraising help or tips on reaching voters.
Asked about this, the local GOP boss, Tony Krvaric, said in an email that Meade's candidacy is a loser and the party refuses to waste resources on it. Krvaric declined to be interviewed.
Meade hopes a political scandal will help his long-shot candidacy.
Vargas' name surfaced in a political funding case involving a Mexican Japanese business tycoon and several other people charged with violating federal law banning contributions from foreign nationals.
Vargas is among those politicians whose campaign received a contribution from one of the defendants, a retired San Diego police detective. He has returned the money, and there is nothing in court documents to suggest that he will be charged.
But the case is continuing, and Meade hopes new details will help him drive Vargas from office.
Vargas said he was willing to debate Meade on issues. "The disrespect he's been shown by the Republican Party is shameful," he said.
Fred Schnaubelt, a former City Council member, a real estate broker, said he has known Meade for more than three decades but did not recognize him the first time he saw him "all decked out in heels and elegant women's clothing."
Schnaubelt, one of the city's leading libertarians, admires Meade's politics.
"He is educated, very articulate and appears to have an understanding of economics, a rare attribute among today's politicians," Schnaubelt said. "I think he would be a consistent, dependable constitutional Republican vote."
He could also help the GOP to "broaden the diversity and Big Tent image of the Republican Party," Schnaubelt said.
In the June primary, Vargas received 69%; Meade received 31% without campaigning. The district includes Imperial County and a slice of San Diego County on the border with Mexico. Before being elected to Congress, Vargas served on the San Diego City Council and in the state Legislature.
Meade said he had toyed in the past with running for office but was discouraged by the expense and effort involved. Also he did not want to start with a low-level office.
This year, Meade said, he noticed that Vargas was not attracting any challengers. So he signed up with only a day to spare.
Meade thinks liberals and labor unions are driving the country into bankruptcy; he is hawkish on foreign policy. He accuses government of allowing monopolies in the cable television industry to gouge consumers.
As a reporter in Los Angeles, he covered courts and police, including some of the infamous murders of the late 1950s. He knows that it is his clothing, not his politics, that makes him newsworthy; he has no problem with that, his days of hiding are over.
When he dressed as a man, he was overweight. He shows reporters a picture of himself wearing men's clothes and with a pot belly. Since opting for women's clothes, he has lost weight.
The Meades live in a mobile home with a view of the Tijuana hills to the south, the ocean to the west. They have a Siamese cat named Coco, but no children. While he does not mind discussing his clothing, Meade figures the issue should not matter to voters.
"My wife doesn't mind, neither should anyone else," he said. "It's about time for Congress to seat one of us girls."
tony.perry@latimes.com
Twitter: @LATsandiego
---
The stories shaping California
Get up to speed with our Essential California newsletter, sent six days a week.
You may occasionally receive promotional content from the Los Angeles Times.